Writing Hair-Raising Tales by Q.L. Pearce – Guest Post
Writing Hair-Raising Tales by Q.L. Pearce – Guest Post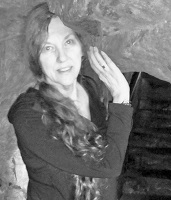 Post contains affiliate links. Q.L.Pearce is the author of more than 120 books for young readers, from picture books to YA, as well as film tie-in books for the Fox animated film Titan AE and the Universal animated series Land Before Time.
Red Bird Sings: The Story of Zitkala Sa (Carolrhoda Books, with co-author and illustrator, Gina Capaldi), received several awards including a Carter G. Woodson Book Award gold medal from NCSS and a Moonbeam Children's Book Award gold medal. Her fiction includes the popular middle grade series, Scary Stories for Sleep-Overs italisize (Price, Stern, Sloan).
Q believes strongly in the value of scary books for young readers. When asked what credentials she has which qualify her as an expert in this area she replies, "I was a child once. That was very scary."
Guest Post – Writing Hair-Raising Tales
I'm of British ancestry and ghost stories are in my blood. I've been a scary short story fan since I was a child. When I was about four years old my family moved to a small island in Florida, close to the Gulf of Mexico. I spent most of my free time swimming, exploring and making up scary tales for my friends. I remember when a neighborhood mom complained that her daughter couldn't sleep because of a story I had told. My mom sent me to bed early that night, but she crept in after the lights were out with a bowl of popcorn. We snuggled together and made up ghost stories together.
As I grew up I devoured spooky comic books and stories by Poe, Lovecraft, Bradbury, Jackson and eventually Stephen King. In the late nineties I wrote a series of middle grade books of my own called Scary Stories for Sleep-Overs, published by Price Stern Sloan. The first tale in the series, Swimming Lessons, was based on something that I experienced on that island in Florida.
Someone's older brother had built a large raft and anchored it in the bay about thirty yards offshore. The water was deep and I always worried that there was something just below the surface…waiting. One day I accepted a dare to swim to the bottom. To prove that I had done it I had to bring up some mud. I took a deep breath and dove in. When the dark, greenish bed came into view I reached out and filled my hand with mud. I was probably halfway back when I realized I was holding something else, something slimy and very much alive. Breaking the surface I took a deep, gasping breath. I didn't win the bet because I had let go of whatever was in my hand. Swimming Lessons is my story about what lurked in that deep, dark water.
I loved writing that series but after six books my work took a different direction. Still, those shivery, short story ideas floated around in my brain so I decided it was time to let them surface once again. My new collection, Spine Chillers: Hair-raising Tales includes seven short stories for a new generation of tweens to teens. It features classic ghosts, a monster or two, urban legends and one tale that is an homage to The Twilight Zone.
Once again, the first tale in the book, The House on Beech Street, is based on something from my childhood. When I was teen we lived in a fairly small town and there was an abandoned house that everyone knew about. It was tucked into the foothills in an isolated area. There were plenty of stories about the place. Some said it was haunted. One Halloween my friends and I decided to sneak in after dark. We succeeded in scaring ourselves silly.
The other stories in the book were inspired during "plot hunts." When on a hunt, I prowl through antique stores and the like seeking curious objects or photographs that might spark an idea. My dear friend, author Tamara Thorne, and I sometimes take road trips. We visit haunted hotels, abandoned buildings and ghost towns, all for inspiration. Some places just "scream" a story. In the Spine Chillers book, Nightcrawler was the result of a visit to the abandoned L. A. Zoo, and Seaworthy was born during a trip to a seaside amusement park.
I also people watch in supermarkets, shopping malls and coffee shops asking myself, "What are they afraid of?" Then I let my imagination run wild. I think that overall, what frightens most people is a loss of control. That's why the midnight ramble through a "haunted" house can be so eerie. Even if you don't believe in ghosts, you don't know what might be hidden in the shadows. It's my job as a writer to peek into those shadows and reveal the tale within.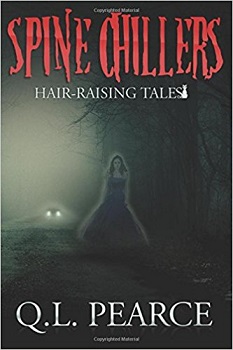 Spine Chillers


Hair-Raising Tales Book One
Author – Q.L. Pearce
Publisher – Createspace
Pages – 106
Release Date – 30th November 2016
ISBN-13 – 978-1539953296
Format – paperback
Contains affiliate links

The town of Saltlick Bluff is famous for an urban legend. Does the spirit of a young girl wait on a misty cliff-hugging highway for her ride to the prom?
In the house on Beech Street a terrible tragedy occurred. Now neighbors won't look at the place as they pass. Those who live nearby draw their blinds and shutter their windows after dark. What are they afraid of?
Hale Hallow Woods seems sinister and menacing even in the light of day. Does a thirst for revenge beat near its dark heart? The answers lie within these pages, just waiting to send a chill up your spine!
Purchase Links

Why not have a read of our review of 'Spine Chillers'
www.qlpearce.com
@qlpearce
Facebook
Goodreads
You can find out more about Q.L Pearce by reading her interview 'The Writing Life of: Q.L Pearce'