How to Find the Right Editor for Your Book
How to Find the Right Editor for Your Book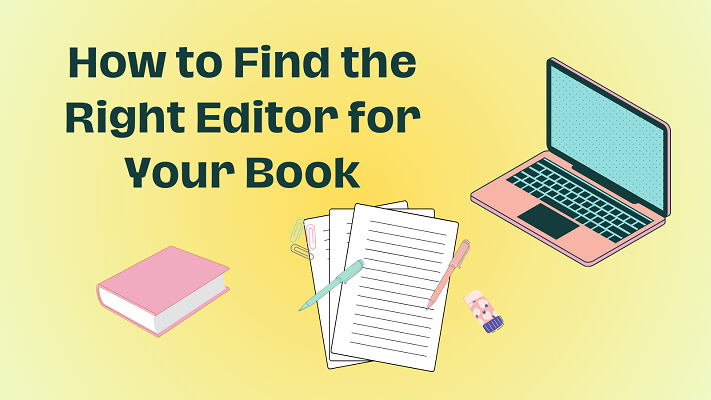 AD – An author's quest for publication can often be an arduous one — sometimes even reflected in the very characters they've written about! — and while the journey from idea to bookshelf has many steps, no step is perhaps more important (next to writing) than editing. A misplaced word of criticism can turn a solid book idea into a house of cards. The right editor however, will help you and your story shine, so here are 3 tips to help find the perfect match for your book.
1.Understand what kind of edit you need
With the story finished and self-edited to the best of your abilities, your next step is to assess what type of editing could really bring your book to the next level. Your novel may need minimal tweaks or the equivalent of open-heart surgery. This stage is confusing if you don't know what the differences are. So what are they?
●Editorial assessment: a broad look at your manuscript to highlight the strengths and weaknesses of your novel in a brief write-up. Great help if you're unsure of where your work stands.
●Developmental edit: this stage addresses big picture issues like character motivations, plot holes, and story structure to make sure you get the foundations right.
●Copy-edit: this level of editing is granular. Is your grammar in check? Is your capitalization, use of tense, or dialogue tagging consistent? Editors consider your flow with an eye towards style and coherence.
●Proofreading & Fact checking: This last step is to find any missed typos, formatting issues, inconsistencies which may have slipped through the net, or spellings and places which need to be fact-checked (if needed).
2.Find an editor experienced in your genre
Even with rigorous self-editing, an experienced editor specializing in your genre will help bring your story up a notch. They understand the tropes and expectations your audience wants in their reading experience — they'll also have a deep knowledge of the niche and books too. This knowledge helps you heighten the emotional impact of your writing. Whether experiencing fear, happiness, frustration, or hope, an editor can guide you to best engage reader's emotions for maximum impact. The right editor will not only improve your story, but will help you improve as a writer too — giving your book its best chance of becoming a memorable experience.
3.Get a project quote and sample edit
Once you've found an editor (or five), tell them a bit about your project (and your word count!) and ask them for a project estimate. The editor will either get back to you right away with a quote or you can decide to do a sample edit of a couple of pages. This gives you a chance to see how the editor works and what their help could do for you. You'll learn their style of criticism too. The editor best fitted to work with you will help your voice shine and not try to make it their own. They'll ask questions of where you see the work going, and offer a plan to get there. A safe bet at the end of the day is beginning with an editorial assessment. Get someone to have a look at the general picture of your work and go from there! After that, the real drafting begins.
Rose Aktinson-Carter is a writer for Reedsy, and helps answer authors' questions on all things publishing, from how to write query letters for picture books to how to make the most of NaNoWriMo 2023. She lives in London.
---
Share your thoughts on 'How to Find the Right Editor for Your Book' in the comment section below!
---
This is a sponsored post.