Joyful Trouble by Patricia Furstenberg – Book Review
Joyful Trouble by Patricia Furstenberg – Book Review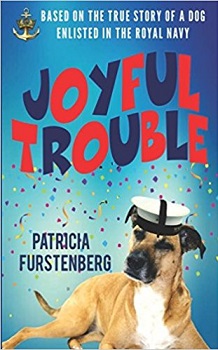 Joyful Trouble


Based on the True Story of a Dog Enlisted in the Royal Navy
Author – Patricia Furstenberg
Pages – 119
Release Date – 17th April 2017
ISBN-13 – 978-1521089576
Format – ebook, paperback
Reviewer – Stacey
I received a free copy of this book
Post Contains Affiliate Links

A humorous read about an incredible dog and how he had found his true, yet unexpected calling. A dog. A friendship. A purpose.
When a Great Dane arrives in a navy base nobody expects him to win everybody's hearts, although breaking some rules along the way. But things soon turn sour as somebody threatens to put him to sleep.
Who will stand up for this for-legged gentle giant? Tackling universal themes and voicing animal rights and the importance of fighting for what is right.

This is a fictional book, based on the true story of a Great Dane named Joyful Trouble, and his time during WWII.
Brother and sister, Tommy (4), and Ana (9), were staying with their grandparents. After visiting the annual parade that commemorates Joyful Troubles life, the children returned home excited.
When it was time for bed, the siblings ask their grandfather to tell them the story of how he met Joyful Trouble, and their time together during WWII.
There have been plenty of stories about animals that have been in wars, including pigeons, horses, and even rats, but I'd never heard one about a dog before.
Joyful Trouble, is just as his namesake, he was a lot of fun, and brought joy to the seaman in the Navy, he was also a very mischievous dog too.
The story will have you reading in awe at the friendship that the grandfather and Joyful Trouble had. Over the years the Great Dane had many adventures, and did an amazing job.
The book does have undertones of sadness, but you can't really write a story involving a war that doesn't have any sadness in it. It is also a very moving, poignant story, that I'm sure people will take into their hearts, and never forget.
It is a slow, yet short read. Most children love an animal themed book, so this will be a hit with them. It will also have them learning about a history via a lovable, enjoyable, story.
Book reviewed by Stacey
Purchase Links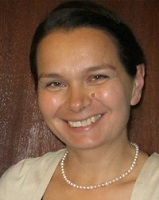 Patricia Furstenberg came to writing though reading, her passion for books being something she inherited from her parents. She usually writes at her kitchen table, early morning while the kettle hums or in her car, while she waits for her children to come out from school. "When I write, I write," she usually says. When she's not writing she likes to read, listen to music, dance and bake.
One of the characters portrayed in her children stories is Pete, the yellow toy elephant. Not many know, but Pete exists and lives in Pat's home.
This Romanian born writer is living happily with her husband, children and dogs in sunny South Africa.
Author Links
www.alluringcreations.co.za/wp/
@PatFurstenberg
Facebook
Pinterest
Goodreads