The Little Kiosk By The Sea by Jennifer Bohnet – Book Review
The Little Kiosk By The Sea by Jennifer Bohnet – Book Review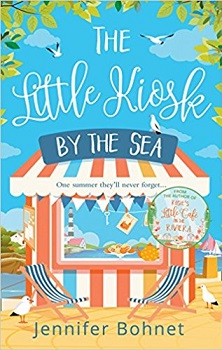 The Little Kiosk By The Sea
Author – Jennifer Bohnet
Publisher – HQ
Pages – 288
Release Date – 15th June 2017
ISBN-13 – 978-1848457157
Format – ebook, paperback
Reviewer – Stacey
I received a free copy of this book
Post Contains Affiliate Links

Time's running out to save the little kiosk by the sea…
Sabine knows that if she doesn't come up with a plan to save her little kiosk soon, it might be too late. If only her best friend Owen would stop distracting her with marriage proposals!
Harriet is returning to Dartmouth for the first time in thirty years, haunted by the scandal that drove her away and shocked by an inheritance that could change everything.
Rachel never expected to find love again after her world was shattered a year ago. But it seems as if the sleepy seaside town has different ideas…
One thing's for sure, it's a summer they will never forget!

The Little Kiosk by the Sea, is told from various viewpoints of the many characters. Each chapter is dedicated to one person.
Sabine runs the little Kiosk that pops up every spring in Swannaton. She always dreamed of travelling the world, but after getting married and having Peter, her son, her dreams were pushed aside. She is now a widower after her husband Dave died, a few years ago. She is also a painter, and loves to paint her home town, much to the delight of the tourists, who all want to buy one of her pictures.
Harriet Lewis is an old resident of Swannaton. She moved out of the area decades ago after a scandal broke. She has been brought back to the area after her ex-sister-in-law, Amy, left her the family home in her will, alongside £900,000 to Harriet's daughter Ellie. There was a clause though – She had to live in the house for a year, and it couldn't be sold.
Ellie Lewis, Harriet's daughter has just been made redundant, and her boyfriend has upped and left her for a new job in Manchester, where he has taken his new lover. Her life is in turmoil, and she is lost for what to do with herself.
Johnie, is Sabine's brother. He runs a yachting company, and owns his own yacht called Annie, named after his deceased wife. He turned to alcohol, and was very badly hurt by the death of his wife. With Sabine's help though he managed to get back on his feet.
Rachel, her husband has recently died, and she has moved back to the area after living in France for many years, where she was used to the high life. She can't believe what how her life has changed, she never thought she would ever be seen baking and working for a charity.
Braxton Brael, or BB as he is known, is an American Tourist searching for his ancestors, after his Grandmother Mary died, leaving lots of photos and papers from her time living in the area.
These six characters, plus a host of secondary characters are all interesting and unique. They each have their own stories to tell, with many crossing into others lives. With each chapter being told from one persons perspective, you can get a real feel and understand for them.
The setting is perfect, and you could almost feel like you were standing in a quaint, charming, picturesque English village, meeting the locals, and taking in the beautiful summery surroundings.
The book has passion, warmth, and love, alongside hidden secrets, which are revealed throughout. I found myself being drawn into the story, and captivated by the plot. Ms. Bohnet has an easy writing style, one that flows and makes you forget reality for a little while.
The Little Kiosk By The Sea is the perfect book to read on a lovely sunny day, or to take to the beach with you. Just remember to put on a high factor sun cream though, as you may find yourself lost in the book, gripped to the pages, and sat in the sun for far longer than you expected.
Book reviewed by Stacey
Purchase Links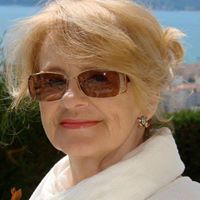 Sixteen years ago Richard and I, with our then dog, 14 year old Holly in a trailer attached to Richard's bike, cycled down through western France via the canal paths, arriving in Antibes in July. With the exception of two fleeting visits back to the UK we have lived in France ever since.
For the past five years we have lived in a small cottage in central Brittany with one large collie dog called Viking, one fat cat known as Little'un and a young tortoiseshell cat called Missy. Oh, and there are various ducks and chickens in the garden, and a large pond with about a hundred fish in!
I have contributed short stories and serials to many of the UK women's magazines including, The People's Friend, Candis, My Weekly, Best, Yours and my stories have been published in Australia, Sweden, South Africa and Ireland.
I also write magazine features and my work has been published in national magazines and newspapers like, The Sunday Times, The Sunday Telegraph, Daily Mail, Daily Telegraph, Home and Country, Devon Life. For over three years I had my own newspaper column in the South Hams Group of Newspapers, that took a wry look at family life.
I am a member of the Romantic Novelists' Association and the Society of Authors.
Author Links