Mothers and Daughters by Erica James – Book Review
Mothers and Daughters by Erica James – Book Review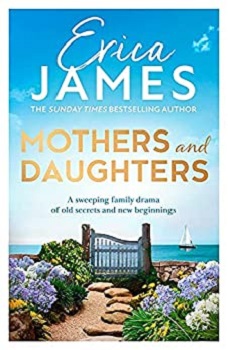 Mothers and Daughters
Author – Erica James
Publisher – HQ
Release Date – 17th March 2022
Pages – 448
ISBN 13 – 978-0008413699
Format – ebook, paperback, hardcover, audio
Star Rating – 5
I received a free copy of this book.
This post contains affiliate links.

Synopsis
Even happy families have their secrets…
Since the sudden death of her husband, Naomi has steadily rebuilt the life they shared in the village of Tilsham by the sea.
Her eldest daughter, Martha, is sensible and determined – just like her father was – and very much in control of where her life is going. If she could just get pregnant with her husband, life would be perfect.
Willow, the youngest, was always more sunny and easy-going, yet drifted through life, much to her father's frustration. But now, with charming new boyfriend, Rick, she has a very good reason to settle down.
The three women are as close as can be. But there are things Naomi has kept from her daughters. Like the arrival of Ellis, a long-lost friend from way back, now bringing the fun and spark back into her life. And she's certainly never told them that her marriage to their father wasn't quite what it seemed…
I loved this book and was really sorry when I had finished it. Erica James' writing appears so effortless, and from the first paragraph, I was drawn into the story.
Martha, whom we meet first is the elder of two siblings and is desperately trying for a baby with her husband Tom. They are a well-organised, forward-thinking professional couple. The younger sister Willow is different, chalk and cheese, as the sisters themselves recognise. She is a lot more relaxed and tends to have boyfriends who don't last very long before she tires of them. She is now seeing a man called Rick who has a good job and is very protective of her. Martha and their mother approve.
Their mother is Naomi, who is a widow of two years standing. Her husband Colin was adored by Martha in particular, who shares some of his traits. Willow sadly never met his high standards, and nor did any boyfriends she brought home. However, Rick would certainly have received his seal of approval.
The real drama begins when we discover that Naomi, in her middle sixties, has met a man, Ellis, and is having a serious relationship with him. He has rented the house next door to Naomi by chance before discovering they were at university together. The two girls think it is far too soon for Naomi to move on and are very reluctant to meet Ellis. They think he must be a man on the make and do not know of their history. Martha in particular, having been so close to her father and being very touchy because she failed to become pregnant is particularly against the poor man.
Any family meetings from then on also include Rick because Willow has moved in with him, into his immaculate flat. Before that, Willow had been house-sitting for absent friends. I can't say much more about the story without giving away spoilers. I'll just say that a lot of the history of Colin, Naomi, and Ellis is revealed. Also, by about halfway through the book I was getting really cross with one of the characters, and audibly giving advice!
Anyway, matters resolved themselves.
I don't often come across a book in which I find so many of the characters empathetic. At the same time, the situations rang true to life and I could imagine my sisters, or my daughters reacting similarly.
I haven't mentioned the setting, which is an idyllic village on the coast. Naomi is an enthusiastic gardener who loves her house which backs onto the beach. Reading Mothers and Daughters gave me a lot of pleasure.
---
Purchase Online:
Erica James

Erica James is the author of twenty-three internationally bestselling novels, with recent Sunday Times Top Ten bestsellers including Swallowtail Summer, Coming Home to Island House and, most recently the hardback bestseller, Letters from the Past. Her books are loved by readers looking for beautifully drawn relationships, emotionally powerful storylines and evocative settings.
In 2020, Erica received the Nielsen Silver Award for sales of over a quarter of a million copies for both Love and Devotion and Tell It to the Skies; she has previously won the Romantic Novel of the Year Award for Gardens of Delight and is a Number One bestseller in Norway.
A keen gardener herself, Erica lives in Suffolk and has a fondness for Lake Como, Formula One motor racing and travel.
Author Links:
---
Share your thoughts on Mothers and Daughters in the comment section below!
---
The above links are affiliate links. I receive a very small percentage from each item you purchase via these links, which is at no extra cost to you. If you are thinking about purchasing the book, please think about using one of the links. All money received goes back into the blog and helps to keep it running. Thank you.