Mrs. White Rabbit by Gilles Bachelet – Book Review
Mrs. White Rabbit by Gilles Bachelet – Book Review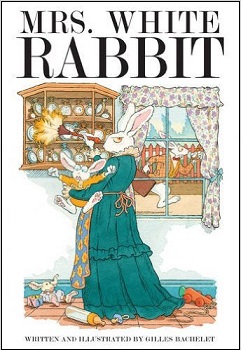 Mrs. White Rabbit
Author – Gilles Bachelet
Publisher – Eerdmans Books for Young Readers
Pages – 32
Release Date – 30th March 2017
ISBN-13 – 978-0802854834
Format – Hardcover
Reviewer – Stacey
I received a free copy of this book
Post Contains Affiliate Links

Alice in Wonderland is one of the great classics of children's literature, but what does anyone actually know about Wonderland? Through the diary of the White Rabbit's extremely busy wife, readers finally get to see what happens in the background during Alice's adventures.
Mrs. White Rabbit loves her husband and their many children, but with an invisible housecat from Cheshire and a young female visitor who frequently changes size, living in Wonderland comes with a number of challenges.

Mrs. White Rabbit is the wife of the White Rabbit from Alice in Wonderland. Here we get an exclusive look into her diary.
Do you want to know why the White Rabbit was running late the morning that Alice followed him down the Rabbit Hole? Or meet his children, Beatrix, the eldest, who wants to be a supermodel, Gilbert and George the twins, then we have Betty, who is nervous about going to school, Eliot, who doesn't want to take off his bunny costume, and lastly Emily, the baby who won't stop crying.
Not only does Mrs. White Rabbit have five children to care for, and a home to run, she also has to deal with their sneaky adopted cat who always has a huge grin, and a young girl who can't make her mind up whether she is little or big.
No wonder Mrs. Rabbit is always exhausted.
This is an exquisitely illustrated book, with its large bold drawings throughout. The story is interesting and humorous, though I do feel that a lot of the puns were aimed at adults, and that children wouldn't understand them.
This is a lovely book that fans of Alice in Wonderland will enjoy, especially with some of the main characters from the original story making an appearance.
Book reviewed by Stacey
Purchase Links


Gilles Bachelet was born in 1952 in Saint Quentin, Aisne. He has been creating picture books since 2002 and currently works as a freelance illustrator in Paris.
His previous books include My Cat, the Silliest Cat in the World and When the Silliest Cat Was Small (both Abrams). Gilles was inspired to write Mrs. White Rabbit after forgetting his girlfriend's birthday.
Author Links