No Stranger to Love by Pamela Aares – Book Review
No Stranger to Love by Pamela Aares – Book Review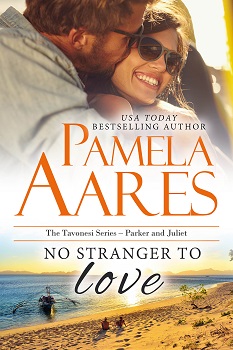 No Stranger to Love


Journey to Love Trilogy Book One
Author – Pamela Aares
Publisher – SeaStar Press
Pages – 340
Release Date – 20th May 2016
Format – ebook, paperback
Reviewer – Kerstin
I received a free copy of this book
Post Contains Affiliate Links

With NO STRANGER TO LOVE, USA Today Bestselling Author Pamela Aares delivers another page-turning contemporary romance in the Tavonesi Series featuring love, suspense and adventure!
Juliet Cabot is no stranger to trouble, but she never imagined that her work defending endangered sea turtles on a beautiful Greek island would turn deadly. Threats to her life force her to call for help from the man who's haunted her dreams for years—wine country landowner and international polo star Parker Tavonesi.
Parker owes Juliet big time for getting him out of a fix in the past. Handsome, resourceful and fearless, she trusts him with her life but she vowed she would never trust him with her heart. When danger enshrouds them and warm island nights cause their bottled-up passions to flare, Juliet's every fantasy could become reality . . . unless the dark secrets of a sultry paradise prove fatal, not just for the struggling sea turtles but for Parker and Juliet as well.

No Stranger to Love, is part nine of a series about the Tavonesi Family, but you don't have to read them in order, they can be read as stand-alone too. This was my first book from this series.
Pamela Aares tells us the story of Juliet and Parker. Juliet's best friend Zuri, Parker's sister, has asked her to play Parker's girlfriend for a photo shoot for a magazine, to help raising the publicity for his vineyard. Right from the start there is a noticeable chemistry between Parker and Juliet, but as they both have their issues with love nothing happens between them.
Juliet is a scientist and currently working on a project in Zantos, a Greek island, to protect the habitat of the sea turtles, as some investors are planning to build a hotel complex where their habitat is, meaning that it will be destroyed. Out of the blue she asks Parker to come to the island as she needs his help planning a big party for the campaign to save the sea turtles.
Juliet is also being threatened due to her work with the turtles. When Parker finds out he promises to protect her as best he can, and a gripping investigation into finding the people behind the threats begins. Parker is now determined to help Juliet accomplish her goal, that of saving the turtles habitat.
Right from the beginning of the story I dove straight into the lives of Parker and Juliet. I warmed quickly to them and their struggles with love. I also loved the plot, because it surrounded an important topic and gave it the right amount of attention for the reader to fully understand the implications of what destroying a turtles habitat would do.
Somewhere in the middle of the story I got bored of the struggle of the characters concerning their fears of falling in love, as both of them don't believe in it. However, I was determined to finish the book, and as it is well-written I didn`t give up.
Luckily, I was rewarded, as the story of Juliet, Parker and the island Zantos got back to its own dynamic, exciting and romantic quality.
Fans of romance and erotic, will love this book. It has a gripping storyline and will have you begging for more. On top of that the author has a very appealing writing style, which is light-hearted and well-written.
Book reviewed by Kerstin
Purchase Links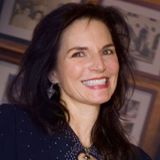 Pamela Aares is a USA Today Bestselling, award-winning author of contemporary and historical romance novels. Her contemporary series, The Tavonesi Series, explores the lives, loves, friendships and sizzling romances of the Tavonesi family.
Her popularity as a romance writer continues to grow with each new book release, so much so, that the Bay area author has drawn comparisons by reviewers to Nora Roberts and Barbara Freethy.
Pamela writes romance books that she loves reading, particularly those that entertain, transport and inspire dreams while captivating and tugging at the heart. She takes her readers on a journey with complex characters in both contemporary and historical settings who are thrown in situations that tempt love, adventure and self-discovery.
Before becoming a romance author, Pamela wrote and produced award-winning films including Your Water, Your Life, featuring actress Susan Sarandon and NPR series New Voices, The Powers of the Universe and The Earth's Imagination.
She holds a Master's degree from Harvard and currently resides in the wine country of Northern California with her husband, a former MLB All-Star and two curious cats.
If not behind her computer, you can probably find her reading a romance novel, hiking the beach or savoring life with friends.
Author Links
www.pamelaaares.com
@PamelaAares
Facebook
Pinterest
Instagram
Goodreads