Off by Carly Oberon – Book Review
Off by Carly Oberon – Book Review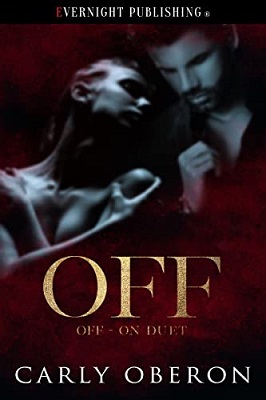 Off
Author – Carly Oberon
Publisher – Evernight Publishing
Release Date – 12th August 2022
Pages – 173
Format – ebook
Star Rating – 5
I received a free copy of this book.
This post contains affiliate links.

Synopsis
Maysea Heston is a young, intelligent, highly trained ER nurse who willingly devotes long hours caring for others. Sea's off hours are filled with mindless distractions—movies, cigarettes, beer, naps—salves that reset her energy for the next round of tending. After a severe bout of flu, she agrees to rest at her supervisor's oceanside timeshare.
She never makes her flight. She's taken.
Waking in an unfamiliar bed with an unfamiliar man seated across from her, Sea quickly realizes she is a captive whose life depends on the mindset of this stranger insistent on calling her Baby. Baby? Who is this man? Why did he pick her? As she plans her escape, Sea's constricted world expands into one of survival, instinct, and psychological strategy. Little does she know how this obsessive, delusional, and insanely handsome man will come to nourish the vibrant, sexual sides of her she never knew existed.
For a health care professional, nurse Maysea Heston doesn't live a healthy lifestyle. She works too much, smokes, and spends her downtime watching movies and drinking beer. Nearing burnout, her boss at the hospital insists that she take a vacation. Maysea agrees, but at the airport, someone drugs her, and she blacks out.
When the drugs wear off, Maysea finds herself in a strange bed, watched over by a man who calls her "Baby." He thinks she's someone else, a woman from his mysterious past. Maysea focuses on finding an escape and decides her best strategy is to play along. She nicknames her captor "Del," short for "Del(usional)."
Escape proves impossible, but Maysea finds that captivity isn't so bad after all. Del has a huge house, a lovely, if isolated, seaside estate, and caters to her every wish (almost). Over time, she finds herself inexplicably drawn to him. Is Maysea crazy? Will she ever find her way back to her old life? Does she even want to?
Off is a page-turner of a psychological mystery that morphs into a romance. Maysea is a prisoner in a gilded cage that, at first, she's determined to escape. Whenever one of her attempts to find an escape failed, I was eager to see what she'd try next.
Maysea, as a character, is so well-developed that it's difficult to realize she isn't an actual person. Most of the book is a journey of self-discovery for her. On the other hand, Del remains just out of the reader's reach, mysterious and perhaps unknowable. Their relationship is in flux as Maysea re-evaluates her life, which changes her perception of her situation.
While Off is, at its heart, a psychological suspense story, it's not dark or scary. And as the relationship between Maysea and Del evolves, well, be prepared for some steamy adult content. Oh, did I mention there is a sequel?
---
Purchase Online:
---
The above links are affiliate links. I receive a very small percentage from each item you purchase via these links, which is at no extra cost to you. If you are thinking about purchasing the book, please think about using one of the links. All money received goes back into the blog and helps to keep it running. Thank you.