Operative: Insurrection Book Two by A. Deen – Book Review
Operative: Insurrection Book Two by A. Deen – Book Review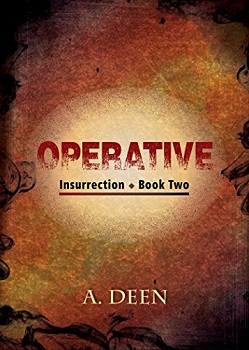 Operative: Insurrection Book Two
Author – A. Deen
Publisher – Fine Fables Press
Pages – 33
Release Date – 13th May 2016
Format – ebook
Reviewer – Stacey
I received a free copy of this book
Post Contains Affiliate Links

In a not so distant future, an unprepared humanity barely managed to repel the Locusts when they invaded Earth. But the long war left its mark on mankind and the Establishment was founded to ensure it would never come so close to destruction from an alien force again. Now, decades later, the world is run by this single governing entity. Loyalty is rewarded. Disloyalty is met with corrective action.
For Ellie, the job of an analyst was simple: Evaluate her target's patterns, make a virtual connection, garner trust, and ascertain identity and location. Falling in love with the Albatross — the Establishment's most notorious subversive and leader of the insurgency — complicates matters. Now she'll have to decide which to betray: her duty or her heart.
Insurrection is a five-part novelette series. Each instalment is told from the perspective of a single character, each interconnected with the others and humanity's ultimate fate.

After the events that unfolded in book one, Subversion, Ellie wakes up in a makeshift medical room, with the presumed Albatross at the end of her bed.
After months of gaining his trust, she had finally managed to come face to face with the man she has been ordered to take down. The Albatross, however, doesn't come close to what she thought he would look like. Tall, handsome and with that gorgeous smooth voice, how is she going to keep herself on track, when part of her is falling for him?
Discovering that she isn't the only undercover agent on the base, the two comrades set off to destroy the establishment, but when the other undercover agent takes things a step too far, what will Ellie do?
Operative, is the second novella in the five part Insurrection series, which follows the same story, but with a different person's perspective in each book. The first one was narrated by Gemson, Ellie's brother. You must read the first book to be able to understand this one, as it continues straight on with the plot, which means it can't be read as a standalone.
As the stories are so short, the first one being only 25 pages long, and this one only 33 pages, the plot doesn't have time to become boring, and is full on action from beginning to end.
In the first book we heard about the Albatross, but didn't really get to know him. In this book we discover who he really is, and why he is fighting back.
The mixture of dystopian, with science fiction will bring in lots of YA fans, as there seems to be a surge in this genre at the moment.
Operative is a fast paced, thrilling story that will have you downloading the next as soon as you finish this one, as it ends on the perfect cliff hanger.
Book Reviewed by Stacey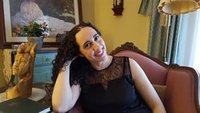 A child of two cultures, this hapa haole Hawaiian girl is currently landlocked in the Midwest. After exploring the world for a chunk of years, she hunkered down in Minnesota and now fills her days with family, fiction, and the occasional snowstorm.
With a house full of lovable toddlers, a three legged cat, and one handsome Dutchman, she prowls the keyboard late at night while the minions sleep. Coffee? Nah, she prefers tea with copious amounts of sarcasm.
Author Links
www.amidtheimaginary.wordpress.com
@AnelaDeen
Facebook
Goodreads