Summer at The Little Duck Pond Café by Rosie Green – Book Review
Summer at The Little Duck Pond Café by Rosie Green – Book Review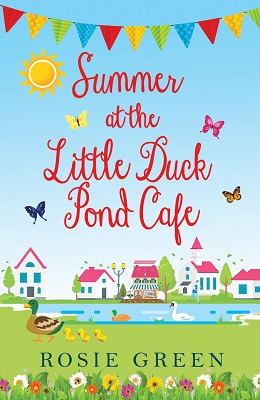 Summer at The Little Duck Pond Café
Author – Rosie Green
Pages – 117
Released – 18th June 2018
Format – ebook
Reviewer – Stacey
Rating – 4 Stars
I received a free copy of this book
Post contains affiliate links.
Jaz Winters stuck a pin in a map and fled to the village of Sunnybrook, looking for a brand new life – and after a rocky start, it's beginning to look as if she made the right decision. Her blossoming friendship with Ellie and Fen has seen her through some dark times, and she's managed to land two jobs – waitressing at The Little Duck Pond Café and working as a weekend tour guide at Brambleberry Manor, the country house that's been in Fen's family for generations.
Sure, life isn't totally perfect. There's the irritating know-it-all guy who keeps popping up on her manor tours, for a start. He seems determined to get under Jaz's skin whether she likes it or not. But she supposes he's a small price to pay for the relative peace she's found, living in Sunnybrook.
But just as Jaz is beginning to think rosier times are on the horizon, a shock encounter looks set to shatter her fragile happiness.
Will she be forced to flee from Sunnybrook and everyone she's grown so fond of? Or will she find the strength to stand her ground and finally face up to the nightmares of the past?

Arriving home on Christmas Eve Jaz Winters finds herself locked out of her home and ignored by her boyfriend Grant who has obviously decided he wants to end their relationship. She isn't that bothered about him though but is about his young daughter Titch who she loves and cares for dearly.
Upon the advice of her friend, she finds somewhere to live far enough away that no one will know her, but close enough that she can still see Titch at her weekly horse riding lessons that she goes to with her friend. Jaz opts for a little place called Sunnybrook and soon finds that the locals are lovely people, although one is a little too in her face for her liking.
However, not everything is going smoothly with Grant and Titch and soon Jaz is having to make a heart-wrenching decision on hers and their futures.
This is the second book in the series, the first being 'Spring at the Little Duck Pond Cafe' that I read and reviewed in April this year. The book features all the characters from the first with the added bonus of some new ones, including Jaz who is such a lovely young woman who is going through a really tough time. She is also incredibly private and keeps herself to herself as best she can.
As well as the goings on in Jaz's life, we also meet Fen's mum and Dad who owns a rather large estate. They are so funny and 'Mr. Darcy eat your heart out'!! You'll have to read it to see what I mean. 🙂
The book is only short at just 117 pages but there is lots going on, on every page. The book is also fast-paced and never gives you time to get bored, not that you would with the great plot. I'm now looking forward to the third book, Christmas at the Little Duck Pond Cafe' which will be recently in September.
Reviewed by Stacey
---
Purchase online from:
---
About the Author
Rosie Green has been scribbling stories ever since she was little. Back then they were rip-roaring adventure tales with a young heroine in perilous danger of falling off a cliff or being tied up by 'the baddies'. Thankfully, Rosie has moved on somewhat, and now much prefers to write romantic comedies that melt your heart and make you smile, with really not much perilous danger involved at all, unless you count the heroine losing her heart in love.
Rosie's brand new series of novellas is centred on life in a village café.  Summer at The Little Duck Pond Café, published on 18th June 2018, follows the first in the series, Spring at The Little Duck Pond Café.
---