The Cottage on Lily Pond Lane Part Two by Emily Harvale – Book Review
The Cottage on Lily Pond Lane Part Two by Emily Harvale – Book Review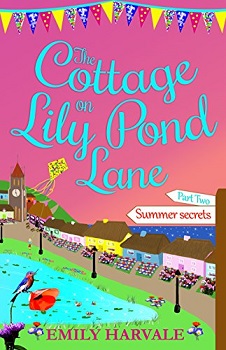 The Cottage on Lily Pond Lane Part Two
Summer Secrets
Author – Emily Harvale
Publisher – Crescent Gate Pub
Pages – 192
Released – 11th June 2018
Format – ebook
Reviewer – Stacey
Rating – 4 Stars
I received a free copy of this book
Escape to the seaside village of Little Pondale with Part Two of this heart-warming and romantic, four-part serial.
Mia Ward was amazed to inherit her great-aunt Matilda's thatched cottage in the tiny seaside village of Little Pondale – especially as Mia didn't know she had a great-aunt Matilda. She was even more astonished to discover she'd only inherit the place if she lives there for a year.
Now Mia and her friends, Ella and Garrick are embracing village life. Garrick's also embracing someone in The Frog and Lily, so Mia turns her attention to one or two of her sexy, single neighbours. But great-aunt Matilda remains an enigma and Mia's still determined to discover who she was.
When Mia's mum, Lori arrives, she's eager to see what the summer has to offer. There's the Kite Festival, the Fête, the Frog Hill Run, but what really appeals to Lori, much to Mia's horror, is the Midsummer Night's naked bathing in the pond at Frog's Hollow.
As sweltering days surrender to sultry nights, love is definitely in the air. And when an incident means Mia has to face her greatest fear, help arrives from a surprising source. But one thing is clear… someone is trying to make sure Mia doesn't stay in Little Pondale…
Mia, Garrick, and Ella are back and they are certainly settling into country living in little Pondale. Ella has her new man Justin and Garrick has Alexia whilst Mia is still single, although there are a few men in the village who wouldn't mind dating her. Mia though only has eyes for one man and he's not available, but it would seem he might just be happy to dump his current girlfriend for her, but is it really him she wants?
Alongside the trios love lives, it would seem that someone is trying to get Mia and her friends to leave. Although the warm welcoming they three first received is quickly dissolving and Mia is none too happy when she finds out that the villagers had been betting on how long she would stay and who would get her inheritance if she left before the year was up.
There is also the village fete, the kite flying competition, summer solstice, nude swimming and Mia's mum Lori arrives too, just to add that little bit of glamour to the village.
This is the second book in the series with 'The Cottage on Lily Pond Lane: New Beginning' being the first. You really need to read the first book to understand this one. For me, this second book was both enjoyable and frustrating at the same time.
With this being a series and with each book being quite short, there is lots of information and scenes that happen in this book that are not finalised by the end, leaving me hanging. However, I fully enjoyed getting to know more about our trio, although Ella didn't feature as much as she did in the first. There also wasn't much progress in the search for information about Mattie either, except that no-one really knew her and there are no photos of her.
There's also the matter that it would seem Mia has some kind of pull over the men in the village. I think she is some kind of Goddess, either that or the villagers aren't used to sweet, pretty women. Even when she eventually gets her man, others still show an interest and she obviously likes someone else as well. Plus there is the shock of a certain man making a pass at her (I won't say who but I was shocked).
With the final scene seeing Mia visits a fortune teller and predictions about her future made, I now look forward to seeing if they come true in the next book, 'The Cottage on Lily Pond Lane Part Three: Autumn leaves'.
Reviewed by Stacey
---
Purchase online from:
---
About the Author

Having lived and worked in London for several years, Emily returned to her home town of Hastings where she now spends her days writing… and chatting on social media. Emily is a Member of the SoA, a PAN member of the RWA and a Pro Member of ALLi. She's an Amazon bestseller and a Kindle All Star. Emily loves writing and her stories are sure to bring a smile to your face and a warmth to your heart.
Emily says, "I write about friendship, family and falling in love. I believe in happing endings." When she isn't writing, she can be found enjoying the stunning East Sussex coast and countryside, or in a wine bar with friends, discussing life, love and the latest TV shows. Chocolate cake is often eaten. She dislikes housework almost as much as she dislikes anchovies – and will do anything to avoid both.






---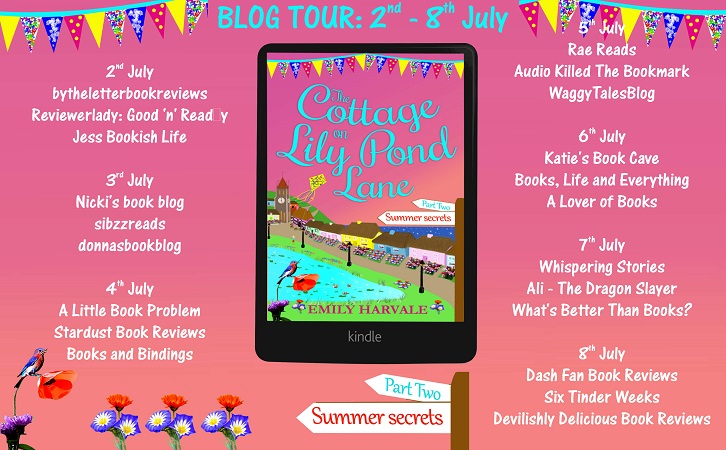 Blog posts straight to email via Bloglovin – Like us on Facebook – Follow us on Twitter