Girl On Fire by Tony Parsons – Book Review
Girl On Fire by Tony Parsons – Book Review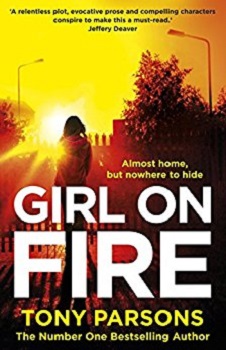 Girl On Fire
DC Max Wolfe
Author – Tony Parsons
Publisher – Century
Pages – 416
Released – 8th March 2018
ISBN-13 – 978-1780895956
Format – ebook, paperback, hardcover,
Reviewer – Clive
Rating – 5 Stars
I received a free copy of this book
Post contains affiliate links.
When terrorists use a drone to bring down a plane on one of London's busiest shopping centres, it ignites a chain of events that will draw in the innocent and guilty alike.
DC Max Wolfe finds himself caught in the crossfire in a city that seems increasingly dangerous and hostile.
But does the danger come from the murderous criminals that Max is tracking down? Or the people he's trying to protect?
Or does the real threat to Max lie closer to home?

Girl on Fire is a gritty Police Procedure book which covers a number of today's major crime issues arising from fundamentalism, both Islamic and white British fascism. Please do not be deterred by the term "procedure" as Parsons is thorough in his explanations of the Police terms.
The book starts with a bang, literally, and the action proceeds at a pace.  As you would expect from a writer of this pedigree the text is easy to read, the plot keeps your attention and the various strands are woven together so well that the whole book is neatly packaged without a single loose end.
However, this tale is far from a simple crime/investigation/arrest story because it also examines the causes and more significantly the effects of such hatred.  And if you thought that with a crime story the author had left his roots behind then think again. Despite the action and mystery this book is still very much a book about families, traditional relatives and the various police families.
Is there a downside? I struggled to find one although if you are planning on taking Girl on Fire as part of your holiday reading then make sure you pack more books. Despite its four hundred paperback pages you will zip through it in a couple of days, maybe less.
I cannot give Girl on Fire anything less than five full stars.
Reviewed by Clive
---
Purchase online from:
---
About the Author

Tony Parsons is a British journalist broadcaster and author. He began his career as a music journalist on the NME, writing about punk music. Later, he wrote for The Daily Telegraph, before going on to write his current column for the Daily Mirror. Parsons was for a time a regular guest on the BBC Two arts review programme The Late Show, and still appears infrequently on the successor Newsnight Review; he also briefly hosted a series on Channel 4 called Big Mouth.
He is the author of the multi-million selling novel, Man and Boy. Parsons had written a number of novels including The Kids, Platinum Logic and Limelight Blues, before he found mainstream success by focusing on the tribulations of thirty-something men. Parsons has since published a series of best-selling novels – One For My Baby, Man and Wife, The Family Way, Stories We Could Tell, My Favourite Wife, Starting Over and Men From the Boys.
His novels typically deal with relationship problems, emotional dramas and the traumas of men and women in our time. He describes his writing as 'Men Lit', as opposed to the rising popularity of 'Chick Lit'.


---