The Arctic Curry Club by Dani Redd – Book Review
The Arctic Curry Club by Dani Redd – Book Review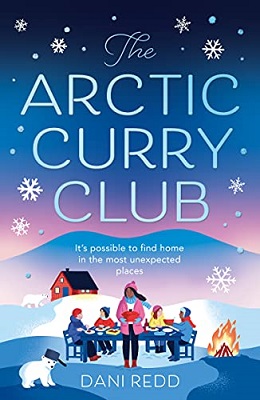 The Arctic Curry Club
Author – Dani Redd
Publisher – Avon
Pages – 377
Released – 9th December 2021
ISBN-13 – 978-0008469115
Format – ebook, paperback, audio
Rating – 5 Stars
I received a free copy of this book.
This post contains affiliate links.


Synopsis
Soon after upending her life to accompany her boyfriend Ryan to the Arctic, Maya realises it's not all Northern Lights and husky sleigh rides. Instead, she's facing sub-zero temperatures, 24-hour darkness, crippling anxiety – and a distant boyfriend as a result.
In her loneliest moment, Maya opens her late mother's recipe book and cooks Indian food for the first time. Through this, her confidence unexpectedly grows – she makes friends, secures a job as a chef, and life in the Arctic no longer freezes her with fear.
But there's a cost: the aromatic cuisine rekindles memories of her enigmatic mother and her childhood in Bangalore. Can Maya face the past and forge a future for herself in this new town? After all, there's now high demand for a Curry Club in the Arctic, and just one person with the know-how to run it…
The Arctic Curry Club is a book that surprised me. The cover gave me chick-lit vibes and so when the story had a far deeper and meaningful plot than a fun romance I was taken aback, but it certainly was marvellous.
We meet Maya, half-English, half-Indian. Maya lived in India as a child until the death of her mother and then moved to the UK with her father. She doesn't remember her time in India or her mother and as a result, has suffered from anxiety since.
As she arrives in the Arctic with her boyfriend Ryan who has taken a new job studying Polar bears, she realises that although she knew it was going to be cold, the darkness, even during the day, is a surprise and the lack of support, including from her boyfriend, starts to tip her over the edge.
She loves to cook and is soon offered the job as the chef for a local excursion business which turns out to be her saviour. She does get some respite when she visits India where her father is getting remarried. However, her short visit starts bringing back memories she had buried, not all of them happy and there is more gloom when she returns to the Arctic.
I loved the scenes both in the Arctic and India which were complete opposites. Maya is a lovely young woman who has been through a rough time and has done her best to try to face her problems but often her anxiety would get the better of her which saw her taking comfort in bed.
I love how the author looks at mental health so sensitively and doesn't rush through or have her character suddenly overcoming her anxiety. She uses the reality that some days are better than others. I also adored all the cooking Maya did and it certainly felt like I could smell all the delicious aromas radiating from the page.
The Arctic Curry Club is a beautiful story that touched me. It was emotional at times as well as having plenty of humour. Grab yourself a book that takes you to a frozen landscape and has you hungry the whole way through.
Purchase Online From:
---
What did you think of 'The Arctic Curry Club'? Share your thoughts in the comment section below!
---
The above links are affiliate links. I receive a very small percentage from each item you purchase via these links, which is at no extra cost to you. If you are thinking about purchasing the book, please think about using one of the links. All money received goes back into the blog and helps to keep it running. Thank you.
Like us on Facebook – Tweet us on Twitter – Pin us on Pinterest – Join us on Instagram