The Chime Seekers by Ross Montgomery – Book Review
The Chime Seekers by Ross Montgomery – Book Review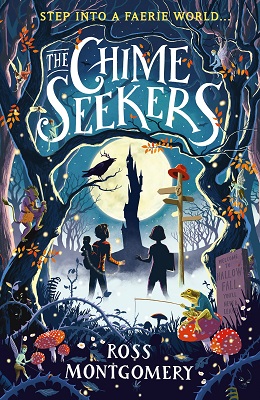 The Chime Seekers
Author – Ross Montgomery
Publisher – Walker Books
Release Date – 4th November 2021
Pages – 384
ISBN 13 – 978-1406391190
Format – ebook, Paperback, Audio
Star Rating – 5
I received a free copy of this book.
This post contains affiliate links.

Synopsis
Step into a world of faerie tricks and hidden danger…
When an evil faerie steals Yanni's baby sister and swaps her for a changeling, Yanni is swept into a dangerous race against time to get her back.
For faeries delight in tricks and rescuing her won't be easy. With the help of his cousin, Amy, and the reluctant changeling, Yanni must travel to goblin palaces and battle-swept oceans, discovering ancient treasures and secrets along the way.
Yanni will need every drop of courage and even a few tricks of his own, if he's to outwit the faerie and save his sister…
The Chime Seekers is the latest middle-grade novel by author Ross Montgomery. Fancy something adventurous to read, a few fae folks thrown in, and plenty of magic to keep you occupied then this is the book to pick up.
I loved the whole setup, from the two worlds, human and faerie being closed at All Hallows Eve, to the mystery of the chimney, the swapped baby, and a brother who just wants his annoying baby sister back.
The pace is fast, the world-building amazing, and the plot spot on. The book is thrilling, exciting, nerve-wracking, and mysterious all rolled into one. For children who love books that keep them hooked to the pages, take them to magical lands and have them meeting a villain they can firmly detest, this is the book for them.
It is a little scary in places but nothing that should leave the reader having nightmares. It is simply pure enjoyment from beginning to end.
---
Purchase Online:
Ross Montgomery

Ross Montgomery has worked as a pig farmer, a postman and a primary school teacher, so writing books was the next logical step. He spent his childhood reading everything he could get his hands on, from Jacqueline Wilson to Beano annuals, and it taught him pretty much everything that's worth knowing.
If you looked through his pockets you'd find empty crisp packets, lists of things to do, and a bottle of that stuff you put on your nails to stop you biting them. He lives in London with his girlfriend, a cat called Fun Bobby, and a cactus on every available surface.
Author Links:
---
Share your thoughts on The Chime Seekers in the comment section below!
---
The above links are affiliate links. I receive a very small percentage from each item you purchase via these links, which is at no extra cost to you. If you are thinking about purchasing the book, please think about using one of the links. All money received goes back into the blog and helps to keep it running. Thank you.
Like us on Facebook – Tweet us on Twitter – Pin us on Pinterest – Join us on Instagram