The Gypsy Killer by Angela Dandy – Book Review
The Gypsy Killer by Angela Dandy – Book Review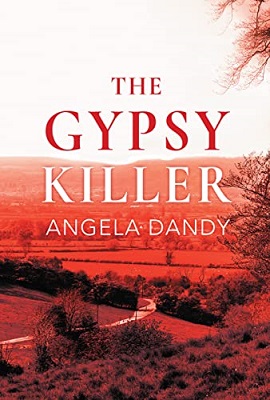 The Gypsy Killer
Author – Angela Dandy
Publisher – SilverWood Books
Pages – 308
Released – 20th October 2021
ISBN-13 – 978-1800421103
Format – ebook, paperback
Rating – 4.5 Stars
I received a free copy of this book.
This post contains affiliate links.


Synopsis
When a fire destroys a gypsy caravan and kills LJ's wife, Jess, all eyes turn to the residents of Bartonford, a picturesque village in Warwickshire. With property prices plummeting, the villagers will stop at nothing to see the back of the gypsies. But will they resort to murder?
Student Elizabeth Goodge is no lightweight when it comes to ferreting out information. What she discovers is shocking. The life of another gypsy hangs in the balance – one more in a long line of victims.
A story of family, hope, despair and obsession – no-one is safe while the gypsy killer roams free.
The Gypsy Killer is a murder mystery that keeps the reader on their toes. It's obvious early on that there's a Gypsy killer at large, with the hook being immediate by the fine crafting of the author's expressions and storytelling. I was definitely longing to know more.
This is the tale of Jess with her eager imagination and passion for life which was beautifully emotive and vivid in texture and tone. She's a wonderfully fresh character that I connected with from the outset. She was adopted into the Roma family and the traditions of these people which gave a very detailed insight into a community that is not very well established in the ordinary world and the prejudices they face.
All of the characters were utterly rich and refreshing with so much detail but the character Fred was definitely one of my highlights, and I particularly loved how, despite the murders, the author still managed to introduce humour into the novel.
The only very slight downside I would say was that there are a lot of coincidences that show the path the author is taking you on before you get to the twist but that didn't put me off as there are twists and turns aplenty and I was completely immersed in both the characters and the story.
I really enjoyed this book, it is one of those books that you stay up late into the night to read – 'just one more chapter'. The authentic writing style is fast-paced and page-turning stuff and the ending felt as though it was full of suspense, most definitely keeping me on my toes.
The Gypsy Killer is a good read that I would highly recommend and I will definitely be picking up previous books written by this author.
Purchase Online From:
---
What did you think of 'The Gypsy Killer'? Share your thoughts in the comment section below!
---
The above links are affiliate links. I receive a very small percentage from each item you purchase via these links, which is at no extra cost to you. If you are thinking about purchasing the book, please think about using one of the links. All money received goes back into the blog and helps to keep it running. Thank you.
Like us on Facebook – Tweet us on Twitter – Pin us on Pinterest – Join us on Instagram