The Library of Lost and Found by Phaedra Patrick – Book Review
The Library of Lost and Found by Phaedra Patrick – Book Review
The Library of Lost and Found
Author – Phaedra Patrick
Publisher – HQ
Pages – 368
Released – 27th June 2019
ISBN-13 – 978-0008237646
Format – ebook, paperback, audio
Reviewer – Stacey
Rating – 4 Stars
I received a free copy of this book.
This post contains affiliate links.
A librarian's discovery of a mysterious book sparks the journey of a lifetime in the delightful new novel from the bestselling author of The Curious Charms of Arthur Pepper.
Librarian Martha Storm has always found it easier to connect with books than people―though not for lack of trying. She keeps careful lists of how to help others in her notebook. And yet, sometimes it feels like she's invisible.
All of that changes when a book of fairy tales arrives on her doorstep. Inside, Martha finds a dedication written to her by her best friend―her grandmother Zelda―who died under mysterious circumstances years earlier. When Martha discovers a clue within the book that her grandmother may still be alive, she becomes determined to discover the truth.
As she delves deeper into Zelda's past, she unwittingly reveals a family secret that will change her life forever.
Martha Storm works as a librarian. She constantly puts others before herself and doesn't know how to say 'no' to people when they ask her to do their chores for them, including her sister.
One evening as she is approaching the library for an authors event she sees a man leaving a parcel addressed to her on the step outside the library. Inside is a tatty old book that has been dedicated to her from her Grandmother Zelda. The strange thing is the date on the dedication is three years after Zelda's death.
The book is filled with stories that Martha wrote and told her Grandmother. Spurred on by the strange date in the book, Martha is determined to find out what happened to her Grandmother and where the book came from.
The Library of Lost and Found is a very sweet read. At first I struggled with Martha as a character because she was such a pushover, she didn't like to let people down and so she put her own life on hold for others including her parents who she looked after until their death, her boss who kept overlooking her for a full-time job at the library and her younger sister. I felt like screaming at her to tell them to do their own laundry or fix their own child's school trouser, etc.
However, as the book progressed you get to witness Martha realising how much of herself she gives to others and that it is time to say no. She might have been a middle-aged woman but it was wonderful to watch her grow as a person. I also loved Suki, who worked with Martha, and the wrong words she used all the time (cat's eyes instead of capsized etc).
The book is mainly told in the present but there are a few chapters that show you Martha's childhood as well as the stories that she told her Grandmother.
This is a beautiful book that was perfect for sitting in the sun with and reading away for a few hours. The pages flew by as I immersed myself in Martha's life. There were a few shocking moments as the past came to light and mysteries unfolded.
The plot, the characters, and the setting make this book a real joy to read. Once I had picked it up I didn't want to put it down again. I needed to know the truth as much as Martha did.
Book Reviewer – Stacey
---
Purchase online from:
---
About the Author

Phaedra Patrick originally studied art and marketing and has worked as a stained glass artist, film festival organiser and communications manager.
An award-winning short story writer, she now writes full time. She lives in Saddleworth, UK, with her husband and son.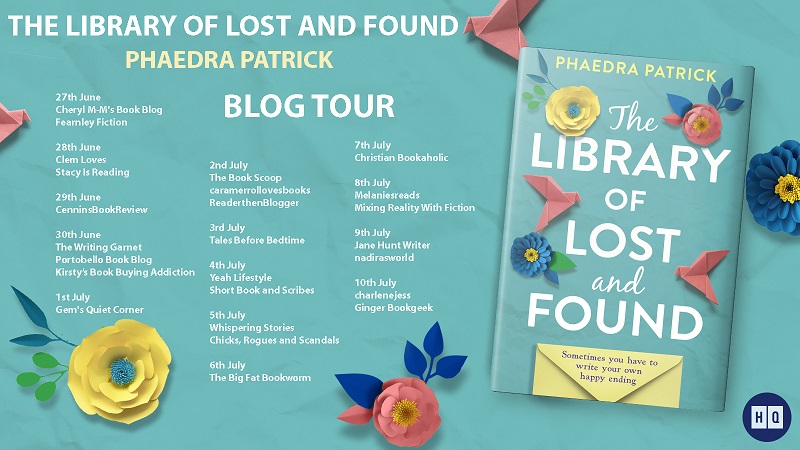 ---
What did you think of the book? Share your thoughts in the comment section below!
---
The above links are affiliate links. I receive a very small percentage from each item you purchase via these link, which is at no extra cost to you. If you are thinking about purchasing the book, please think about using one of the links. All money received goes back into the blog and helps to keep it running. Thank you.
Like us on Facebook – Tweet us on Twitter – Pin us on Pinterest
If you enjoyed our post please feel free to share it using the social media links below.