The Writing Life of C.B. Munn
C.B. Munn
This week I am thrilled to be interviewing author C.B. Munn, who will be sharing with us details of her writing life, telling us all about her book 'Chosen In Time', which was released on 24th February 2022 and answering a few fun questions. This post contains affiliate links.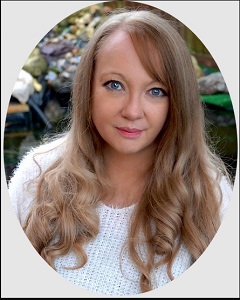 C.B. Munn was born in England. She began writing in 2020. She lives in Kent with her partner and her 10-year-old daughter. Chosen In Time is her first children's novel.
Growing up as a child, she could always be found with a book in her hands, lost in a faraway land of magic and adventure.
Throughout her years growing up, C.B. Munn always intended to write books to bring those same feelings to other children one day. After realising the days, months and years were speeding by, she put pen to paper and 'Chosen In Time' came to life.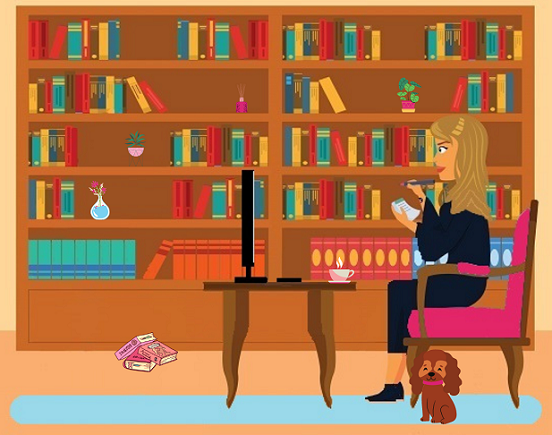 1) Did you enjoy writing when you were a child?
​I loved to write as a child. My imagination was quite vivid. I seemed to like including a lot of evil witches in most of my stories with fairies, elves and Goblins… the good always won though!
2) Which author shaped your childhood?
Enid Blyton 100% It was magical and escapism. All the wonderful characters that she created. The wonder as a child of flying around on a magic chair visiting weird and wonderful places. Climbing the top of 'The Wishing Tree' and not knowing which magical adventure it would take you on. Roald Dahl was another firm favourite, but Enid Blyton started my joy reading as a child and inspires me a lot.
3) What motivated you to begin your first novel?
Words from my eldest daughter. I have always encouraged her to never give up on her dreams and however tough it gets to keep pushing through. After years of reiterating this to her, she turned my words back on me. It played on my mind and I knew it was time to practice what I preached. The rest as they say is history. Chosen In Time was brought to life.
4) Do you plot your book, or are you a pantser?
​I would have to say a bit of both. I will lay out a very basic plot of where I want to be at the start, middle and end and then just write from my imagination. It helps that my characters are very vocal in my mind and have such different personalities, I can get straight into their characters. If something doesn't sit well with me, I will leave it until it becomes clear and then go back and do the rewrite.
5) What is your average writing day?
​I work part-time and have a 10-year-old daughter so I am generally very busy during the days. I write at night when everyone has gone to bed. If I manage to grab a few hours during the day, I have been known to go to a quiet spot in the village I live in and sit on the bench and write. This is the same place that my portal setting in the story is inspired by.
6) What is the best thing about being an author?
Making someone smile. If I can bring a smile, a laugh, some joy or escapism to just one person then I have won and accomplished the whole reason that I write.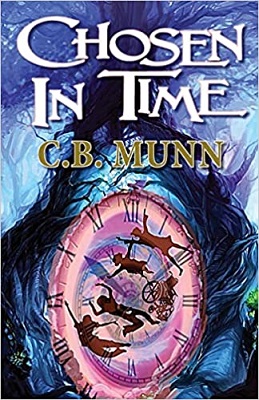 Chosen In Time
Author – C.B. Munn
Pages – 158
Release Date – 24th February 2022
ISBN 13 – 978-1399916783
Format – Paperback
Synopsis
A school under sabotage, a raging lightning storm, four children as different as night and day are thrown back into a year where everything has changed. Danger looms, secrets, and clues must be found to bring justice back into the future.
Meet Jamie, the cool, laid-back joker. Emmie, they call her the angry bully. Donnie, the well-mannered class representative, and Lottie… thoughtful, gentle, clever, and kind-hearted.
Together, they must learn to work as a team, face their past, and succeed. Will they survive the school system living in the past?
Can they make it through the teacher's punishments? Will Jamie's pranks lead them into more trouble? Can Emmie take on a school bully that's possibly worse than her? Can Donnie learn that class and wealth isn't everything? Can Lottie overcome her fears and triumph? Will they ever let Jamie forget about the underpants incident…?
Join them as they are unwillingly thrown together and slowly realise teamwork, and a little bit of luck can go a long way.
Purchase Online From:
7) How did you go about researching the content for your book?
Although I wasn't born in the late '50s or '60s, my dad was. My dad would spend hours with me on the phone reliving stories from when he was at school. The way the teachers were back then and the punishments he incurred. A few of his stories I have taken from him and added to my story. He has the most amazing coin collection and talked me through shillings, farthings, and thruppenny bits to name but a few.
The shops were different, and the types of cars that were around. One of my main characters is wheelchair-bound. I made a few phone calls to organisations to find out how children were treated at that time if they had a disability.
8) How long did it take to go from the ideas stage to writing the last word?
It took me just short of one year to type my last word. This included any re-writes that I made.
9) What made you choose the genre you write in?
My love of reading as a child. For me, it really is about the escapism reading can bring. With all the troubles and sadness in the world, it can take you away from that for a short time.
10) How did you come up with the name(s) for your lead character(s)?
My lead characters in the book are four very different, diverse children. Jamie is based on my son-in-law, also called Jamie. Lottie is based on my friend's son Charlie who is also wheelchair-bound. Emmie was just a lightbulb moment, the name came to me and just stuck in my head. Lastly, Donnie was chosen purely for the fact, that I seemed to have started a trend using names ending in 'ie'.
11) Can you give us an insight into your characters?
Jamie is very laid back, he likes to have a joke and is the first to make light of any situation. He loves sports and gaming.
Emmie is very much a loner. Not having a great start in life she is full of a lot of anger and pain. She tends to protect and attack before anyone has the chance to do it to her.
Donnie is a sensible academic that likes to play by the rules. He has had a very privileged life but with all the family's wealth, maybe it can bring some loneliness too.
Lottie is very kind-hearted and thoughtful. She looks at the positive things in life and is a friend that everyone needs. She doesn't let her disability hold her back.
12) How did you feel when you had completed your book?
It was a very surreal feeling. For as long as I can remember my friends and family have always known it has been my dream to write books. To have finally accomplished this, I still don't think it has sunk in completely yet. To have held my book for the first time was the greatest feeling!
Fun Questions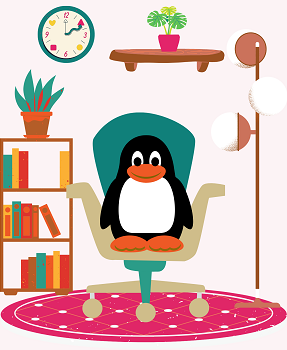 1) Do you have a favourite quote?
I actually have two. The first one I seem to say to my 10-year-old daughter a lot. "There is no such word as can't, just not yet!"
The second one which stems from my feelings is. "Adventures come and go, Dreams stay forever. Time doesn't slow. Believe, and it will all come together."
​Sadly we lost our two Guinea Pigs (Pip and Squeak) during the lockdown. We do however have Koi Carps, Goldfish and a Sturgeon in our pond in the garden with a few frogs. My daughter is an avid horse rider so we spend quite a bit of time around horses.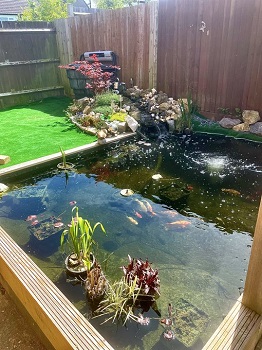 3) What are you currently reading?
I haven't had as much time as I would like lately to read. I currently have 'The Midnight Library' by Matt Haig on the top of my list, followed by 'Where the Crawdads Sing' by Delia Owens.
4) Your book has been made into a movie, you've been offered a cameo role, what will you be doing?
I would be a social worker doing all I could to help Emmie find her happiness!
5) If you could travel to a fictional world from any book for the day, which would you choose?
Ohhh what a great question. It would have to be 'The Chronicles of Narnia, The Lion, Witch and the Wardrobe.' The winter wonderland and mystical creatures would leave me in awe. If only!
6) There's a penguin sitting in your chair, what's the first thing he says to you?
Releasing a long, loud burp that seems to go on forever. "Your pond needs restocking, I got a bit peckish! My sincere apologies, but whilst you're standing there imitating a fish's mouth, do me a favour and go grab me some ice, I'm thirsty now! Much obliged – I will name my first chick after you!"
A big thank you to C.B. Munn for sharing her writing life with us and for a wonderful interview.
---
Author links
Twitter
Facebook
Instagram
Goodreads
Website
---
The above links are affiliate links. I receive a very small percentage from each item you purchase via these link, which is at no extra cost to you. If you are thinking about purchasing the book, please think about using one of the links above. Thank you.