The Writing Life of: JT Lawrence
JT Lawrence
Today I have the honour of interviewing author JT Lawrence (Janita) about her writing life, and about her latest book, Grey Magic, which was released on the 17th October 2016.
So without further ado, say hello to Janita. Post contains affiliate links.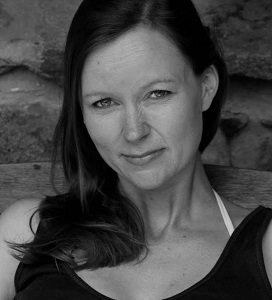 JT Lawrence is an author, playwright and bookdealer based in Parkhurst, Johannesburg. She is the mother of two small boys and lives in a house with a red front door.
Her first novel, 'The Memory of Water' (2011), is about a writer who would do anything for a story. It's an Amazon bestseller with over 20,000 downloads. Her 2015 offering, 'Why You Were Taken', is a pre-dystopian sci-fi thriller starring a synaesthete, and takes place in a futuristic Jo'burg burdened by infertility and a water crisis. It was optioned by the national broadcaster and the much anticipated sequel, 'How We Found You', is currently in the works.
JT has written various plays for SAFM including 'The Shelter', 'Unspilling the Milk', 'Every Breath You Take', and serials, the most recent being the crime drama 'Jigsaw'. Her short story collection 'Sticky Fingers' was broadcast in the last quarter of 2015, and is now available as a paperback and ebook.
Her humorous memoir, 'The Underachieving Ovary', was released in September 2016.
'Grey Magic' is her latest novel. It's about an eccentric modern-day witch, accused of murder, who must explore her past lives in order to keep her freedom — and find her way back to magic.
---
1) Do you remember the moment you decided that you would like to become a writer?
Writing has always come naturally to me. In primary school there were handwritten comics and stories, and typed-out novellas — printed on our shiny dot matrix printer — and I went through a phase of writing 'newsletters' in primary school documenting my eccentric childhood habits, like bathing with socks on, and baking chocolate cake in the microwave.
I still know the words to the first poem I ever wrote (at seven) because my cruel family would recite it back to me at every single opportunity until I blushed. It was a four-liner called 'Twinkle, Twinkle, Little Dragon'.
2) How did you go about following your dream?
I started writing … and I didn't stop! Also, I embraced indie publishing, which has been the single most empowering thing that I've ever done.
3) Is there a particular author that inspires you?
On the writing side: Kate Atkinson, Michel Faber, Margaret Atwood. On the indie author side: Joanne Penn.
4) What is your average writing day like? Do you have any strange writing habits?
I have a strict schedule where I write from 11:00 till 12:30 every day Monday through Saturday. I outsource the kids, disappear from my job, and walk to the restaurant down the road where the waiters know me and I've barely sat down before my flat white arrives. Lately I've been listening to white noise to help me focus.
5) Do you write Longhand, Typewriter, Computer?
I plot in longhand, in black ink, in a black Moleskine. There's a different Moleskine for every book. Then the actual manuscript writing is on my laptop, in Scrivener.
6) From all your books, do you have a favourite character?
At the moment my favourite character is Raven Kane from 'Grey Magic'. She's a hip, hexing-and-texting witch.
7) Do you plot your books completely before hand or do you let your imagination flow whilst in the writing process?
First I write one paragraph of what I think the book is about, then I write out the ten plot pints in one-liners. From there it's a combination of seeing where the writing leads me and stopping to work certain things out in longhand. So, really, it's a mixture of the two, but I do start with an overall plan.
Concerning your latest book: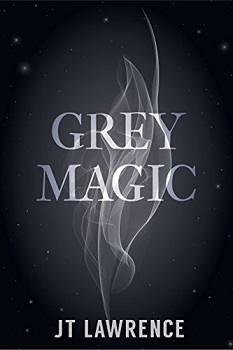 Grey Magic
Author – JT Lawrence
Publisher – Pulp Books
Pages – 392
Release Date – 17th October 2016
ISBN-13 – 978-0620716741
Format – ebook, paperback

No one appreciates the irony of her situation more than Raven Kane: she's a burnt-out witch. Raven is a hip, hexing-and-texting sorceress – or at least, she used to be. Now her ancient timber house is falling down around her, and the bank wants to repossess it. Nothing would make her cantankerous neighbour happier than seeing Raven and her messy menagerie out on the street.
To add to her stress, the reckless Wicked Witches are causing mischief and it's her job to reign them in. Worst of all is that her magic seems to be fading. Just as everything seems to be too much to handle, there's a knock on the (splintering) door. A not-unattractive man appears in her life: not to save her, as a fairytale would have you believe, but to arrest her for the murder of one of her clients. It wouldn't be that bad for Raven, except that she knows she's guilty.
Have a read of our review of 'Grey Magic'

8) How long did it take to get from the ideas stage, to the date of publication?
I had the idea when I was writing a short story about a modern-day witch about 18 months ago. As I finished it, I thought: I need to write this into a novel. I let it percolate for a while and then started writing.
The first draft took six months, and the re-writes another couple of months. Then there was editing and proofing, and cover design. I'd say from typing the first sentence to uploading on Amazon probably took around a year. That's incredibly quick, for me.
9) Did you suffer from writer's block at any stage? How did you overcome it?
Luckily not. This book was so much fun, it practically wrote itself!
10) How did you come up with the name(s)for your lead character(s)?
Raven's name just came to me as if she was already fully formed in my mind. Raven Kane. When I struggle for names for other characters, though, I take them from my readers.
11) If your book was made in to a film, who would you love to play the lead character(s)?
Emilia Clarke or Jennifer Lawrence.
12) Did you get anyone in particular to read your work before sending it to the publisher i.e family member, friend etc?
I have a beta reader team, so they all read it. My husband is one of my most useful beta readers. I also had a couple of editors on this book, and my Dad and his wife proof-read for me just before we hit 'publish'.
Author Links
www.pulpbooks.wordpress.com
@pulpbooks
Facebook
Instagram
Goodreads