Traumata by Douglas Renwick – Promo Post
Traumata by Douglas Renwick – Promo Post
Sponsored Post – Today we welcome author Douglas Renwick with his Promotional Post for his thriller novel 'Traumata', which was released on 10th September 2019. Keep scrolling down for an exclusive extract.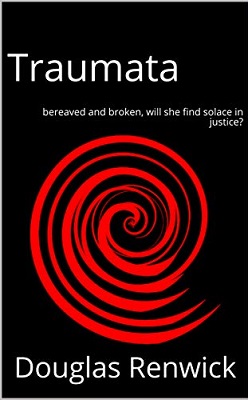 Traumata
Author – Douglas Renwick
Pages – 262
Release Date – 10th September 2019
Format – ebook

When Army doctor Melanie is stranded behind enemy lines in Afghanistan, she's taken in by a remote Pashtun community and becomes their GP. Three years later, a British major leads an attack on the village killing several civilians. Believing Melanie to be a traitor, he takes her captive, raping her before dispatching her for onward rendition.
Eventually, she returns to the UK to recover from PTSD. While in hospital, she discovers the major is a newly elected MP. Her psychiatrist suggests she joins an on-line bereavement support group where she exchanges emails with mystery-man, Rand. She confides in him, telling him how she married a war-lord's son and gave birth to his child, and how both were killed in the raid. On his advice, she reports the major to the police but they do nothing. Under the Pashtun code, it's her duty to avenge her loved ones. Rand offers to help her kill him. She can't bring herself to do so, but imagining it appeals.
When the MP is found dead, Melanie is questioned. Rand vanishes, so she asks her father, Michael, to help. He seeks advice from a London solicitor who agrees to act for her. Days later, the police charge her with murder and remand her for trial at The Old Bailey. It does not go quite as her defence team expected…
What reviewers' are saying:
"This is a mature and sophisticated novel which is indeed sensitive to character as well as logical principles." – 5 Stars
"Douglas Renwick has once again demonstrated his remarkable story telling abilities" – 5 Stars
"Clever use of language and imagery, defined characterisation and intriguing plot line are what we have come to expect from Mr Renwick" – 5 Stars

---
Extract
"My Lord, I would like to call as my first witness: the defendant, Dr Melanie Green."
It was a tense moment for all present in Court One of The Old Bailey when the girl was led out of the back of the dock, through the well of the court into the witness box. Michael watched from the public gallery. He felt sick. Having confirmed her identity and profession, his daughter read out the oath in a clear voice, then smiled at Mark, indicating her readiness.
He began. "Dr Green. Could you please tell us the nature of your work?"
"I am a captain in the Royal Army Medical Corps. At the moment I'm a patient at Beechwood Hall, a convalescence facility for military personnel. I was sent there six months ago, suffering from post-traumatic stress disorder."
Mark turned to the judge. "My Lord, if it pleases the court, I will ask the witness to tell us in her own words about the traumas which led to the disorder. This will not be easy for her, but she has specifically asked if she may do this."
The judge agreed, and Melanie began her story, from taking off in the helicopter on her casevac mission to arriving at Beechwood Hall nearly four years later. Michael was as moved as anyone. He thought he knew it off by heart, but each time he heard the harrowing tale an extra little bit of important detail had been added.
When she finished, Mark made a pretence of going through his papers, obviously, thought Michael, to give the jury a few moments to reflect on what they had just heard. Then he stood up straight and addressed the judge.
"My Lord, may I perhaps say on behalf of all of us here in this room how grateful we are to the witness for sharing with us the horrors she was so unfortunate enough to have experienced in the service of this nation." The jury nodded enthusiastically. Mark looked at the courtroom clock. "With respect, may I suggest we adjourn for twenty minutes before continuing with questions?"
The judge agreed, but before giving the order he addressed the jury.
"Ladies and gentlemen, you have heard a distressing tale. Of a young woman who has experienced a succession of traumata, some of which were part of her job as a doctor in a war zone, which she could have expected.
"Some were not. She has bravely told us that she was the victim of rape, a most serious crime in any jurisdiction. However, I must remind you that this is not a rape trial; the alleged rapist is not here to defend himself, and whether or not he was guilty of the offence is not a matter for this court. While you may rightly accept that a rape victim deserves the full support of the law, you must not let sympathy persuade you of the defendant's innocence of the offence for which she is charged."
The break was well appreciated, not least by the witness herself who was able to handle the questions which followed without her voice cracking or having to resort to a paper tissue. Mark asked her how she found out about Mr Nasty and how she felt when she did so. He made a point of using Melanie's nick-name for her abuser whenever possible. It was less of a mouthful than Major Bretton-Willis, but Michael suspected he used it as a mild form of character assassination.
Mark asked her why she'd joined the bereavement support group and why she had accepted an invitation from a Mr Randolph O'Brian to engage in private correspondence. He reminded the court that the defendant's emails to the man were contained in Exhibit 2, but explained it contained no record of his responses.
Michael leaned forward in his seat, anxious not to miss any of the drama which he thought was going to follow.
---
Purchase Online From:
---
About the Author
Brought up in South East England, went to the Royal Military Academy Sandhurst and commissioned into the Royal Engineers. Achieved an MA at Cambridge University in Mechanical Sciences and in Economics. Served for 25 years then set up a company restoring and renovating old houses before retiring to write and ski.
He has four children, ten grandchildren and four grand-dogs, and divides his spare time between West Kent and the French Alps. (Please note my pen name is Douglas Renwick, my two middle names.)

---
Share your thoughts on Douglas Renwicks book, Traumata in the comment section below!
---
This is a sponsored post.
Like us on Facebook – Tweet us on Twitter – Pin us on Pinterest