Word Perfect by Susie Dent – Book Review
Word Perfect by Susie Dent – Book Review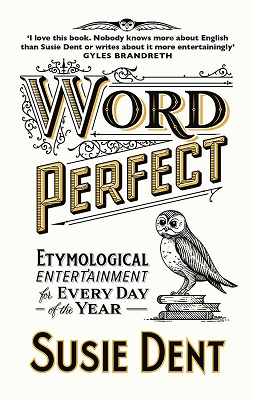 Word Perfect
Etymological Entertainment For Every Day of the Year
Author – Susie Dent
Publisher – John Murray
Pages – 416
Released – 15th October 2020
ISBN-13 – 978-1529311518
Format – ebook, hardcover, audio
Rating – 4 Stars
This post contains affiliate links.


Synopsis
Welcome to a year of wonder with Susie Dent, lexicographer, logophile, and longtime queen of Countdown's Dictionary Corner.
From the real Jack the Lad to the theatrically literal story behind stealing someone's thunder, from tartle (forgetting someone's name at the very moment you need it) to snaccident (the unintentional eating of an entire packet of biscuits), WORD PERFECT is a brilliant linguistic almanac full of unforgettable stories, fascinating facts, and surprising etymologies tied to every day of the year. You'll never be lost for words again.
Word Perfect from Susie Dent is a book filled with words you either don't often hear these days or the original meaning behind these words has long been forgotten. The book is set out in a diary format, so that you have one word a day, beginning on New Years Day with the word 'Crambazzled' which in old Yorkshire dialect means to be prematurely aged through excess drinking, a word a lot of people could use on the 1st January.
I love finding new words and some are intriguing such as 'Choreomania' which is the compulsion to dance. What's more, is that every word not only has a definition but it also contains information about its origins and a factual story about something related to it. In this case, in 1374 in the town of Aachen, Germany it is recorded that the citizens congregated en masse and began to dance uncontrollably.
This is a book that will fill those who love to learn and gain knowledge with giddy excitement. 365 words, their origins, meanings, and factual information contained in one book written in an easy-to-understand style, and with the diary format you could choose to learn one new word a day. Although I'm not quite accurate in saying just one word a day or 365 words as each word often has others contained within the information that is related to the given word, so in fact, you are getting a lot more than you would expect.
I enjoyed learning about the words. Whether they will stay in my head and I remember to use them as and when the time arises is a different matter. The book is very British and there will be words that those around the world will never have heard of. There are also some that British people will never have heard of because they are regional words never heard outside of their city of origin or mean something different in different parts of the country.
Overall, this is a book for those who love etymology and want to broaden their range.
Purchase Online From:
---
What did you think of 'Word Perfect'? Share your thoughts in the comment section below!
---
The above links are affiliate links. I receive a very small percentage from each item you purchase via these link, which is at no extra cost to you. If you are thinking about purchasing the book, please think about using one of the links. All money received goes back into the blog and helps to keep it running. Thank you.
Like us on Facebook – Tweet us on Twitter – Pin us on Pinterest – Join us on Instagram