The Writing Life of: Sarah Marie Graye
Sarah Marie Graye
This week on 'The Writing Life of:' I am thrilled to be interviewing author Sarah Marie Graye. Sarah will be sharing with us detail of her writing life, telling us all about her latest book 'The Second Cup', which was released on 19th July 2017, and answering a few fun questions too.
So without further ado I'll hand you over to Sarah Marie Graye. Post contains affiliate links.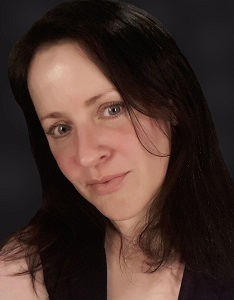 Sarah Marie Graye was born in Manchester in 1975, to English Catholic parents. To the outside world Sarah Marie's childhood followed a relatively typical Manchester upbringing, until aged nine, when she was diagnosed with depression.
It's a diagnosis that has stayed with Sarah Marie over three decades, and something she believes has coloured every life decision, including the one to write a novel.
Sarah Marie wrote The Second Cup as part of an MA Creative Writing practice as research degree at London South Bank University – where she was the vice-chancellor's scholarship holder.
Sarah Marie was diagnosed with ADHD in November 2017 and published an extended edition of The Second Cup in February 2018 that included character interviews so she could diagnose one of her characters with the same condition.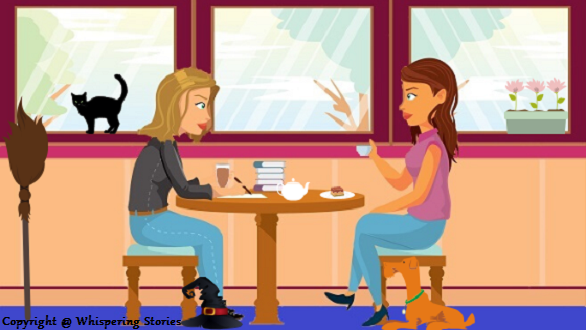 1) As a child what did you want to do when you grew up?
I wanted to be Floella Benjamin. I didn't realise you couldn't be another person, so people assumed I wanted to be a children's TV presenter – which is probably quite a cool job, but not something I'd want to do. Floella always seemed so smiley and happy and I wanted to be that. I also wanted to have beads in my hair.
2) Who were your favourite childhood authors?
I didn't enjoy reading as a child at all. I didn't discover the pleasure of reading until I was a teenager and it was more that the library was a "safe space" at school, so I spent time in there. So I guess you could say I started reading by accident.
3) At what point in your life did you realise you wanted to be a writer?
It was during my A Levels. I was studying Performing Arts, but an injury meant I couldn't dance, so I was majoring in theatre instead – and found the writing side fascinating.
4) How did you go about following that dream?
After my A Levels, I studied a degree in Scriptwriting at Bournemouth University. During the course I discovered my writing style was more suited to the introspection allowed in novel writing. It was another 15 years before I decided to write a novel though.
As I'd found the academic support side of my degree so helpful, I decided to study an MA Creative Writing. I found a course where I could focus on one novel – rather than having to produce a portfolio of work – and I finished my novel about a year after I finished the course.
5) What is your writing day like? Do you aim for a certain amount of pages or words before you stop for the day?
I seem to have absolutely no writing process at all, which is very frustrating! I've finished the first draft of my second novel and I've not approached it in the same way I did my first.
With my first novel, I wrote over the weekend. I'd get in loads of my favourite foods and effectively camp out in my lounge. My sleep pattern would go completely haywire and on a good weekend I'd get 5,000 words written. Other weekends, the same approach wouldn't work and I'd often end up with a few hundred words.
This time round, I started off being a lot more lackadaisical about it, not even sure if I had the energy to write another book. But I've ended up being more steady, with around 1,000-1,500 words written in each sitting. But now I no longer write on weekends, I have no pattern as to when I'll sit down to write.
Hopefully, I get a better writing pattern together with book three. (Fingers crossed!)
6) Did you ever consider writing under a pseudonym?
I haven't written under my original name, but it's not a pseudonym either. "Addyman", my old surname, would have been great if I was a crime writer. But it wouldn't work for the type of novels I want to write.
I didn't want to use a pseudonym, so I decided to change my surname by deed poll instead. The spelling of "Graye" I chose is from the same area of Yorkshire that "Addyman" is from, so I'm still paying tribute to my roots.
It's also five letters long – as are "Sarah" and "Marie" – so my name is beautifully balanced on a book cover, which is very pleasing to the eye. There's no hyphen between "Sarah" and "Marie" as that would mess it up!
7) Do you have any strange habits before starting, or whilst in the midst of writing?
Not that I know of… and I live alone, so I don't have any housemates who can disagree!
8) Do you write longhand, typewriter, or on a computer?
I type straight into Word onto the computer. I know other writers who swear by special writing software, but I'm happy with the computer equivalent of a writing pad. I can touch-type, so I'm much faster at typing than I am writing. Also my handwriting is appalling so I couldn't guarantee being able to type up what I'd written.
9) How many books have you written? Do you have any unpublished work?
I have one novel published and my second novel is currently with my editor and I hope to publish it soon – I'm aiming for August. I'm at the "mulling ideas over" stage of my third novel, which I plan to start working on properly once the second is published.
10) Are you a plotter or a pantser?
When it comes to the main plot, I'm definitely a plotter, but I find that sub plots form out of the writing process. Sometimes I realise a character needs to feel a particular way about something for a conversation to work, so I'll back up how they feel with a sub plot. This approach means the sub plots are automatically intertwined with the main plot, and so they grow as the main story does.
11) Do you read all the reviews left for your book(s)?
I did for the first few months and very quickly realised that way madness lies, so I stopped. I wrote the book I wanted to write, rather than writing for a particular audience, so my book doesn't fall neatly into a specific genre, and that annoyed some readers. And I wrote about suicide, which other people have very strong views on – and some were angry about the approach I took.
Concerning your latest book: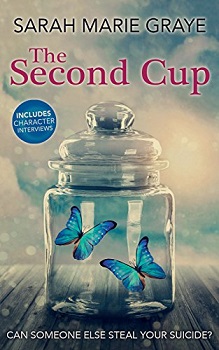 The Second Cup
Author – Sarah Marie Graye
Publisher – Createspace
Pages – 244
Release Date – 19th July 2017
ISBN 13 – 978-1978030077
Format – ebook, paperback

Would your life unravel if someone you knew committed suicide? Theirs did.
Faye's heart still belongs to her first love, Jack. She knows he might have moved on, but when she decides to track him down, nothing prepares her for the news that he's taken his own life. Faye is left wondering how to move forward, and whether or not Ethan will let her down again.
And when she tells her friends, the news ripples through their lives too.
Abbie finds herself questioning her marriage – and wondering if she was right to leave her first love behind. Poor Olivia is juggling her job and her boyfriend with supporting her friends and trying to deal with a death of her own. And Jack's death has hit Beth the hardest – even though she never knew him. Is she about to take her own life too?
While the four friends take it in turns to explain what happens after Jack's suicide, third-person flashbacks are skillfully interwoven to add a real richness and depth to this heart-wrenching story.

12) How long did it take you to get from the idea's stage to your date of publication?
I had the idea somewhere within the depths of my brain for years before it formulated properly. From the point where I decided I was going to write a novel up until publication date was around four years.
13) How did you come up with the names for your characters?
Some characters I had names for from the very beginning – Beth was always Beth. But others changed as their characters developed and the name they had no longer suited them. Faye, for example, started out as Jess – which just seems ridiculous now, as she's so obviously a Faye.
14) Can you give us an insight into your main character(s) life?, What makes them tick?
All four of my main characters – Beth, Faye, Abbie and Olivia – are fighting internal battles, and it's this mental anguish that bonds them together as friends. In The Second Cup each of them gets to explore who they are and develop into stronger versions of themselves.
Beth collects damaged people – she's the reason they are all friends. Faye is attempting to move on from a relationship, but can't. Abbie has her career life sorted, but her second marriage is failing. And Olivia feels like she's on the outskirts of life while it happens around her. I hope it's their imperfections that make them work as characters.
15) Which was your hardest scene to write?
I honestly can't pick a particular scene. It was a tough book to write because mental health is something I personally deal with every day.
16) How did you come up with the title of your book?
I'm fascinated by the seemingly restorative qualities a cup of tea has in British culture. Offering someone a cup of tea is something you can do when you don't have the answers and can't solve their issues.
My parents are (happily) very set in their ways and the routine of their lives has particular patterns, one of which is whether or not they've had the second cup from the pot. My dad never checks the teapot himself. Instead, he'll say "Second cup?" to my mum, to which she'll respond with a set number of answers.
I felt this pattern was a good way of representing the fact that Beth could miss the routine of being part of a family even though she was estranged from them.
17) Did you get a family member/friend to read your work before sending to the publishers?
I was lucky enough to have a university tutor as my first reader, which meant I got feedback on my writing without it being personal. It gave me the confidence to share it with friends.
18) What process did you go through to get your book published?
I decided not to go down the traditional path of trying to secure an agent who then looks for a publisher for your work because I was too impatient. I'd finished my novel and wanted people to read it.
So I looked into hybrid publishers and found one that seemed to be a good fit for my work. We parted ways earlier this year and after briefly self-publishing, I'm now published through Pict Publishing.
19) What did you do once you had written the final word in your book?
I can remember feeling a little lost actually. I didn't have the elation I expected. It seemed fitting to have a cup of tea, so I made a pot – something I usually only do when I have visitors.
20) What's next for you, writing-wise?
My second novel, The Victoria Lie, is currently with my editor. It's the second book the "The Butterfly Effect" series. It's about a different group of friends and it works as a standalone book, but the idea behind the story is the same – that you can be greatly affected by something that happens to someone else. Beth and Faye from The Second Cup pop up in it too.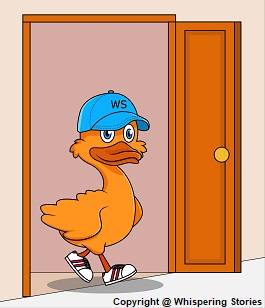 1) What's your favourite food?
Pizza. I'm a believer that all other savoury foods work on pizza. It works well as a food when you're writing because it can be eaten cold. If I'm eating while I'm reading the work I've just written, I can stop eating and start writing again knowing my food won't be ruined.
2) If you had a box of crayons and you could only choose one, which colour would you choose?
Purple! I have no idea why it's my favourite colour, it just is. Purple things make me happy.
3) What movie could you watch over and over again?
Memento. It's a slow-paced psychological thriller that's told backwards. Over the course of the film you begin to realise that Lenny, the central character, isn't as innocent as you think, which is an unusual take on someone with a brain injury.
4) What would be the top song on your playlist?
Down in the Park by Gary Numan – I never tire of listening to it.
5) If you won millions, what would be your first purchase?
A house by the sea. I live on the North Kent coast and I'm about a 10 minute walk away – and I would love to reduce that 10 minutes to 30 seconds. Plus waking up every day to that view would lift my spirits better than any drugs could.
6) A talking duck walks into your room wearing a baseball cap and sunglasses, whats the first thing he says to you?
'I'm hungry. Anyone seen Groucho or Harpo?'
You can find out more about Sarah Marie Graye by visiting the website/social media sites below.
www.sarahmariegraye.com
@SarahMarieGraye
Facebook
Instagram
Goodreads
I would like to say a big thank you to Sarah Marie Graye for sharing with us details of her writing life, and for a wonderful interview.