The Writing Life of: Stephen Phelps
Stephen Phelps
This week on 'The Writing Life of:' I am thrilled to be interviewing author Stephen Phelps. Stephen will be sharing with us detail of his writing life, telling us all about his latest book 'A Recipe for Disaster: Cooking up a Big Italian Idea', which was released on 22nd July 2017, and answering a few fun questions too. Post contains affiliate links.
So without further ado I'll hand you over to Stephen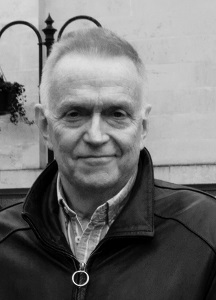 Educated at Oxford University, I began working with BBC Radio, moving to BBC TV where I launched Watchdog and produced the investigative legal series Rough Justice. In Hong Kong for BBC World Service Television I oversaw the start of BBC World.
I then spent twelve years running my own TV production company, Just Television, specialising in investigative programmes in the field of law, justice and policing. In particular, Trial and Error for Channel 4 which exposed and investigated major miscarriages of justice, winning the Royal Television Society's inaugural Specialist Journalism Award in 1999. Recently I have been working as a consultant for Aljazeera English on major documentary projects.
In 2002 I took an MA in Creative Writing at the University of East Anglia. Writing credits include many plays for BBC Radio, my most recent being a drama documentary for the 30th anniversary of the Herald of Free Enterprise disaster. Books: The Tizard Mission published by Westholme Publishing in the United States, tells the extraordinary story of how Britain's top scientists travelled in secret to America in the autumn of 1940 to give away all their wartime secrets to secure US support in WWII.
A Recipe for Disaster is a book about living in Italy while trying to make a TV cookery series, Cookucina (now available on Amazon Video, Google Play and iTunes.
I have several other books and three screenplays in development.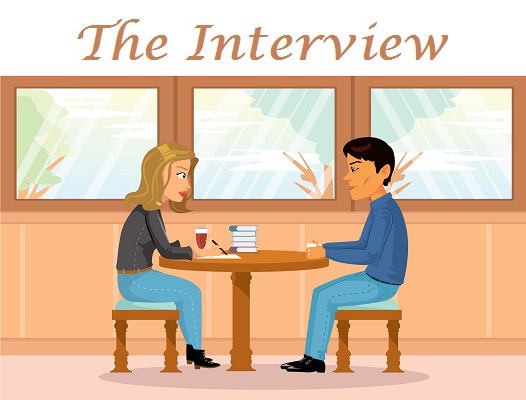 1) As a child what did you want to do when you grew up?
Strangely, at the age of 10 I remember wanting to be either a diamond miner or a butcher (I was very impressed with Mr Bregan in the Co-op butcher's at the end of the road, but I haven't a clue where the other idea came from.
2) Who were your favourite childhood authors?
Erle Stanley Gardner's Perry Mason stories, George Bernard Shaw and Richmal Crompton's William books.
3) At what point in your life did you realise you wanted to be a writer/cook/chef?
I have always had a hankering to write a novel (haven't we all), but I decided to have a go at writing when I fell out of love with my regular career as a TV producer. I enjoy cooking, but I am by no means a chef!
4) How did you go about following that dream?
I applied for, and was accepted on a Master's degree in script-writing 15 years ago.
5) What is your writing day like? Do you aim for a certain amount of pages or words before you stop for the day?
I am not very disciplined. My background in journalism means that the thing that really works for me is a deadline. So I tend to do a lot of thinking, then suddenly find I have to write quickly and in a very disciplined way. For me the target was 1500 words per day, rising to 2500.
6) Did you ever consider writing the book under a pseudonym?
Yes, because my other work is very serious, documentary and history stuff. And if this turned out to be no good it would be nice to be able to blame it on someone else! But in the end I stuck with the courage of my convictions.
7) Did you have any strange habits before, or whilst in the midst of writing?
I wrote this mainly in the dead of winter in the Italian mountains – in a big vaulted room. So rather than spend a fortune heating it, I sat next to a little heater and I wore fingerless gloves.
8) Do you write longhand, typewriter, or on a computer?
On a computer. With two fingers and a lot of mistakes. Each day I would re-read and correct yesterday's stuff – so it worked out well.
9) Have you written any other books?
Yes. The Tizard Mission, which is the WW2 story of a secret mission designed to turn the tide of the war as Britain stood alone in the summer of 1940. Led by Sir Henry Tizard, a team of scientists and engineers boarded a transatlantic liner with a box containing Britain's most valuable technological secrets. They were on their way to the United States. To give them away. This mission totally changed the way the second half of the war was fought.
I also edited and published my father's wartime memoir 'Before I Forget', as a sort of act of homage after he died.
10) How did you decide on the structure for your book?
I didn't really. It's in little sort of chapterettes. And then, after a while, I realised it lent itself to being structured like an Italian meal – in four parts, Antipasto, Primo, Secondo, and Dolce. Then (after we were hit by the earthquakes in 2016) I added Amaro, which is both a digestif after-dinner drink, and the word for bitter.
11) Do you read all the reviews left for your book(s)?
I don't enjoy reading them. Watching the star ratings is sometimes enough. The Reviews for The Tizard Mission, are better than they are for my father's memoir, so it only makes me feel sad for him.
As to negative reviews, you have to accept them I think. The world of book buyers and readers is a very broad church and there will always be people who don't like (or get) something. It's always a good idea, though, to engage with them and try to explain what you were doing, and why you think their criticisms might be a bit off-piste. They can, though, be something you can learn from. Occasionally!
Concerning your latest book: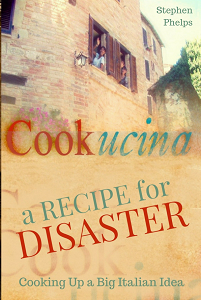 A Recipe for Disaster:


Cooking up a Big Italian Idea
Author – Stephen Phelps
Publisher – Drayton Park Publishing
Pages – 288
Release Date – 22nd July 2017
ISBN 13 – 978-1999777609
Format – ebook, paperback

A Recipe for Disaster is a cookbook, a travelogue and the companion to Cookucina, a six-part TV series available on Amazon Video, iTunes and Google Play – see www.cookucina.com.
It's also the entertaining journey of an Englishman struggling with the ups and downs of living in rural Italy. After giving up a successful career in television, Stephen found himself dragged back into a world he had happily given up when his neighbour, Lia, persuaded him to listen to her Big Idea – making a TV cookery series. But Lia speaks no English.
And Stephen's partner, Tam, can't cook. So, much against Stephen's better judgement, the three of them embarked on a six-part series set among the rolling hills of the little-known, but spectacularly beautiful, Italian region of Le Marche. In the Cookucina TV series Lia teaches Tam to cook alla Marchigiana, while Tam translates. A Recipe for Disaster follows their many encounters with the real Italy – a world away from the picture-book ideal of summer holidays in Tuscany.
As the team try to construct a professional series with no funding they come to rely on the generosity of the Marchigiana people, while attempting to overcome the constant difficulties thrown up by those whose stubborn adherence to their age-old way of life is rooted in their beloved fields and woods. A Recipe for Disaster is a goldmine of simple yet delicious recipes, while peeling back the veneer of television professionalism and opening the door to a world of Italian surprise and delight.
A Recipe for Disaster comes with unique access to Cookucina, the final six-part TV series, so you can see for yourself how the team cracked their problems and (just about) held it all together in a blistering heatwave. Experience this contradictory world of vendettas and kind hearts through the laughter and frustrations of Stephen and the team, as you follow A Recipe for Disaster slowly coming to its surprising fruition.

12) How long did it take you to get from the idea's stage to your date of publication?
About 18 months
13) How did you come up with the idea?
The 'spine' of the book is the story of the making of an online TV series called Cookucina. I had kept a daily schedule of events during the period we were shooting, which provided the basis of a structure. I had also read some of Tim Parks' books about Italian life, and Bill Bryson, writing as an American in Britain. These inspired me to write about my experiences of life as a Britalian.
14) Can you give us an insight into your book?
I hope it will educate, entertain and inform (as Lord Reith once said of the BBC). I wanted to tell a funny story, but at the same time paint a picture of life in this little-known area of Italy. And, of course, offer a few delicious recipes.
15) Which was your hardest scene to write?
The bit about the earthquakes, which in some senses changed the whole gentle, positive feel of life in this region which I had tried to capture in the main body of the book.
16) How did you come up with the title of your book?
For a long time I called it My Big Italian Idea, but my partner told me it was too derivative, so we had a brainstorm and came up with the two keywords Recipe and Disaster.
17) Did you get a family member/friend to read your work before sending to the publishers?
No
18) What process did you go through to get your book published?
Well, I am hopeless at promoting myself, and the agents I spoke to didn't really get the idea of a book that relates directly and specifically to a companion online TV series. It just didn't fit with what they normally expect to be working with. So then I decided to self-publish.
19) What did you do once you had written the final word in your book?
Went back to the start to read it all over again!
20) What's next for you, writing-wise?
A really difficult factually-based novel about a famous multiple murder. Different, eh?
1) What's your favourite food?
Roast potatoes
2) If you had a box of crayons and you could only choose one, which colour would you choose?
Purple
3) What movie could you watch over and over again?
Once Upon a Time in the West
4) What would be the top song on your playlist?
Without You by Harry Nilsson
5) If you won millions, what would be your first purchase?
A vintage convertible Citroen DS21
6) A talking duck walks into your room wearing a baseball cap and sunglasses, whats the first thing he says to you?
Surprised?!
You can find out more about Stephen Phelps by visiting the website/social media sites below.
www.cookucina.com
@StephenP_Writer
Facebook
I would like to say a big thank you to Stephen Phelps for sharing with us details of his writing life, and for a wonderful interview.