A Practical Present for Philippa Pheasant by Briony May Smith – Book Review
A Practical Present for Philippa Pheasant by Briony May Smith – Book Review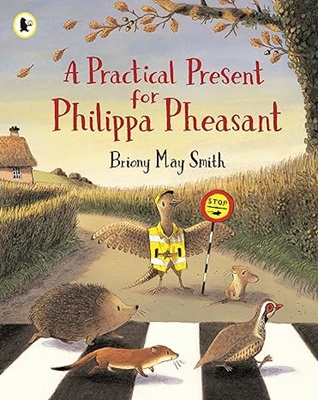 A Practical Present for Philippa Pheasant
Author – Briony May Smith
Publisher – Walker Books
Release Date – 3rd August 2023
Pages – 32
ISBN 13 – 978-1529513387
Format – Paperback, hardcover
Star Rating – 4
I received a free copy of this book.
This post contains affiliate links.

Synopsis
Meet Philippa, a courageous pheasant with the determination to make her forest home safer – and better – for everyone!
Philippa Pheasant is a bright little bird who lives in the woods near the village of Fairhurst. But every time Philippa tries to cross the Old Oak Road, she is nearly knocked down pancake flat – and she's had enough! She's on the way to tell the villagers what for, when she stumbles across something very interesting… A tall lady, in a bright yellow uniform, standing in the middle of the road. Philippa has never seen the cars stop like that before! Which gives her an idea… Can she, Philippa, make her own bright outfit and little lollipop stick? Can she help all her critter friends cross the road, and get where they need to go?
With spectacular bucolic artwork, and a plucky protagonist at its heart, this is Briony May Smith at her finest.
A Practical Present for Philippa Pheasant is the tale of how one pheasant, who was fed up with nearly being squished by cars as she crossed the road, decided to become a lollipop pheasant and help herself and all the other woodland creatures cross the road safely.
The story is very intriguing and I can't say I've ever thought about an animal becoming a lollipop person before so this book is completely unique and novel.
The artwork is delightful and showcases the story perfectly. The drawings pop off the page and I loved seeing all the different animals expressions.
The plot was different and good fun. It is warm and inviting (with a little exception to the parts about the mayor), and would make the perfect bedtime story.
Overall, A Practical Present for Philippa Pheasant is a book that will show children about being responsible and safe. It is a beautiful read and I wonder if the author has thought about writing more books featuring Philippa as I could see her having amazing adventures in her little village.
---
Purchase Online:
Briony May Smith
Briony May Smith graduated from Falmouth University with a First Class degree in Illustration. Since then, she has been shortlisted for the British Comic Awards and has twice been highly commended for the Macmillan Children's Prize. She is the author-illustrator of Imelda and the Goblin King and Margaret's Unicorn,and the illustrator of The Giant's Necklace, written by Michael Morpurgo and Tooth Fairy in Training and Witch in Training, both written by Michelle Robinson.
Author Links:
---
The above links are affiliate links. I receive a very small percentage from each item you purchase via these links, which is at no extra cost to you. If you are thinking about purchasing the book, please think about using one of the links. All money received goes back into the blog and helps to keep it running. Thank you.