Almost Invincible by Suzanne Burdon – Book Review
Almost Invincible by Suzanne Burdon – Book Review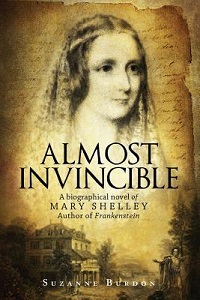 Almost Invincible
Author – Suzanne Burdon
Pages – 340
Publisher – Criteria Publishing
Release Date – 1st May 2014
Format – paperback
Reviewer – Julie
I received a free copy of this book
Post Contains Affiliate Links

"She is singularly bold, somewhat imperious, and active of mind. Her desire of knowledge is great, and her perseverance in everything else she undertakes, almost invincible."
Mary Shelley began Frankenstein in 1814, when she was eighteen. By then, she had been living for two years in a scandalous relationship with the poet Percy Bysshe Shelley, who was already married with children.
The novel was conceived in a contest with him and Lord Byron to tell ghost stories. When she eloped with Shelley, Mary had been quite prepared to suffer condemnation from society. It was much harder to cope with her jealousy of Claire, her step-sister, who had run away with them and was also in love with Shelley.
During the nine turbulent years Mary and Shelley were together, Claire was the ever-present third, whose manipulative behaviour often drove Mary to despair. Shelley was little help – his unconventional attitudes to love strained her devotion to its limits. They moved constantly throughout England, Switzerland and Italy, escaping creditors, censorious families and ill health.
It was in Italy that they found their spiritual home, their 'paradise of exiles', but it was also there that the loss of her children nearly broke Mary's spirit. Her writing became her grip on sanity, and Shelley never wavered from his belief in her creative genius – as she believed in his.

After drawing her readers into each chapter with a literary quote, the author uses references from Greek mythology as well as devices such as alliteration, metaphors and similes which build each scene for her characters' interactions to unfold. I particularly liked the anthropomorphism of 'London stretching its early morning limbs'.
We witness some of Mary's experiences which subsequently influenced the plot in Frankenstein, as the bohemian family continue their nomadic life in Europe. Whilst they are plagued by a series of misfortunes, they find a measure of contentment among the expat community in Italy, along with some local and international intelligentsia.
We sympathise with Mary as she continues to struggle with her nemesis. The altruistic, philanthropic and unworldly Shelley takes every cause to heart but appears unable to acknowledge the pain caused to Mary (now his wife) by the ever-present self-centred Claire. It is challenging to blend historical facts with fictional emotions but Ms Burdon manages it superbly.
The pace of the novel is well-balanced and the author has clearly researched her subject thoroughly. She gives us glimpses of incidents of the time, including the Spa Field Riots of 1816, as well as the Peterloo Massacre and the Pentrich Rising of 1817. References to the couple's work are cleverly interspersed throughout which also anchors this tale in its place in history.
Ultimately, this is a love story with the underlying themes being the belief the couple have in each other's talent as well as their independence of mind. I would recommend Almost Invincible to anyone with an interest in Mary Shelley or who likes historical family drama. I found this novel compelling and award it five stars.
Book reviewed by Julie
Purchase Links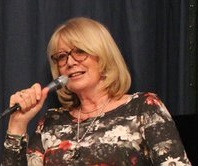 About me and my relationship with Mary…. I have an honours degree in Sociology with a major in Literature and a Trinity College London Licentiate in Effective Communication.
My day job is as a social and market researcher. My projects involve understanding the behaviour and motivation of a wide range of people in many different contexts often conducting interviews and focus groups where dialogue is a major contributor to understanding. I've tried to make good use of that insight in my writing. I have previously only published short stories, poetry and academic papers on research. This is my first novel.
An underlying thread of 'Almost Invincible' is Mary's damaging relationship with her stepsister, Claire and this sparked my curiosity and snowballed into an obsessive four years research.
Amongst the volumes of extant information and many biographies, I glimpsed a Mary who was a teenage rebel, a grieving mother, a determined author and a long suffering lover of a man well ahead of his time. It made me want to tell her story.
The research has been extensive and the book is factually based, but tries to fill in the emotions, conversations, and some of the mysteries surrounding her life.
Finding Mary has taken me to many of the places which were important to her life, and to libraries around the world.
Author Links