Boarded Windows, Dead Leaves by Michael Jess Alexander – Book Review
Boarded Windows, Dead Leaves by Michael Jess Alexander – Book Review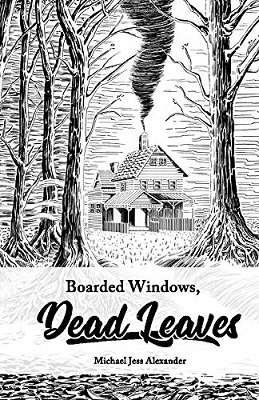 Boarded Windows, Dead Leaves
Author – Michael Jess Alexander
Publisher – Spooky House Press
Pages – 101
Released – 5th July 2020
ISBN-13 – 978-1734044553
Format – ebook, paperback
Review by – Nia
Rating – 3 Stars
I received a free copy of this book.
This post contains affiliate links.


From cultish rituals to cosmic horror, Michael Jess Alexander's collection of horror fiction will leave you disquieted and unsettled.
In "Chatterbox," a college professor is haunted by the spirit of a former student.
"A Profound Impact" tells the story of a lost group of people who finally find a place they belong.
In "Space For Amateurs," a science experiment goes horribly awry.
These tales and six others await you in this haunting volume of horror fiction.

This collection of short stories was short and sweet. Nine stories along a horror/supernatural theme that cover a range of different tropes.
My favourite story in the collection was Werewolf Cemetery, which, funnily enough, involved werewolves and a cemetery. The author has you seeing the characters from one angle right up until the end where it's flipped on its head, with a classic twist.
All of the stories feature a similar twist at the end, so part of the fun of reading these stories is to guess exactly what's going to happen.
I think that these stories could benefit from being a bit longer, they're very character driven in nature yet not quite long enough to get a true sense of the characters before they're over.
If you're looking for something short and sinister, this collection will hit the spot.
Book Reviewer – Stacey
---
Purchase online from:
---
What did you think of Boarded Windows, Dead Leaves? Share your thoughts in the comment section below!
---
The above links are affiliate links. I receive a very small percentage from each item you purchase via these link, which is at no extra cost to you. If you are thinking about purchasing the book, please think about using one of the links. All money received goes back into the blog and helps to keep it running. Thank you.
Like us on Facebook – Tweet us on Twitter – Pin us on Pinterest