Burned and Broken by Mark Hardie – Book Review
Burned and Broken by Mark Hardie – Book Review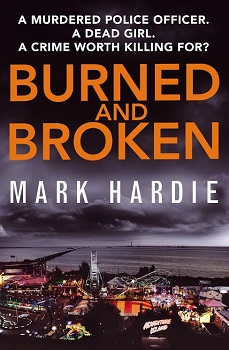 Burned and Broken
Author – Mark Hardie
Publisher – Sphere
Pages – 384
Release Date – 2nd June 2016
ISBN-13 – 978-0751562088
Format – ebook, paperback, hardcover, audio
Reviewer – Stacey
I received a free copy of this book
Post Contains Affiliate Links

A vulnerable young woman, fresh out of the care system, is trying to discover the truth behind the sudden death of her best friend.
The charred body of a policeman – currently the subject of an internal investigation – is found in the burnt-out-shell of his car on the Southend seafront.
To DS Frank Pearson and DC Catherine Russell of the Essex Police Major Investigation Team, the two events seem unconnected. But as they dig deeper into their colleague's murder, dark secrets begin to emerge.
Can Pearson and Russell solve both cases, before more lives are destroyed?

Burned and Broken is a detective/thriller novel, set in Southend, Essex. It is written in three parts.
Part one opens with a badly burned body found in a car, that has just been identified as Detective Inspector Sean Carragher. We are then taken back four days, leading up to his death.
During these four days, we are introduced to Donna, who has just come out of the care system. Donna's friend Abigail has recently been found dead. The police don't believe that it was murder, but Donna doesn't agree and sets out on a mission to discover the truth, with the help of her little friend, Malc.
It is also during these four days that it is revealed that DI Carragher was under investigation for corruption. DS Cat Russell, his partner, has also found herself under investigation, as the leading officer on the case doesn't believe she didn't know what her colleague was up to.
In part two we are taken back to the present day, where DI Frank Pearson and DS Cat Russell, are investigating the death of DI Carragher. It is during this time, that the two cases may just find themselves entangled, but how?
The book is an interesting thriller that held me captivated. It is a complicated story, with lots of twists, and how the two cases were joined really did surprise me. The characters had depth to them, and were likeable, and I often found myself sympathising with some of them.
Its by no means a fast-paced thriller, though it's a thriller that delves deep into the plot, and not race along. It will keep you guessing until the very end, and then shock you with the verdict.
Burned and Broken is a sure-fire debut, and I can't wait to see where Mark will go with a sequel.
Book Reviewed by Stacey
Purchase Links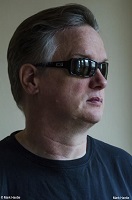 Mark Hardie was born in 1960 in Bow, East London. He began writing full-time after completely losing his eyesight in 2002. He has completed a creative writing course and an advanced creative writing course at the Open University, both with distinction.
Mark lives with his wife Debbie in Southend-on-Sea.