Busy, Stressed and Food Obsessed! by Lisa Lewtan – Book Review
Busy, Stressed and Food Obsessed! by Lisa Lewtan – Book Review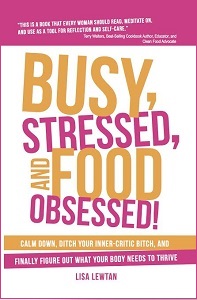 Busy, Stressed and Food Obsessed!
: Calm Down, Ditch Your Inner-Critic Bitch, and Finally Figure Out What Your Body Needs to Thrive
Author – Lisa Lewtan
Publisher – Healthy, Happy, & Hip
Pages – 218
Release Date – 28th November 2015
Format – ebook, paperback, audio
Reviewer – Stacey
I received a free copy of this book
Post Contains Affiliate Links

When stress comes knocking, we eat. When we're celebrating, we eat. When we're happy, sad, angry, bored, or relaxed, we eat. Whether we feel good about our bodies or loathe what we see in the mirror, we eat. And often, we hate ourselves for it.
Diets don't work. "No pain, no gain" tactics are emotionally and physically draining and ineffective, and they often employ shame and guilt—two excellent motivators for comfort eating.
Food is the ultimate double-crosser. It provides pleasure and pain in equal measure, but unlike people, you can't break up with food. Instead, you need to change how you think and relate to food so you reap the positives without letting it drive you to distraction.
Healthy living strategist and personal coach Lisa Lewtan has the answer: an honest exploration of your relationship with food. Through mindfulness exercises and self-examination, you'll learn to identify the chemical and emotional triggers that encourage you to eat and how to live a life where food strengthens, rather than weakens.
Busy, Stressed, and Food Obsessed! offers a chance to transform your frenemy into a true friend. You deserve a healthy and delicious relationship with the food you eat.

Busy, Stressed and Food Obsessed! is a guide to helping you break the cycle of your obsession with food.
It looks at the reasons behind your obsessions and teaches you in six, easy to understand sections how to evaluate what makes you obsessed and to then eat too much.
Lisa has spent the last twenty years perfecting this guide, through a lot of trial and error, and believes that she has got it just right now, and is ready to share it with the general public. I believe that she has too.
The book is written in a simplistic manner, so that it is easy to follow, and if you need to dip in and out of it, you can. It isn't about carbs, calories, fats etc it's about helping you, in plain english, establish the root causes of your obsession with food and help you break that pattern.
The book will show you what certain foods can do to your moods, and how we can become obsessed with foods – the number of cook books, cookery shows, food pics on Instagram/Pinterest don't help.
At the end of each section is an assignment for you to complete – don't panic it's nothing complicated, and won't take you forever.
I personally will admit to being a little obsessed with food – I don't crave chocolate (although I do like a bit now and again), sweets, crisps, fried food. I do however have a weakness when it comes to a decent piece of cake (not your supermarket bought stuff, proper bakery fresh made cakes), oh and Starbucks peppermint hot chocolate.
The book gave me an insight into why and how I should manage my obsessions, and I have not eaten a slice of cake for the last week, although I did indulge in one hot chocolate, three days ago, but none since.
For those who are fed up of dieting, counting calories etc and want to learn about themselves and the food they eat, Busy, Stressed and Food Obsessed! is a must read.
Book Reviewed by Stacey
5 REASONS WHY YOU NEED TO READ THIS BOOK
1. Get over the diet mentality and STOP beating yourself up about not always eating perfectly
2. Ditch the shame, guilt, and hardcore "no pain, no gain" tactics that do NOT work
3. Identify your OWN chemical and emotional triggers in order to conquer cravings for good
4. Incorporate the BEST mindfulness practices to slow down and reconnect with your body
5. Discover what truly nourishes you so that you can FINALLY stop thinking about food all the time

Purchase Links

The founder of Healthy, Happy, and Hip, Lisa Lewtan is a healthy living strategist and a graduate of the Institute for Integrative Nutrition.

Using skills she developed as a successful technology entrepreneur, Lewtan self-hacked her own mind and body to restore her health and wellness. She now uses those same skills to help superstars slow down, chill out, improve their relationship with food, look good, and feel great.

Lewtan's articles have been featured in numerous publications, including the Huffington Post, Better after 50, and MindBodyGreen.

Visit the website below to learn more about Lewtan's private coaching sessions, workshops, and retreats.

Author Links