The Charm by JoJo Debrazza – Book Review
The Charm by JoJo Debrazza – Book Review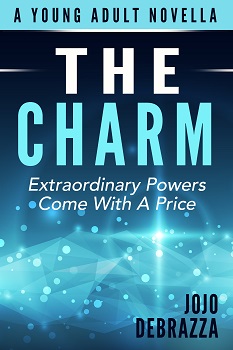 The Charm


The Code of Minds Book One
Author – JoJo Debrazza
Pages – 90
Release Date – 24th March 2015
Format – ebook, paperback
Reviewer – Stacey
I received a free copy of this book
Post Contains Affiliate Links

Extraordinary powers come with a price.
Fifteen year old Luca has the charm, a gift he inherited from his mum. Charmers can control minds, but they abide by a code—to only use the power for good, and only with the person's permission. Luca knows breaking the code is wrong, and his mum would kill him if he tried!
But when a rogue charmer uses the power for criminal means, the Restorative government jumps in. Luca's mum is imprisoned and the Register for Charmers is announced. The media creates a frenzy of fear and suspicion against charmers.
Believing the family is in peril, and wishing to keep Luca's gift a secret, Luca's dad takes them to stay with a friend in the country. Here, Luca meets Fee, a computer genius who can hack into anything. Fee introduces Luca to an underground rebellion group of internet hackers who have their own issues with the Restoratives and their own way of protesting.
Fearful of how the Restoratives are treating his mum in prison and concerned about their motives for creating the Register of Charmers, Luca must make an impossible choice—break the rules and use his gift or stand by and watch as the power is abused.

The Charm is a very quick read at only 90 pages long. It follows the story of fifteen year old Luca, who is a Charmer, just like his mum.
A Charmer is someone with the ability to mind-control. The government know about their powers and allow them to live in secret, as long as their powers are used for good, with permission. When one steps out of line, the government throw the rest of them into the lion's den, as they release a list of all the people with the ability, having them fearing for their lives, alongside arresting Luca's mum.
Can Luca, at only fifteen years old, be the one to restore calm, and what lines is he willing to cross to achieve it?
The Charm is a book for young adults, and most likely older children, as there are no swear words, violence etc, this is a clean sci-fi novella set in a dystopian future.
Although parts of this book could be set in present day, with the government wanting to mind-control it's citizens, as certain governments around the world have been trying to do that for many years.
It is fast-paced, so will keep the interest level peaked, and the plot being unique, will have the reader eager to know more, and keep them hooked. The character's are all well defined and you are drawn to them, although I wasn't sure what to make of Fee, and it seems I was right to be cautious.
The Charm is a perfect short story for those that love dystopian/sci-fi books, it won't disappoint.
Book reviewed by Stacey
Purchase Links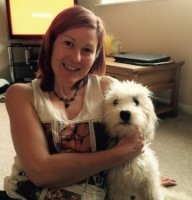 Jojo Debrazza is a writer of young adult and children's fiction. Mind Games is the follow up to her debut YA novella, The Charm.
Jojo has a vivid imagination and likes to make up stories. Her friends call it lying but she calls it writing. She lives mainly in a dream world with her partner and a house full of small furry animals. It's a carefree happy place where everything is bright and fluffy.
Jojo's other passion is football (soccer). As well as playing and helping to run a club she works in football development in Cambridgeshire, England.
Author Links
www.jojodebrazza.com
@jojodebrazza
Facebook
Instagram
Goodreads