The Writing Life of: Barbara Underwood
Barbara Underwood
This week I am thrilled to be interviewing author Barbara Underwood. Barbara Underwood will be sharing with us details of her writing life, telling us all about her book 'Rhuna: The Star Child', which was released on 21st January 2016. This post contains affiliate links.
So without further ado, say hello to Barbara Underwood. This post contains affiliate links.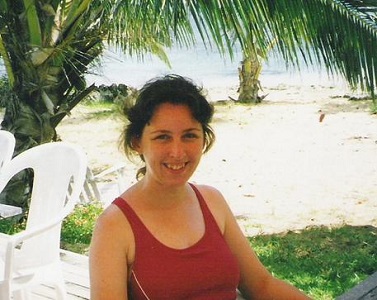 As an only child of older migrant parents, I was exposed to a different culture and outlook as I growing up in the suburbs of Sydney. At the age of 10 I became interested in history and travel, and in sixth grade my teacher commented on my flair for writing.
After a lot of travel and reading about history – I started with Thor Heyerdahl's adventures which led me to other books about unexplained mysteries such as pyramids and other megaliths around the world – I came to a point where I wanted to put it all together in an epic fantasy novel.
I have now written two further books following on from "Rhuna, Keeper of Wisdom." The 2nd and 3rd books are both set in Ancient Egypt, and I am working on the fourth book in the series, so stay tuned and enjoy "Rhuna"!
---
1) Do you remember the moment you decided that you would like to become a writer?
Actually, I was writing a lot already in my spare time since the sixth grade at school, and it took several friends, many years later, to say to me "you should write a book!" until I finally thought about it seriously! And I guess the pivotal moment was when I decided to do a correspondence course in professional writing because I figured I needed to learn a few things to make the transition from hobby writer to professional/serious writer!
2) How did you go about following your dream?
Firstly, by doing that correspondence course after work and in my free time, and then trying to submit the short stories I was writing to magazines and literary journals. Only two of them got published, but people kept saying I should write a full-length novel instead, so then I started working on that project – which took some more years!
3) Is there a particular author that inspires you?
Not in the sense of style or genre, but I was inspired by Thor Heyerdahl's books about his expeditions and explorations concerning ancient civilizations, as those gave me the basic ideas for my RHUNA series, which is a blend of historical fiction/fantasy and magical realism based on myths about Atlantis and other ancient civilizations.
4) What is your average writing day like? Do you have any strange writing habits?
First of all, I don't have average writing days! Every writing day is different, depending on various circumstances and also my moods.
Sometimes I write on my desktop computer, sometimes on my laptop sitting in bed, and sometimes I get up in the middle of the night to write when I get the inspiration!
5) Do you write Longhand, Typewriter, Computer?
Definitely computer! I learned to touch-type so I'm pretty fast, which is good when my thoughts start flowing quickly. I can't imagine writing a full-length novel by long-hand or with a typewriter, and I admire the authors in the old days who did that!
6) From all your books, do you have a favourite character?
Yes, and it's a character that features in this book, "Rhuna, The Star Child", namely Goram, also known as Beacon of the Night. I love writing about him because he's sort of a bad guy, but has a few good qualities, too. His good-bad traits are necessary in some situations, and I find that fascinating, so I like him best!
7) Do you plot your books completely before hand or do you let your imagination flow whilst in the writing process?
A bit of both methods: A general plot with the main elements, characters, features and twists, and then I let my imagination flow while filling in the gaps, and so far that has worked well for me.
Concerning your latest book: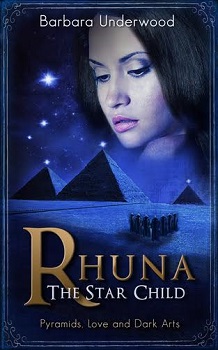 Rhuna: The Star Child
Author – Barbara Underwood
Publisher – Xlibris
Pages – 260
Release Date – 21st January 2016
ISBN 13 – 978-1514444856
Format – ebook, paperback, hardcover
Post Contains Affiliate Links
This thrilling sequel to Rhuna: Crossroads is set in mystical ancient Egypt, where black magic was developed by the followers of the legendary villain the Dark Master.
As strange and frightening curses plague the population, Rhuna discovers the underground organization that performs this uncanny new magic, but she can only combat it with the help of her long-lost father. Having learned from her father, some amazing new skills to empower her on the Astral Plane, Rhuna once again strives to preserve peace and harmony in the idyllic Atlan civilization.
Far more challenging than fighting powerful dark forces, however, is Rhuna's personal anguish when her daughter becomes involved with the leader of the black magic movement, and the once-perfect Atlan society based on utopian principles begins to crumble all around her. Shocking events escalate Rhuna's world to a breathless climax as she and her family undergo a momentous upheaval, and she is forced to make great personal sacrifices for her loved ones.
8) How long did it take to get from the ideas stage, to the date of publication?
This was an easy one because it's a sequel to Rhuna: Crossroads, and I just kept writing "Rhuna, The Star Child" after I finished Crossroads, because I had several storylines to carry over directly, and had already worked out which new plots to introduce as I went along.
9) Did you suffer from writer's block at any stage? How did you overcome it?
Actually no, I'm happy to say that so far I've never had real writer's block, only getting stuck now and then, as if in a rut. When that happens, I take a break, get some distance, maybe go over an earlier section I've already written, or even write a scene that's further along in the story.
10) How did you come up with the name(s)for your lead character(s)?
I just make them up! I think of letters and combinations of letters that I like or that sound good, and then play around with them until I come up with a name that sounds like it fits the character. Then I google the name to make sure it isn't already taken by a well-known character, real or fiction!
11) If your book was made in to a film, who would you love to play the lead character(s)?
That's a hard one to answer, especially for my main character! I think Rhuna could be played by a fresh, new face: exotic, different, maybe with an accent…as for the villain in the series, called The Dark Master, I sort of imagine Rutger Hauer playing him really well!
12) Did you get anyone in particular to read your work before sending it to the publisher i.e. family member, friend etc?
I always get my husband to read and also check for mistakes, and with my first book, since it took a while to get published, I had some of my best friends read it first.