The Cilantro in Apple Pie by Kimberley Nadine Knights – Book Review
The Cilantro in Apple Pie by Kimberley Nadine Knights – Book Review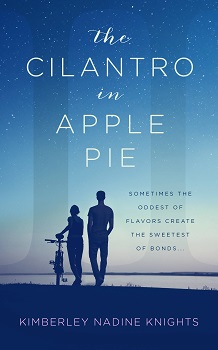 The Cilantro in Apple Pie
Author – Kimberley Nadine Knights
Publisher – Ravenswood Publishing
Pages – 310
Release Date – 5th May 2016
ISBN 13 – 978-0692657027
Format – ebook, paperback
Reviewer – Selina
I received a free copy of this book
Post Contains Affiliate Links

Fragnut. Confused? Well so is everyone else at Lumiere Hall Prep when sixteen-year-old Rubie Keane rolls in from Trinidad and Tobago talking her weird lingo. Not that she minds the culture confusion; she's determined to leave the past behind her and be overlooked—but a certain stoic blue blood is equally as determined to foil her plans.
Gil Stromeyer's offbeat personality initially makes Rubie second-guess his sanity, but she suspects his erratic outbursts of violence mask a deeper issue in his troubled, charmed life. Despite his disturbing behavior, a gradual bond forms between the two.
However, on the night of the annual Stromeyer gala, events unfold that leave Rubie stripped of her dignity and kick Gil's already fragile world off its axis. Both their well-kept secrets are uncovered, but Gil's revelation proves that sometimes the best remedy for a bad case of lost identity, is a dash of comradery from an ally packed with flavor.

Firstly, I wasn't too sure what to expect from this book. It has a great title and before reading the blurb, I thought it was something to do with cooking, or centered around a restaurant.
The Cilantro in Apple Pie opens up with 16 year old Rubie Keane, sat on a plane with her sister Violet and brother in law, Dennis, on their way to Boston, leaving behind her mum and dad in her home of Trinidad and Tobago. Rubie is not finding it easy being shipped off for to a private school for 2 years. We learn a little more as we go along about why Rubie has had to make the move to live with her sister.
Rubie isn't too comfortable with the idea of living with her sister and husband, as they recently got married and Rubie thinks it should be their honeymoon period, not looking after a little sister.
At Lumiere Prep, Rubie is determined to settle in, but the majority of students who study there are wealthy and privileged and Rubie decides it's best to keep herself to herself and not make any friends, that is until she meets Gill Stromeyer, he is mysterious, handsome, blue eyed and takes a shine to Rubie, with the need to be her friend.
Rubie doesn't really want to know Gill, mainly as he has a family background of being labelled the local rich snobs, and besides Rubie doesn't need anyone does she?
As we get further into the story, it will draw the reader in as to why Gill needs Rubie in his life. Like most stories there is always a romance, but here it is all about family and friendship. I really liked both Rubie and Gill and I think Kimberley Knights portrayed these two characters perfectly, and made everything link between them.
The Cilantro in Apple Pie keeps you hooked and there are a few surprises in store as we go on a journey with the two characters who are from completely different backgrounds.
I'm so pleased that there is going to be a second book, as there can be so much more we can experience with Rubie and Gill.
Book Reviewed by Selina
Purchase Links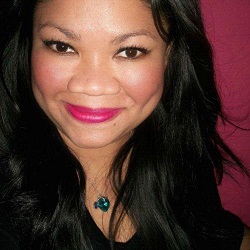 Kimberley Nadine Knights knew when she kept willingly opting out of parties so she could stay home and write instead, that she was destined to be an author.
Born and raised in the tropical twin islands of Trinidad & Tobago, when this Caribbean girl isn't creating new plotlines for her ever growing lineup of fictional characters, she spends her time strumming her guitar to indie rock songs and snapping once in a lifetime photos halfway across the globe in countries such as Estonia, Finland, Sweden, Denmark and France.
She's an avid fan of The Walking Dead series and firmly believes that The Food Network should consider her being a judge on the next Chopped challenge.
Author Links
www.kimberleynknights.wix.com
@Knightsley
Facebook
Pinterest
Goodreads