Darkest Hour by Tony Russo – Book Review
Darkest Hour by Tony Russo – Book Review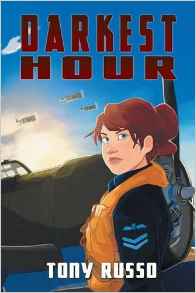 Darkest Hour
Author – Tony Russo
Publisher – Divertir Publishing
Pages – 240
Release Date – 7th March 2016
ISBN-13 – 978-1938888144
Format – ebook, paperback
Reviewer – Julie
I received a free copy of this book
Post Contains Affiliate Links

After the long Great War leaves behind a shattered Europe without an entire generation of men, Great Britain permits women to serve their country as soldiers, sailors, and especially pilots.
It's the spring of 1940 and Briley Bannatyne envies her older brother Mackinley. He's about to embark on a grand adventure, training to become a pilot officer in Britain's Royal Air Militia. When tragedy strikes, a badly hurt Mackinley convinces Briley to take his place in the Air Militia. Service is harsh – nothing like the radio shows where brave Air Militia pilots hunt pirates over the skies of Britain. Kendrick is one of these marauders, captured after Briley shoots him out of the sky. Brash, charismatic and mysterious, Kendrick becomes her unexpected friend and ally.
On a continent already battered by war, a terrifying new enemy emerges that conquers much of Europe before turning its sights on Britain. All that stands between the unstoppable Black Legion and invasion is Briley and a handful of brave pilots. Can Briley and her friends turn back the Legion, and will Briley's friendship with the pirate become the key to saving Britain…

'Darkest Hour' is the work of American author Tony Russo. This is a young adult adventure and we follow the fortunes of Briley Bannatyne, a seventeen year old aviator.
I think it fair to say at the beginning, I found this book challenging. Initially I believed it to be a work of fiction set against a historical backdrop. However I soon realised I was mistaken as the timelines didn't work. I then realised I had to suspend reality and start again.
On my second attempt, I was open to all possibilities without worrying too much about the facts fitting. At a pinch, I could also overlook British characters using American-English, such as 'railcar' and one telling another to 'wait up' as it's possible in this parallel world, British-English may have disappeared.
The cover has been very well designed and full marks to the illustrator who has created a look of resilient defiance in Riley's expression, which encapsulates her personality perfectly.
From the outset, Briley is a strong-minded free-thinking person who is determined to not to be pigeonholed by her mother in a gender typical role. She is ably assisted along the way by her supporting cast. We watch the dynamics between the various players unfold and witness ridicule being replaced by respect as she finds her feet among her cohort.
From about half way, the tone changes a little as Briley moves from trainee to qualified pilot in the Air Militia. We see a new found confidence which at times is tested by her feelings of inadequacies which stem from her humble beginning.
The writing style is free-flowing and the structure strong. I was impressed with Briley 'swearing the filthiest words she knew', probably far more effective than printing a load of profanity. I also loved the name of the pub near the airbase; 'The Right Full Rudder'. Russo has a good command of literary devices to get his story across. We have some beautifully descriptive passages, along with a degree of pathos as Briley's strength of character is tested to the full. The fast-moving pace was consistent throughout with tension and drama aplenty and the plot, whilst quite straightforward, kept me fully engaged.
I have no idea of the skills needed to pilot a vintage plane (or indeed a modern one) so I don't know how technically accurate the flight and combat scenes were however, they read very well and were a highlight of the book.
This was a fascinating novel. After my initial confusion, I found the idea of an alternative history rather intriguing and commend the author for his innovation. Perhaps a little more depth to explain the fictitious history would help anchor this tale in time and place but nonetheless, Russo has created a very readable story.
As with many books I review, I would not have chosen this genre and I'm clearly not in the author's target audience but am pleased to have been given the opportunity. Tony Russo is an extremely competent writer, I believe this latest offering will be very well received and I'm delighted it leaves the way open for a sequel. I award 'Darkest Hour' four-and-a-half stars.
Book Reviewed by Julie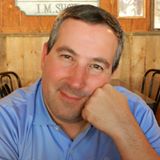 TONY RUSSO was born in Queens, New York. First published in Aboriginal Science Fiction magazine, Mr. Russo was a contributing author for West End Games, LLC, license holder of the official STAR WARS roleplaying game system.
He appears in TALES FROM THE EMPIRE, published by Bantam Books. He took 2nd prize in the 2003 New Century Writer Awards for Novels judged by Ray Bradbury. ZAK CORBIN: MASTER OF MACHINES was a semi-finalist in the 2012 Amazon Breakthrough Novel Awards for Young Adult fiction. In March 2016, his teen historical adventure, DARKEST HOUR, was Published.
Author Links