Flying Tips for Flightless Birds by Kelly McCaughrain – Book Review
Flying Tips for Flightless Birds by Kelly McCaughrain – Book Review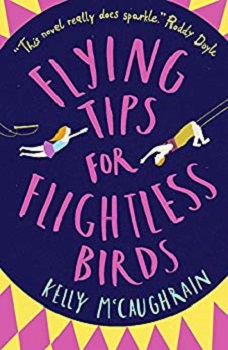 Flying Tips for Flightless Birds
Author – Kelly McCaughrain
Publisher – Walker Books
Pages – 384
Released – 1st March 2018
ISBN-13 – 978-1406375657
Format – ebook, paperback
Review by – Nia
Rating – 5 Stars
I received a free copy of this book.
This post contains affiliate links.


From debut author Kelly McCaughrain comes a sweet and kooky romcom for fans of Wonder, Sarah Crossan and Susin Nielsen's We Are All Made of Molecules, starring flying-trapeze double act and brother/sister twins, Finch and Birdie Franconi, and their geeky friend, Hector Hazzard.
After Birdie's terrifying trapeze accident, serious performer Finch and clumsy wannabe Hector must work together to save the family circus school and put on the biggest show ever. Together they learn to walk the high-wire of teen life and juggle the demands of friends, family, first love and facing up to who they are – all served up with a dash of circus-showbiz magic.

This is one of the most beautifully written YA novels I've ever read – the story is written in layers and I feel like you could read it a number of times and feel like you're reading something different each time.
This is a story about a pair of twins living in rural Ireland, they're both flamboyant dressers and members of a circus family who run the local circus school so they're already socially doomed from the start. Finch is at the start of his journey of acceptance that he's gay, something that's going to be a much bigger deal than it needs to be living where he does, but he's happy to embrace his identity as an outsider as long as his sister, Birdie, is at his side. When they're forced to take some time apart, Finch has to discover who he is as an individual rather than one of a pair – it's a lot for a teenager to cope with in such a short span of time which is what makes it such an intriguing read.
This book is more about this journey than it is actual romance or romantic relationships, the characterisation in this book is something truly beautiful and shows the main characters as a entire people, the good and the bad. Sometimes they can be selfish, uncertain and downright mean but that's what makes them real people. The story covers the relationships between almost all of the characters and how they fit in together, this makes it all feel so much more real for me rather than it being only about a single main character with all other characters revolving around them.
I love that the circus aspect of this book adds a bit of extra flavour to a story that would have been excellent on its own, most chapters are prefaced with a blog post by Birdie about circus life and gives insight into her frame of mind at the time of writing them.
This title is so heartfelt and well written, it's found itself a spot on my incredibly exclusive re-read shelf. I would recommend it for readers of all ages as a wholesome and thoughtful read, and an excellent addition to any LGBT library for younger readers.
Book Reviewer – Nia
---
Purchase online from:
---
About the Author

Kelly was born in Belfast in 1977 and grew up in nineteenth-century Avonlea. She doesn't remember much about her (probably very nice) childhood and suspects this is because she wasn't paying attention. She was reading Anne of Green Gables.
She started writing when she was six. She started hiding her writing when she was seven. She was forced out of the writing closet when she was 35. One of her favourite activities is talking to teenagers about writing because she was too shy to do this when she was young.
She studied at Queens University Belfast, where she did two degrees. For fun. She currently lives with her husband Michael and their ancient VW campervan Gerda.
Her first novel, Flying Tips for Flightless Birds, has been described by insiders as an elaborate and thinly veiled attempt to make her husband love circuses. She refuses to comment.

---
What did you think of Flying Tips for Flightless Birds? Share your thoughts in the comment section below!
---
The above links are affiliate links. I receive a very small percentage from each item you purchase via these link, which is at no extra cost to you. If you are thinking about purchasing the book, please think about using one of the links. All money received goes back into the blog and helps to keep it running. Thank you.