The Getaway Girls by Dee MacDonald – Book Review
The Getaway Girls by Dee MacDonald – Book Review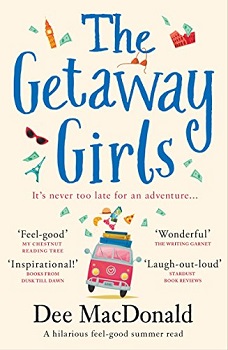 The Getaway Girls
Author – Dee MacDonald
Publisher – Bookouture
Pages – 314
Released – 30th July 2018
IBSN-13 – 978-1786814791
Format – ebook, paperback
Reviewer – Stacey
Rating – 5 Stars
I received a free copy of this book
Post contains affiliate links.
One morning, Connie McColl wakes up and decides to swap her ordinary life, for an extraordinary adventure…
Connie McColl is finally free to make her own decisions for the first time in decades. And when she meets glamorous Gill and downtrodden Maggie, at a rather dull flower arranging class, it seems that she's not the only one dreaming of adventure. The three very different women all agree it's about time they had a holiday to remember.
So they make a pact for this summer to be their best yet – and drive off into the sunset together…
As they meander their way along the beautiful beaches of France and onto the glorious delights of Italy in their luxury campervan, the new friends have plenty of fun and frolics in the sunshine. But the vacation isn't quite what they expected…
Gill will do anything to have one last holiday romance, Connie has a surprise inheritance awaiting her in Italy, and Maggie has a secret that is going to catch up with them all…
In the end, all three women discover that the journey they thought would be their last really is just the beginning…

Firstly, I need to mention that this book is the follow-up book to 'The Runaway Wife'. I hadn't realised it was until someone else pointed it out to me and that was when I was over half-way through. At no point in time did I ever feel that I didn't understand the story perfectly. This book works well as a stand-alone if anything it has made me want to read the first book to see where Connie's Story starts.
Connie had been running a flower-arranging course for a while but decided that she needed a change and to get away for a while, especially after discovering that she has an inheritance waiting for her from a relative she never knew about in Italy. Rather than fly to Italy she decides to buy a Motorhome and drive there.
Two of her pupils from the flower-arranging course is intrigued by her decision and decide that they would love to join her. She doesn't know them very well, more acquaintances than friends, but she agrees to let them go on the adventure with her.
Maggie has had enough of her 'boyfriend' Ringer. He's been in and out of prison for the last 40 years he's been in her life and now he's been spotted with another woman. Gill is still trying to live in the past with her beehive hair and dressing like it is still 1960. With a big birthday on the horizon (70th, though she tells everyone it's her 60th), she doesn't want to be at home and have a massive party.
The three women set off crossing through France first, seeing all the famous landmarks before heading into Italy. However, Maggie has come on the journey with a bag full of cash, telling the girls she won £100k on a scratch card. More like she found the bag full of money in her oven after Ringer pulled off a bank job. He's now on their tail, after the money and the girls.
Can the women make it to their destination safely? What is the inheritance that is waiting for Connie?
The Getaway Girls is a fun, energetic novel about three older women embracing their lives and having a jolly good time on a road trip to Italy. The three women don't know one another very well when they set off, so over the course of their journey secrets are revealed alongside petty arguments.
Dee MacDonald has described France and Italy perfectly. From the views of the Eiffel Tower to the smells from the field of Lavender. If you have never been to either of these countries you are in for a real treat as by the end of the book you will feel that you have explored them both.
The Getaway Girls is a light-hearted book and was a real pleasure to read. I picked it up whenever I had a few minutes spare and didn't want to put it down again. I've always wanted to go travelling in a Motorhome hopefully, one day in the future. These three women have made me realise that you can go travelling at any age, as age is just a number.
Reviewed by Stacey
---
Purchase online from:
---
About the Author

The Runaway Wife is Dee's first (published) novel but in fact she wrote her very first book – at around seven years of age! This was a love story which she duly illustrated before sewing all the pages together up one side. Writing was what she 'was good at' in school and she won several essay competitions, but then life got in the way and she didn't pick up a pen again until after retirement.
Dee left Scotland and headed for London at the beginning of the swinging sixties. After typing her way round the West End she became an air stewardess on long haul routes with BA (then BOAC) for eight years. After that she did market research at Heathrow for both the government statistics and for BA, she became a sales rep and was the receptionist at the Thames Television Studios in Teddington when they had the franchise.
She then ran a small B&B for ten years in Cornwall, where she lives with her husband. Dee has one son and two grandsons who live locally.
Her second book, The Getaway Girls, will be published in July.



---