I'm Not Your Baby by Joy Jennings – Book Review
I'm Not Your Baby by Joy Jennings – Book Review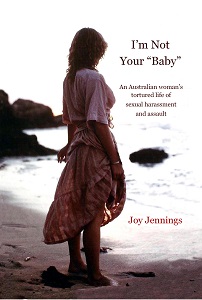 I'm Not Your "Baby"
An Australian woman's tortured life of sexual harassment and assault
Author – Joy Jennings
Publisher – AJP Publications
Pages – 207
Release Date – 10th November 2015
Format – paperback
Reviewer – Nia
I received a free copy of this book
Post Contains Affiliate Links

In this suspenseful and riveting memoir about a blonde-haired, blue-eyed Australian beach girl, Joy faces the battle of her life against the not-so-friendly bronzed Aussie bloke.
Through her raw, dark stories of frightening sexual assaults, shocking rapes, non-stop abuse, violation and street harassment, Joy Jennings shares of how she tried to make her way in her coastal home town, while being hounded, followed and tormented at every turn.
Her powerfully moving story throws you into a world of tradies, hoons and bogans, who behave in the world's most vile, vulgar and sexist of ways. With her candid and compelling recollections of being choked to within an inch of her life, having her car window smashed into her face, being stalked and having men rip the very clothes from her body, this memoir will not only keep you captivated, but also astonish you with every page.
Readers will be taken on an unrelenting ride as they share Joy's emotional journey. I'm Not Your "Baby" will have you fighting for our author who, with a determined heart, never gives up hope of finding love, peace and ultimate happiness.
This is not a story about demonizing the Australian male, but one that humanizes the victims.

I found this book to be particularly difficult to review, partially because I'm usually a reader of fiction and partially because of the content of this particular book.
'I'm Not Your "Baby"' is a memoir, recounting the sexual harassment encountered by the author throughout her lifetime in Australia. The harassment she has experienced ranges from voyeurism, crude language and assault – none of which are isolated incidents.
The language of this book is very simple and factual, the author tells us what she remembers and how it made her feel at the time.
I found it very easy to follow, however the constant grind of incident after incident did make it impossible to read in one go as I was starting to feel a little queasy, not least because a lot of it sounded very familiar. I would recommend this book with caution for any victims of sexual harassment or assault, it's not pretty.
I think that British and Australian culture is pretty similar in the way that men treat women though Australia does sound more severe in this respect – I can only speak for myself, from my own experiences, but every encounter with an unknown when I'm on my own makes me wary in a way that I shouldn't have to be in this day and age.
I found it quite difficult to completely understand things from Joy's perspective as she comes across as exceptionally sensitive to this harassment (as she has every right to be!) and previously has unable to speak out about it or report any incidents to the authorities. Though I completely understand why she would feel this way, I did find it difficult to relate at times as I have a very forthright approach to similar situations.
Every single incident cut her deeply and it was heart-breaking to read, specifically because this is a woman who can see this harassment for what it is: harmful and unacceptable. She wasn't prepared to compromise her expectations of decency in men and was disappointed for over 4 decades.
I found this book very moving, the author doesn't portray herself as a hero in any sense but she found the courage to write this book with complete honesty and I found that very impressive. I do, however, like to think that there were at least a few decent men that she came across during the time covered by this book – otherwise, Australia is in some deep trouble.
The message I took away from I'm Not Your "Baby" is that something very fundamental needs to change in society, boys need to be taught that women are genuinely worthy of respect and girls need to be taught that they are deserving of respect and what kind of treatment is and isn't acceptable so that they do not grow to be a new generation of victims.
Book Reviewed by Nia
Purchase Links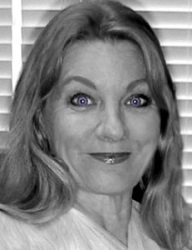 Joy Jennings was born and raised in Melbourne, Australia. At seventeen, Joy and her family moved to Queensland where she spent over thirty years living on the Gold Coast.
Following in the footsteps of her father, published author and newspaper columnist, Joy realized her own talents as a writer with the debut of her artfully crafted memoir.
Her memoir was written with the hope of being able to encourage women in similar and all too familiar situations to speak up and learn from her mistakes of remaining silent. Joy battled against not only males, but fear, anxiety and depression as a result of her continued assaults. By offering her story to the world, she hopes to prompt women to fight for not only themselves, but for a shift in male attitudes and behaviours worldwide.
Joy currently lives in Ontario, Canada with her partner.
Author Links