Visiting Stowe Gardens, Buckinghamshire
Join Julie at Stowe Gardens
Hello to you all, Whispering Wanders Category is a sort of travel, come information section of our book blog, where we will be sharing with you our adventures, holidays, places of interest, etc.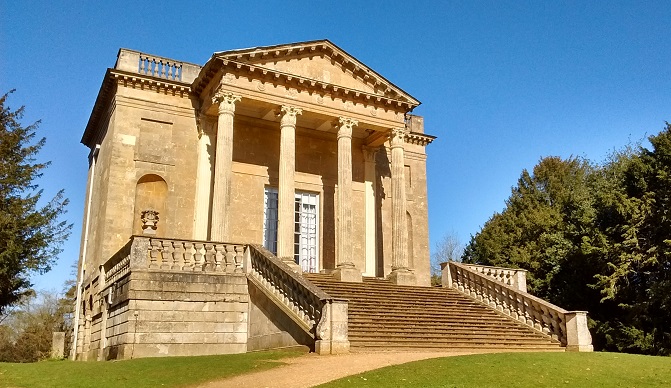 Stowe is a large landscape garden in Buckinghamshire, named after the original village. During the 1700s it was transformed from a formal Baroque-style garden to a landscape garden, featuring temples, long walks, lakes, streams and grottos. Much of the planning was the work of one of the most fashionable garden architects of the time, Lancelot 'Capability' Brown.
In 1589 John Temple purchased the Stowe Manor and estate, to be his family home. The home and gardens stayed within the family for generations. Passing from father to son, uncle to nephew, and then father to daughter. The Temple-Grenville family fell on hard times, in 1921, the house was sold and became a highly respected public school.
In 1989 the National Trust was gifted the gardens by the school. They have has since renovated many of the statues and buildings which form part of the attraction of Stowe. We visited in March as part of a sojourn to the Midlands. We started at the parlour rooms at the New Inn to enjoy a glimpse back in time to the original coaching inn used by travellers and visitors in the 18th century. We then walked along the avenue to Bell Gate.
To walk the entire grounds open to the public takes several hours, so we didn't manage it all; particularly as we kept stopping to examine and admire the features. Also as it was my birthday, inevitably I was distracted by social media congratulatory messages – although I'm not sure the adding of yet another year to my age is anything to celebrate!
Above is the 'Temple of British Worthies'. It was designed by William Kent in 1734, and contains sixteen busts of famous British figures, including poets, philosophers, scientists; monarchs, statesmen, and warriors.
The busts above in the photo are:- Indigo Jones (architect), John Milton (poet), William Shakespeare (playwright), John Locke (philosopher), and Issac Newton (mathematician/astronomer). Plus one Clive Burgess (husband). 🙂
The paths were gravel, accessible and well maintained. We walked along the 'Path of Virtue' as well as the 'Path of Vice' and the 'Path of Liberty'. We also went across the 'Palladin Bridge', which is an example of Palladianism architecture, based on the writings and work of Andreas Palladio, who was a 16th century architect.
There was plenty of choice in the café which is large and airy with a courtyard and plenty of seating. Or you can have a picnic in the grounds if you prefer dining Al Fresco.
As we were travelling home that day, we left about 15:30 but could easily have stayed longer. This was a very good day out and there was plenty of space for children to run around and explore. Not sure it would appeal so much in wet weather as there weren't many places to shelter.
At certain times, it is also possible to visit Stowe House but there is an additional charge for this. You can buy a house ticket at either New Inn, or at the Stowe House Visitor Centre on the day, or online for upcoming visits.
I think this is a good family day out and represents reasonable value for money, though it can get quite busy at the weekends and during the school holidays.
Important Information
Address: Buckingham, Buckinghamshire, MK18 5EQ
Opening Times: Park = Dawn to Dusk, Garden and Facilities = 10:00-17:00 all year.
Admission Price: Adults = £12.40, Children (under 17) = £6.20, Under 5 = Free Family = £31 (inc gift aid) NTM = Free. To view Stowe house is extra. Car park is free to NTM members, non members £2.00 per car.
Getting there: Car, satnav MK18 5EQ. Closest train stations, Bicester North 9 miles; Milton Keynes Central 14 miles. Bus, Oxford to Cambridge service stops in Buckingham town, 1.5 miles from Stowe. The Arriva X60 bus runs from Aylesbury to Milton Keynes, and stops in Buckingham town, 1.5 miles from Stowe.
Suitability: Details can be found via the link above.
Facilities: Café, Toilets, Shop, Parlour Rooms
Dogs are welcome, but must be kept on a lead at all times.
To find out more about Stowe visit:- www.nationaltrust.org.uk/stowe