Kissing Frogs by Lisa Burdziejko – Book Review
Kissing Frogs by Lisa Burdziejko – Book Review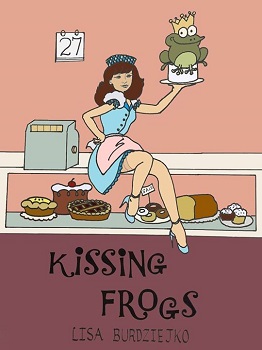 Kissing Frogs


A modern-day fractured fairy tale
Author – Lisa Burdziejko
Publisher – CreateSpace
Pages – 190
Release Date – 8th July 2015
ISBN-13 – 978-1514370971
Format – ebook, paperback
Reviewer – Jodie
I received a free copy of this book
Post Contains Affiliate Links

What does a single mom do when she is faced with an empty nest? She joins lovebycupid.com.
Single mom Ethel Funt discovers the rules of the pond have changed since the last time she took a dip. She must first date many frogs before kissing her prince.

Ethel Funt is forty and single. Now that her grown-up son Davie has left home, she decides to get back into the dating game and see what's out there. With a little encouragement from her Nonna, Ethel signs herself up to lovebycupid.com, an Internet dating site. As the title suggests, she does kiss a few frogs along the way. Each frog is different to the one before, and there are some wonderful characters to read about.
I got the impression that the author was perhaps writing about some of her own, real-life experiences. I only thought this because of the brilliant and hilarious way the book has been written. If not, she has an excellent imagination!
I lost count how many times I found myself laughing (out loud, I might add!) at Ethel's escapades, some of which I could relate to. When Ethel sends a text to her previous date (having meant it to be for her son), I found myself nodding with laughter. Most of us have sent a text to the wrong person, about that person. I have. Twice…. I also had a good chuckle over the part where Ethel was in Wal-Mart looking at condoms. You could just picture the scene unravelling. We've all looked at something in a supermarket and the inevitable (and embarrassing) scenario has unfolded. Or maybe I'm the only one these things happen to!?

The writing comes across in such a simple and chatty way. It's like you're sat there with one of your best friends, regaling the hilarious horrors of a first date. 
The story is quite short and won't take long to read, but I think that's why it works so well. Each chapter is about a different date, and it keeps the story flowing nicely as it moves forward.
I won't say whether or not Ethel eventually finds her prince, you'll have to read it yourself, but you'll enjoy finding out. I certainly did.
The only negative (and I use that word loosely), thing I found was that the book needs proof-reading. There were a few errors which caught my eye, but a good proof-reader could sort this out. Saying that, it didn't really distract me because it was such a brilliant and funny read.
This would be an ideal book to read on holiday whilst on a sun lounger, sipping a cool drink. If you do happen to read this book in public, prepare yourself for the awkward looks from nearby strangers as you begin to laugh out loud.
Go on, treat yourself and give Kissing Frogs a go. You won't regret it!
Book Reviewed by Jodie
Purchase Links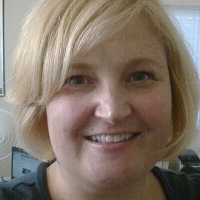 I work for the government as a social worker for victims of sexual assault. People who don't know me well often ask, "how can you do what you do" or "You must become immune to what you deal with". The truth is, if I ever felt indifferent it would be time to move on to something else. I do my job because it does bother me and it gives me an opportunity to help people in some way. Writing is a guilty pleasure that takes me away from the serious dark side of life and allows me to focus on the brighter side.
I come from a long line of avid readers. I don't often read anything too deep. Janet Evanovich and Jude Deveraux are my favorite authors; they have an amazing talent that makes me laugh out loud whenever I read a book by them. The more ridiculous and sarcastic the more I enjoy the book.
"Kissing Frogs" was a real pleasure to write. I used my experience as a mother whose children left the nest and my attempt at online dating after being divorced for five years. I wanted to make it light, fun and funny. However, the social worker in me couldn't help but add a few safety tips without being preachy. I think many women can relate to Ethel's story and I hope they lol at least once while reading.
Author Links