Let There Be Linda by Rich Leder – Book Review
Let There Be Linda by Rich Leder – Book Review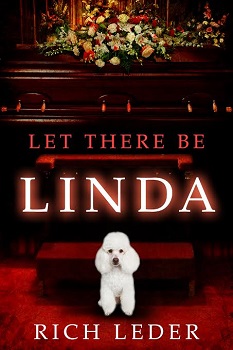 Let There Be Linda
Author – Rich Leder
Publisher – Laugh Riot Press
Pages – 377
Release Date – 1st July 2016
Format – ebook, paperback
Reviewer – Marcia
I received a free copy of this book.
Post Contains Affiliate Links

Leder's black comic caper tells the tall tale of estranged brothers Mike and Dan Miller—accountant and con-man talent agent respectively—up to their necks in the virtual quicksand of LA's San Fernando Valley during the hottest summer in Southern California history.
The root cause of their problems could be the missing seventy-five thousand dollars, or the sadistic, loan shark dwarf and his vicious giant, or the psycho comedian cop on the case, or the coke-snorting dentist, or the deranged zombie real estate developer. Or perhaps it's the poodle—the poodle is suspect, no doubt. Or maybe it's the grocery store checker who breathes life into death. Oh yes, it could be her too.
And so to repair the head-on collision the Millers have made of their personal and professional lives, the brothers summon their mother back from the dead to clean up the wreckage. But what the Miller men discover is that screwing with the laws of nature is forever and always a violent, bloody, hysterical, and hilarious idea.

I have never read a dark comedy before, and this book was certainly an experience, you could call it an eye opener. Why then did I choose this book? Because my curiosity got the better of me, the synopsis had me hooked.
At first the book appeared to be mainly a group of individual stories, stories that I struggled to see how they all connected. So when I reached about half way through the book I found myself really having to concentrate on trying to hold all the pieces in my head. Then something clicked and I saw how the characters were all related. This epiphany made the story much easier to follow.
The plot revolves around two brothers who don't get on, the sons of the title character, Linda. When their mother dies they find themselves struggling to cope.
Mike Miller, the eldest brother is an accountant and married with two daughters. His younger brother, Danny is a talent agent and a gambler. After Linda dies a series of bizarre events occur, that get stranger as the book goes on. These events start to bring the two brothers closer and needing to work together.
The book does have some laugh out loud moments, and a few 'interesting' characters include a loan shark, a dentist who is addicted to drugs, and his wife who is addicted to plastic surgery. Alongside a police detective who deals with very unusual crimes, oh and a comedian too.
While this is not my cup of tea I am still glad I had the experience, and believe it would be very appealing to readers who like dark comedies.
Because Let There Be Linda is not to my particular taste, and that I struggled with half of the book, I can only award it 3 stars.
Book reviewed by Marcia

Meet Jenny Stone
"I'm Danny Miller," he said, taking the chair next to her, "President of Miller Talent Agency." There was a bamboo reception desk, a wicker loveseat, the two chairs, the big mirror, and a fan that made a dying animal noise. There was no receptionist.
She was sitting, but Danny thought she might be five foot five or so. She had straight-as-string brown hair that was pulled back in a tight ponytail. Her skin was smooth and clear and white, as if she never went out into the Southern California sunshine. She wore zero makeup. No gloss, no eye shadow, no blush. She wore thick black glasses. She was thin, he thought, but he couldn't really tell what was happening under her blousy blue shirt and gray Catholic-school skirt. She wore knee socks and sensible shoes. She had brown eyes that made him think of coffee. She was younger than him, late twenties. She wasn't wearing a wedding ring. She was unadorned in every regard. It was as if she were trying not to be here—or anywhere—trying to be unnoticed by any and all. There was no guessing what kind of talent she thought she had.
"I'm Jenny Stone," she said in soft voice void of confidence, a voice that in and of itself was trying to be unnoticed. "What do you do, Jenny Stone?" Danny said, putting his hand out.
She shook his hand and said, "I bring dead people back to life."
Purchase Links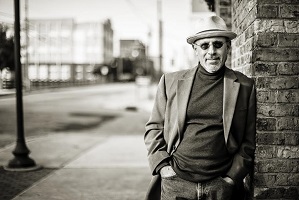 Rich Leder has been a working writer for more than two decades. His screen credits include 18 produced television films for CBS, Lifetime, and Hallmark and feature films for Paramount Pictures, Tri-Star Pictures, and Left Bank Films.
He has written four funny novels: McCall & Company: Workman's Complication; McCall & Company: Swollen Identity; Juggler, Porn Star, Monkey Wrench; and Let There Be Linda.
He founded Laugh Riot Press as an imprint for his funny books and the funny books of other indie authors.
He has been the lead singer in a Detroit rock band, a restaurateur, a Little League coach, an indie film director, a literacy tutor, a magazine editor, a screenwriting coach, a PTA board member, a commercial real estate agent, and a visiting artist for the University of North Carolina Wilmington Film Studies Department, among other things, all of which, it turns out, was grist for the mill.
He resides on the North Carolina coast with his awesome wife, Lulu, and is sustained by the visits home of their three children.
Author Links