Madam Tulip and the Bones of Chance by David Ahern – Book Review
Madam Tulip and the Bones of Chance by David Ahern – Book Review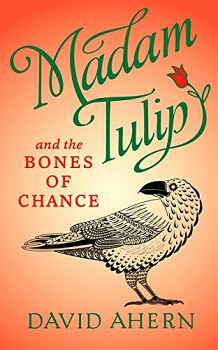 Madam Tulip and the Bones of Chance
Madam Tulip Mysteries Book Three
Author – David Ahern
Publisher – Malin Press
Pages – 288
Released – 12th April 2018
Format – ebook
Reviewer – Jill
Rating – 5 Stars
I received a free copy of this book
Post contains affiliate links
A surprise role in a movie takes actress Derry O'Donnell to a romantic castle in the Scottish Highlands. But romance soon turns to fear and suspicion. Someone means to kill, and Derry, moonlighting as celebrity fortune-teller Madam Tulip, is snared in a net of greed, conspiracy and betrayal.
A millionaire banker, a film producer with a mysterious past, a gun-loving wife, a PA with her eyes on Hollywood, a handsome and charming estate manager—each has a secret to share and a request for Madam Tulip.
As Derry and her friend Bruce race to prevent a murder, she learns to her dismay that the one future Tulip can't predict is her own.

"If something sounds too good to be true, then it is," Bruce confirms. But what could possibly go wrong?
Derry and Bruce have both been hired to act in a film shot in Scotland, and they're earning good money. Not only that, Derry, cast in the role of fortune teller (of course), has two very appealing men circling around her, and one is a powerful castle-owning multimillionaire.
True, the director of the film is perfectly obnoxious, and the male lead is a pop star, not a professional actor, but isn't that the way things go in today's film world? Add in poachers, highly unpleasant characters, a former casino hostess from Las Vegas, obnoxious journalists, a bit of interference from Derry's loopy artistic parents, and all the elements of a good Madame Tulip story are well in place.
Thankfully, even the excitement of a film set and the complications of fortune telling don't hinder Derry from being as sceptical as usual; and Bruce, although in the grips of stage fright, is always on hand to prevent total disaster.
This third book in the Madame Tulip series is wonderful read, and David Ahern's wry humour is a delight.
Reviewed by Jill
---
Purchase online from:
---
About the Author

David Ahern grew up in a theatrical family in Ireland but ran away to Scotland to become a research psychologist and sensible person. He earned his doctorate and taught in major Universities but could never explain to his granny why he didn't own a stethoscope.
Finding the challenge of pretending to know things exhausting, David Ahern shaved off his beard and absconded once more, this time to work in television. He became a writer, director and producer, creating international documentary series. He won numerous awards but found nobody was much impressed.
For want of a better plan, David Ahern took to writing fiction. Madame Tulip isn't his first novel, but writing it was the most fun he's ever had with a computer. He is now writing the third in the series and enjoys pretending that this activity is actual work.
David Ahern lives in the beautiful West of Ireland with his wife, two cats and a vegetable garden of which he is inordinately proud.





---