Monster in the House by Lovelyn Bettison – Book Review
Monster in the House by Lovelyn Bettison – Book Review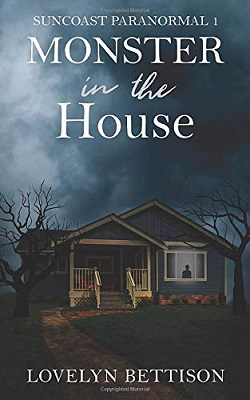 Monster in the House
Suncoast Paranormal Book One
Author – Lovelyn Bettison
Pages – 191
Released – 24th February 2020
ISBN-13 – 978-1950205103
Format – ebook, paperback
Review by – Nia
Rating – 4 Stars
I received a free copy of this book.
This post contains affiliate links.


Monsters roam the Lee family home at night, terrorizing their daughters. Desperate for their lives to return to normal, they call Adam and Cheryl from Suncoast Paranormal to rid their home of these hellish beasts.
But Adam and Cheryl are having troubles of their own. Their romantic relationship is on the rocks, and it looks like their business might be headed that way too.
Cheryl is haunted by past trauma and finding it difficult to move on with her life. She wants to pull the plug on the business and get Adam out of her life.
But Adam knows she's making a terrible mistake and thinks helping the Lees will prove that Cheryl's gift of psychic mediumship has the power to heal. If only he can get her to answer his calls, he could convince her to take the case with him.
When the Lees' youngest daughter vanishes and the grandmother is swallowed up by an unknown force, Cheryl can't ignore the case any longer.
But while they're trying to help the Lees, they encounter beings unlike any they've experienced before.
Do they have the skills to banish the monsters from the Lee home? Is there more to this haunting than meets the eye?

Monster in the House is a strong start to a series that I'm very interested in following. I could feel the influences of 80s and 90s classic horror films like Poltergeist and What Lies Beneath, incidentally two of my favourite films! The storyline followed the tropes of classic hauntings and added some twists and turns of its own to keep things fresh.
The story is told through the POVs of Cheryl and Adam, a couple who are struggling to keep their relationship and paranormal investigation business together. I found Adam a lot more likeable than Cheryl, who seems to use her past trauma as an excuse to neglect the people around her – unfair of me maybe, but refusing to help a family who are being terrorised by spirits when she's the only person capable of helping does seem a bit cruel. As the story progresses, however, the characters start to mature and find their footing which seems to offer the hope that they'll continue to develop over the course of the series.
The haunting element in this book is brilliant and genuinely creepy in places, using classic tropes and one or two I've never heard of before. There are two separate hauntings going on simultaneously during this book which gave me a good sense of what the author has planned for these characters and that she's not afraid to run them through the wringer!
I love that the main characters both accept the existence of the paranormal and that no time is wasted disputing whether or not ghosts are real, the story got right down to the nitty gritty and was incredibly satisfying.
I think this series is going to be a favourite with fans of ghost stories and classic horror, there's plenty of room for growth and two strong main characters to hold a reader's interest.
Book Reviewer – Nia
---
Purchase online from:
---
About the Author

Lovelyn Bettison writes speculative fiction with a multicultural cast.
In her stories, the normal world is slightly askew, magic happens every day, and ordinary people end up in extraordinary situations. Her novels explore the themes of loss, regret, and striving to be better. There's almost always a love story. There is definitely magic, and she likes all her ending to be the happy kind.
If you want to explore a world that is different than your own and full of quirky characters and unusual occurrences check out her books.





---
What did you think of Monster in the House? Share your thoughts in the comment section below!
---
The above links are affiliate links. I receive a very small percentage from each item you purchase via these link, which is at no extra cost to you. If you are thinking about purchasing the book, please think about using one of the links. All money received goes back into the blog and helps to keep it running. Thank you.
Like us on Facebook – Tweet us on Twitter – Pin us on Pinterest