Nothing Scares Spider! by S Marendaz – Book Review
Nothing Scares Spider! by S Marendaz – Book Review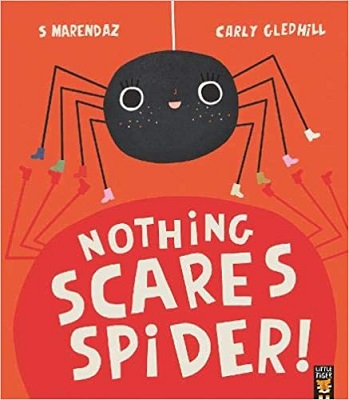 Nothing Scares Spider!
Author – S Marendaz
Illustrator – Carly Gledhill
Publisher – Little Tiger Press
Pages – 32
Released – 5th August 2021
ISBN-13 – 978-1788817066
Format – paperback
Rating – 4 Stars
I received a free copy of this book.
This post contains affiliate links.


Synopsis
Spider is going on an ADVENTURE! There might be Fearsome Fishes. And Hungry Birdies. And Hairy Beasties! Spider's not scared – but her friends are. They call her back from her adventure time and time again, and Spider starts to get cross. There's NOTHING to be scared of . . . or is there?
Nothing Scares Spider! is a children's picture book about a spider who wants to go on an adventure. Her friends Caterpillar, Ladybird, and Bumble Bee are worried about her, but she tells them that she isn't scared. The friends then tell her that they are scared to stay alone whilst she goes off on her travels so spider leaves them a web that they can twang when they have an emergency.
It doesn't take long though before her friends keep on calling her for the most basic issues and spider starts to get cross, but what will happen if her friends are in real danger and need her after all the false calls they made?
The book even though it features a spider, which I know some of you can't stand, even cartoon ones like this one, is actually quite sweet and spider certainly is very brave, even if she doesn't realise how close to danger she is each time her friends call her back.
The book has some amazing full-page illustrations that emphasise Spider's journey and hidden on the pages are the creatures that nearly capture her. I enjoyed the read. It is imaginative, engaging, and fun. I can see young children being delighted by this book. It is easy to read with no big words and the plot is easy to follow via the pictures. It also might make them appreciate and not be scared of spiders either, which is a bonus.
Purchase Online From:
---
What did you think of 'Nothing Scares Spider!'? Share your thoughts in the comment section below!
---
The above links are affiliate links. I receive a very small percentage from each item you purchase via these links, which is at no extra cost to you. If you are thinking about purchasing the book, please think about using one of the links. All money received goes back into the blog and helps to keep it running. Thank you.
Like us on Facebook – Tweet us on Twitter – Pin us on Pinterest – Join us on Instagram