NYPD Red 3 by James Patterson – Book Review
NYPD Red 3 by James Patterson – Book Review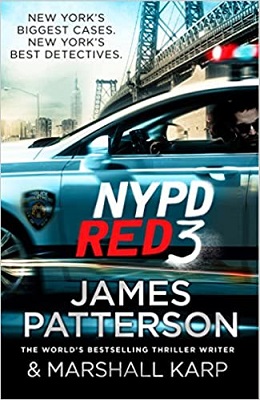 NYPD Red 3
Author – James Patterson & Marshall Karp
Publisher – Century
Release Date – 9th April 2015
Pages – 384
ISBN 13 – 978-1780892740
Format – ebook, paperback, hardcover, audio
Star Rating – 5
I received a free copy of this book.
This post contains affiliate links.

Synopsis
A chilling conspiracy leads NYPD Red into extreme danger
Hunter Alden Jr. has it all: a beautiful wife, a brilliant son and billions in the bank. But when his son goes missing and he discovers the severed head of his chauffeur, it's clear he's in danger of losing it all.
The kidnapper knows a horrific secret that could change the world as we know it. A secret worth killing for. A secret worth dying for.
New York's best detectives, Zach Jordan and Kylie MacDonald, are on the case. But by getting closer to the truth, Zach and Kylie are edging ever closer to the firing line…
NYPD Red 3 is as you might have worked out the third book in the NYPD Red thriller/detective series from authors James Patterson & Marshall Karp. If you haven't read books one and two then you might want to stop reading this review and go back to the start as the books work best if they are read in order.
In this latest instalment, Detectives Zach Jordan and Kylie MacDonald are on a complicated case. The body of a chauffeur for a multi-million dollar family, the Alden's, has been found missing his head. As the family is rich and powerful the case falls to the NYPD Red team.
However, there seems to be more at play as the son of the family appears to have been kidnapped but Hunter Alden Jr, his father, tells the detectives that his son is taking some time away and certainly hasn't been kidnapped, whereas we the readers know this is not the case.
Things become more strange as the book progresses and not everything is as it first seemed. Plus, secrets to one of the biggest atrocities in the world are being hidden by Hunter Alden Jr and the detectives may just have to take those secrets to the grave with them too.
What a fascinating storyline book three in the NYPD Red series has. I loved every minute of it. It was extremely twisty and shocking. You are never quite sure who is telling the truth, why the kidnapping is taking place, and the kidnapper turns out to be the last person you suspect.
The comradery between the detectives is as strong as ever, though there may just be a conflict of interest when it appears that Kylie MacDonald's marriage may be about to end after the events in book one, much to the please of Zach Jordan who has loved her for decades.
With this book still pulsating through my veins and in my head, I am about to begin book four, and I can not wait. I definitely can recommend this series which just keeps on getting better and better with each book.
---
Purchase Online:
James Patterson

James Patterson is one of the best-known and biggest-selling writers of all time. His books have sold in excess of 375 million copies worldwide. He is the author of some of the most popular series of the past two decades – the Alex Cross, Women's Murder Club, Detective Michael Bennett and Private novels – and he has written many other number one bestsellers including romance novels and stand-alone thrillers.
James is passionate about encouraging children to read. Inspired by his own son who was a reluctant reader, he also writes a range of books for young readers including the Middle School, I Funny, Treasure Hunters, Dog Diaries and Max Einstein series. James has donated millions in grants to independent bookshops and has been the most borrowed author of adult fiction in UK libraries for the past eleven years in a row. He lives in Florida with his wife and son.
Author Links:
---
The above links are affiliate links. I receive a very small percentage from each item you purchase via these links, which is at no extra cost to you. If you are thinking about purchasing the book, please think about using one of the links. All money received goes back into the blog and helps to keep it running. Thank you.