October Song by Ru Pringle – Book Review
October Song by Ru Pringle – Book Review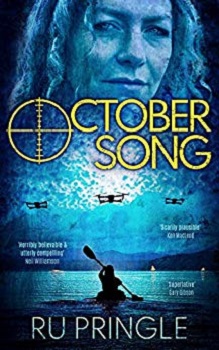 October Song
Author – Ru Pringle
Pages – 451
Released – 3rd November 2018
ISBN-13 – 978-1730779190
Format – ebook, paperback
Reviewer – Ed Sheehan
Rating – 4.5 Stars
I received a free copy of this book.
This post contains affiliate links.
COIRA KEIR is a long-serving police officer. Abrasive, but respected by her peers, she has an enviable track record. When a bomb explodes outside the North British Council Building at Holyrood, Edinburgh, dozens of bystanders are left dead. Among the critically wounded is the Prime Minister of the United Kingdom, whose safety was Keir's responsibility.
Now Keir is missing.
Army veteran Sebastian Blakeslee is an operational advisor for MI5, the domestic security agency of the United Kingdom. Lorna Ainsworth is the agency's territorial chief. Together, they find themselves leading a joint police and MI5 taskforce. Its mission: track Keir down before more bombs go off. What follows is a cat-and-mouse chase towards the front of an intensifying war – along a wild coast where thousands of desperate boat-borne refugees are hiding. Meanwhile, someone seems prepared to go to extraordinary lengths to stop Keir being found.
With elements of police procedural, spy novel and political action thriller, October Song is both a darkly gripping roller-coaster ride and a blistering reflection on a world on the edge of collapse.
Ru Pringle's novel October Song starts with a short prologue that sets the stage for the rest of the novel when the former Scotland parliament building is almost destroyed by an improvised explosive device seriously injuring the British Prime Minister and killing dozens of people. The story is slightly futuristic following the collapse of the European Union after the UK Brexit withdrawal.
Chapter one introduces an injured woman fleeing in a kayak in cold, dangerous waters through the isles west of Scotland's mainland. She is not experienced in kayaking, and her suffering, resolve, and survivor skills immediately attracted me to her. She narrowly survives the first day and her saga continues throughout much of the novel. The reader learns soon enough that she is a policewoman named Coira Weir.
The second chapter introduces the second major character, Sebastian Blakeslee, a man in his fifties who is put in charge of the task force assembled to track down the perpetrators of the bombing. Coira Weir is the task force's main lead and suspect—capturing her was a top priority.
Chapter four introduces a new major character who is apparently a British agent. I was fascinated by the author's use of the second person in referring to the agent as only "you"—you did this, you did that. The agent uses highly developed senses to track Coira Weir.
The story was intricate, challenging, and thrilling. I could not imagine a good outcome for my favorite character, Coira: but I won't disclose the outcome here. I did struggle with the accents in some of the Scottish dialect, and the single, instead of double, quotation marks made the dialogue hard to pick out. But I got used to that. This is the most unusual novel that I have ever enjoyed, and I highly recommend it with a four-and-half-star-rating.
Book Reviewer – Ed Sheehan
---
Purchase online from:
---
About the Author

'Ru Pringle is one of the most interesting and exciting new writers to emerge north of the border since Iain Banks' – Gary Gibson, award-nominated author of Angel Stations, Against Gravity and Stealing Light.
Ru Pringle has written for a living since his late teens, beginning with regular features in numerous magazines and newspapers. His critically acclaimed early short fiction was published in Interzone. After several years as a touring musician, he his first two books were published in the summer of 2018: A Time of Ashes and Hunting Gods, the first parts of the fantasy / sf epic Fate and the Wheel.
A dark near-future thriller, October Song, followed in October 2018. He is currently editing the centuries-spanning two-part space opera Sanctuary for publishing in Spring 2019.
He lives in the southwest Highlands of Scotland.




---
The above links are affiliate links. I receive a very small percentage from each item you purchase via these link, which is at no extra cost to you. If you are thinking about purchasing the book, please think about using one of the links. All money received goes back into the blog and helps to keep it running. Thank you.
Blog posts straight to email via Bloglovin – Like us on Facebook – Follow us on Twitter