Old Wounds by Tom Batts – Book Review
Old Wounds by Tom Batts – Book Review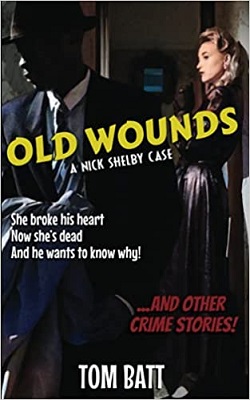 Old Wounds
Nick Shelby Case and Other Crime Stories
Author – Tom Batts
Pages – 219
Released – 27th August 2021
ISBN-13 – 979-8464953345
Format – ebook, paperback
Rating – 4 Stars
I received a free copy of this book.
This post contains affiliate links.


Synopsis
Old Wounds: A Nick Shelby Case and Other Crime Stories is a collection of 15 short crime stories from dark detective noir to domestic murder, crossing time periods as far back as the Victorian era and into the near future. Some with a twist of horror, science fiction or the supernatural. Each story revolves around intriguing characters with twists and turns and on occasion a sting in the tail.
Private investigator Nick Shelby is struggling to move on from the abrupt and unexplained departure of Louise, the woman he loved. When she turns up dead in Mexico, he sets off to investigate her death and, in the process, unravels a web of lies and betrayal woven together by a roster of shady characters in 1940s Los Angeles. A mysterious man thought to be dead, a deceiving doctor and a notorious gangster are all connected, but the big question is who killed Louise and why?
Plus, three small town sheriff's deputies are made a tempting offer by a sinister stranger they've arrested; a young prostitute tracks down the man who murdered her friend and exacts brutal revenge; in the near future where reproduction is regulated a desperate mother will risk everything to have a child of her own and in Victorian London a married couple encounter one of the city's most infamous criminals and find themselves on the wrong side of the law.
Old Wounds: A Nick Shelby Case and Other Crime Stories is a collection of fifteen different short stories, each one being individual, yet they all have the same basic theme, crime.
The book was enjoyable as a whole and all of the fifteen stories were intriguing to read and excellent thrillers. My favourite though has to be the title story 'Old Wounds: A Nick Shelby Case' in which there is a fire and a man is killed but turns out not to be the man they thought it was and so a mystery unfolds. This one really kept my attention as there were lots of twists and turns. There were quite a few in the other stories too.
The book is well-written, with good use of language and all of the characters came across as realistic. As the book contains fifteen different stories it was easy to read them in one sitting, then you can put the book down for a while before beginning another one. They were all so imaginative and I adored the different time periods that occurred.
Old Wounds: A Nick Shelby Case and Other Crime Stories certainly is a good read. There is a lot of intrigue, darkness, thrills, and twists, in each one which left me wanting more. I do hope that there will be another book to follow.
Purchase Online From:
---
What did you think of 'Old Wounds'? Share your thoughts in the comment section below!
---
The above links are affiliate links. I receive a very small percentage from each item you purchase via these links, which is at no extra cost to you. If you are thinking about purchasing the book, please think about using one of the links. All money received goes back into the blog and helps to keep it running. Thank you.
Like us on Facebook – Tweet us on Twitter – Pin us on Pinterest – Join us on Instagram