The Writing Life of: Jorja Grael
Jorja Grael
This week I am thrilled to be interviewing author Jorja Grael. Jorja will be sharing with us details of her writing life, telling us all about her upcoming book 'The Sound of Winter', which should be released in either November or December 2021, and answering a few fun questions. We will be sharing details of Jorja's last release with you too. This post contains affiliate links.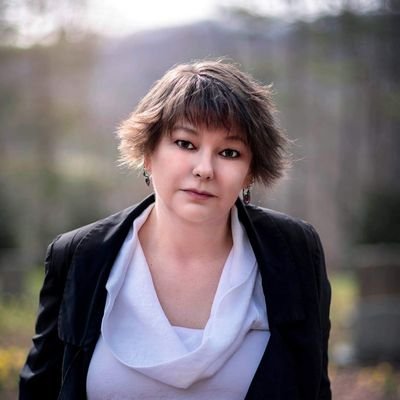 Jorja Grael lives on a farm in the mountains of North Carolina with a cat, a dog, and her husband. When not in front of her computer, she gardens and devours books on an alarming scale.
With an avid interest in everything from history to zombies to crime scene investigation, she is currently busy parlaying these interests into some sort of romantic fiction. She is the author of To Tame A Rogue Heart and The Rental.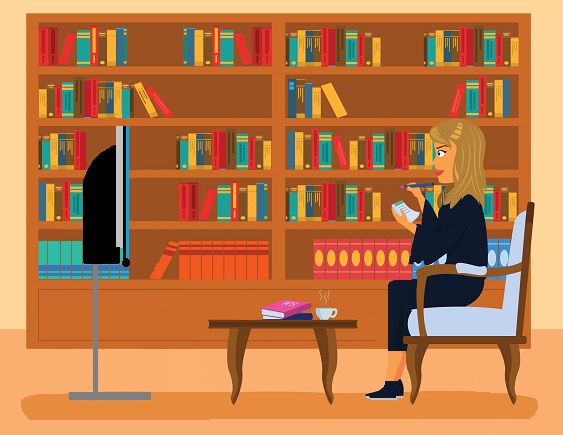 1) Did you enjoy writing when you were a child?
I didn't start writing until I was about 12 or 13. I had to write a short play for a class and found that I enjoyed creating stories. I wrote what would now be called fan fiction of my favorite television shows for a while, and I really hope they never come to light!
2) Which author shaped your childhood?
Nothing really stands out from my early childhood, but after I discovered romance novels in 7th grade, I fell in love with several writers of that genre. Rosemary Rogers, Kathleen E. Woodiwiss, and Valerie Sherwood were some of my favorites.
3) What motivated you to begin your first novel?
High school algebra motivated me. I did not understand algebra at all (still don't), so I began to write during class instead. I flunked the class, but I had started a book! When I started writing again in my thirties, I felt like a switch had been flipped in my head and I had to get this story out.
4) Do you plot your book, or are you a pantser?
Pantser, all the way. I have an idea of what's going to happen, but if I plot, my characters seem to go out of their way not to follow. They really do have a mind of their own.
5) What is your average writing day?
I usually get up around 8 am and drink coffee until I'm coherent enough to make real words. I spend the coffee time on social media, posting and catching up. By 9, I'm at my desk, writing or editing. Noon is quitting time, so I can do housework and get ready for my "real" job, i.e., the one that pays the bills. I carry a notebook with me all the time and jot down ideas as they come.
6) What is the best thing about being an author?
The best thing is also the worst: reviews. Yes, I read them. I love it when someone says they enjoyed my books. For me, that validation of all the work that went into them. My first bad review made me want to cry. Now I check to see if there any validity in what they say, anything I could have done better, and move on.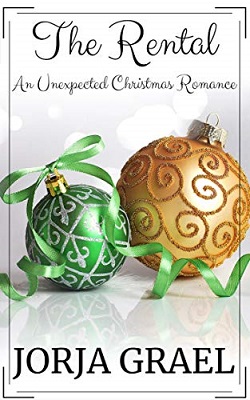 The Rental
Author – Jorja Grael
Pages – 148
Release Date – 21st April 2013
Format – ebook
Synopsis
Going home for the holidays is not Sophie Allgood's idea of a good time. Never having quite measured up to her older sister, she doesn't relish the thought of admitting to her family that her fiancé of four weeks has cheated on her.
After a chance meeting during a snowstorm, Sophie strikes a business deal with Cameron Mitchell: for a fee, he will impersonate her fiancé during Christmas with her dysfunctional family, allowing her to save face. The lines between business and pleasure quickly become blurred as a scorching passion that neither expects erupts between them. Soon they find themselves caught in their own trap.
Since her family knows him by another man's name, how do they explain that Cameron is only a rented fiancé, but may become something more permanent?
Purchase Online From:
7) How long did it take to go from the ideas stage to writing the last word?
Years! I really don't know how long it took to write The Sound of Winter, because I wrote two other novels while it was still a work in process. I always have two or three stories going at the same time. My first novel, To Tame a Rogue Heart, took four years from start to finish.
8) What made you choose the genre you write in?
It chose me. I've tried writing in other genres, fantasy and horror, but nothing click. These other genres sneak into my romances about bit, though. The idea of a stalker is slightly terrifying, and the next book after The Sound of Winter has a ghost story in it. Maybe I'm just a romantic at heart, with a twist?
9) How did you come up with the name(s) for your lead character(s)?
My characters usually pop up with first names. Last names are harder. I watch the end credits of movies just to check for interesting names. Cemeteries are a good source as well, especially for historical names. The setting for The Sound of Winter allowed me to use many local last names.
10) Can you give us an insight into your characters?
In general, I try to write strong female characters. I detest the shrinking violet trope. My characters don't need a man to save them all the time. Sometimes it's the man who needs saving! I also try to write male characters who are secure enough not to feel threatened by a strong woman.
In The Sound of Winter, Kristen is strong enough to survive the death of her husband and move on with her life. She's understandably hesitant about entering a new relationship. Roy has issues with his career in law enforcement getting in the way of relationships, but he's patient and let's her come to terms with what's happening between them. As for the saving, you'll have to read the book to find that out!
11) How did you feel when you had completed your book?
Exhausted. Elated. Words are hard! I did the happy dance when I finished, then stopped when I remembered that finishing the book is just the beginning.
Fun Questions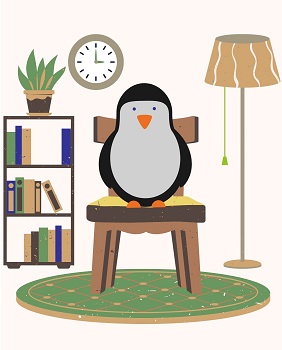 1) Do you have a favourite quote you live by?
"What's the worst that can happen?"
I don't have pets; I have demanding four-legged masters! Fergus the cat, Spot the dog, and Bitty the goat.

3) What's on your current reading list?
All kinds of things! I am currently reading The Wolf and the Woodsman by Ava Reid. I currently have a TBR stack that's taller than I am.
4) Your book has been made into a feature film, you've been offered a cameo role, what would you be doing?
I'd probably be the snarky medical examiner. I do snark very well!
5) If you could travel to the fictional world of any book for the day, which would you choose?
Any of Diana Gabaldon's Outlander books. I could spend the entire day just gazing at Jamie Fraser!
6) There's a penguin sitting in your writing chair, what is the first thing he says to you?
"How do you get anything done with that cat sitting on your laptop?" Fergus thinks he's the center of the universe, and I should only write when he's busy elsewhere.
---
I would like to say a big thank you to Jorja Grael for sharing with us details of her writing life and for a wonderful interview.
Author links





---
Share your thoughts on our interview with Jorja Grael in the comment section below!
---
The above links are affiliate links. I receive a very small percentage from each item you purchase via these links, which is at no extra cost to you. If you are thinking about purchasing the book, please think about using one of the links. All money received goes back into the blog and helps to keep it running. Thank you.
Like us on Facebook – Tweet us on Twitter – Pin us on Pinterest