Phineas Varga and the Revenants of Windsor by A. K. Rouse – Book Review
Phineas Varga and the Revenants of Windsor by A. K. Rouse – Book Review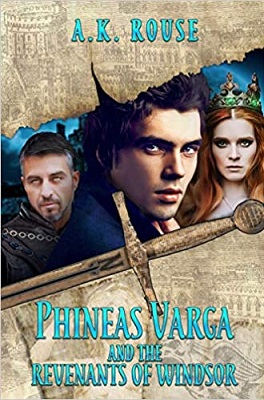 Phineas Varga and the Revenants of Windsor
Author – A. K. Rouse
Pages – 354
Released – 24th October 2019
ISBN-13 – 978-1698344379
Format – ebook, paperback
Rating – 3.5 Stars
I received a free copy of this book.
This post contains affiliate links.


Synopsis
In 1014 AD, Nieve, a young Irish woman, nurses wounded Fintan, a mysterious foreigner fighting for the Irish at the Battle of Clontarf. From this point on, their fates are intertwined as they attempt to navigate secrets, supernatural beings, a rival for Nieve's affection . . . in addition to their own conflicted feelings for one another.
Over five-hundred years later, in 1563, the Black Death descends on the kingdom of Queen Elizabeth I. She welcomes into her court at Windsor Castle, a man, Phineas Varga, who offers protection. However, the young queen soon finds that his strategy includes the use of gargoyles . . . for she and her kingdom are to be defended against something far worse than the plague. England and all mankind are at the mercy of the revenant should those most ancient and evil have their way.
Phineas, too, has his secrets, secrets that shaped who he is and who he will become. In his quest to rid Europe of the foul revenant, he is joined by a young, eager apprentice, a gargoyle warrior, a female assassin of a strange guild, and others who seek to find the source of the revenant outbreak. It is only when mysteries are revealed, and tragedy occurs that the reader discovers why five-hundred years is but a short time for some.
Today, the revenant is known by its most popular name . . . that of . . . vampire.
This historical fiction novel set between two time periods, Ireland 1014 AD and England 1563 features a mix of real-life people and places amongst a fantasy/supernatural world where vampires exist and Gargoyles come to life to protect people from them, including Elizabeth I.
The writing is very descriptive and the characters likeable and their action and path in life justifiable. The two time zones are easy to follow and the correlation between the two comes clear as the book progresses. I did find myself enjoying the life of Nieve in 1014 AD far more than that of Elizabeth the First though as Nieve was tough, brave, and resilient.
The synopsis had me eager to read this book as I like a book with vampires in it and this offered something different to the usual vampire genre, but I must admit that I tried to read it four times over the space of a year before I thought I would give it one last go (especially with issues around the world in 2020 and my reading taking a hit as my joy for it diminished). I personally think the chapters are too long which made the book drag. I often flicked through the pages checking how many more there were until I reached the next chapter.
I by no means think Phineas Varga and the Revenants of Windsor is a bad book, quite the opposite, it had historical figures, war, plague, vampires, action, adventure, and much more, I just don't think it is a book for me as I struggled to stay interested in it. If you love all of those things then certainly give this book a read.
Purchase Online From:
---
What did you think of 'Phineas Varga and the Revenants of Windsor'? Share your thoughts in the comment section below!
---
The above links are affiliate links. I receive a very small percentage from each item you purchase via these link, which is at no extra cost to you. If you are thinking about purchasing the book, please think about using one of the links. All money received goes back into the blog and helps to keep it running. Thank you.
Like us on Facebook – Tweet us on Twitter – Pin us on Pinterest