Return by Aaron Becker – Book Review
Return by Aaron Becker – Book Review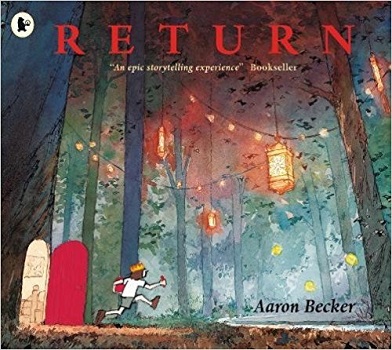 Return
Author – Aaron Becker
Publisher – Walker Books
Pages – 40
Release Date – 3rd August 2017
ISBN-13 – 978-1406373295
Format – paperback, hardcover
Reviewer – Stacey
I received a free copy of this book
Post Contains Affiliate Links

The eagerly-anticipated finale of Aaron Becker's wordless trilogy – a spectacular, suspenseful and moving story that brings its adventurer home.
Aaron Becker, creator of the award-winning Journey and its stunning, celebrated sequel, Quest, presents the final chapter in his luminous, wordless fantasy. Failing to get the attention of her busy father, a lonely girl turns back to a fantastic world for friendship and adventure.
It's her third journey into the enticing realm of kings and emperors, castles and canals, exotic creatures and enchanting landscapes. But this time, it will take something truly powerful to persuade her to return home, as a gripping backstory is revealed that will hold readers in its thrall.

Return is the last book in a trilogy following a young girl who with her red marker pen can draw magic doors, and enter other realms. The series is unique in that the books don't contain any words, just illustrations from beginning to end.
I haven't 'read' the first two books, but it didn't take me long to understand exactly what was happening. The little girl wants to play, she wants an adventure. Unfortunately, her father is working, so she has to create her own fun, starting with drawing a magical door, in which she enters into a world of kings and queens. Closely followed by her father, who goes looking for her.
Return, is a spellbinding book. It captured my imagination with its silence. The novelty of being able to narrate the book myself was completely unique to me, it felt almost poetic.
Although this is a picture book, it is not for little children, the plot is too challenging. There are no young drawings, just beautiful, evocative illustrations. The images are like movie screen shots, each one tells a different stage of the story, moving one shot at a time. The intricate detail is what sets this book apart from others. Every little detail has been carefully drawn with precision, giving the reader the visual setting for their minds to work with.
The story flows naturally, and it effortlessly moves along at a steady pace. There are no language barriers with a wordless book. Return is just a filled to the brim fantasy adventure, that relies on you, the reader to complete the story, whichever version you may choose.
Book reviewed by Stacey
Purchase Links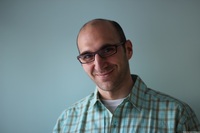 Aaron Becker has worked as an artist for such film studios as Lucasfilm, Disney, and Pixar, where he helped define the look and feel of characters, stories, and the movies they become a part of. With Journey, he has created characters and worlds of his very own, using traditional materials and techniques. Aaron Becker lives in Amherst, Massachusetts, with his wife, daughter, and cat.
Author Links