The Bacchanal and Other Horrific Tales – Book Review
The Bacchanal and Other Horrific Tales – Book Review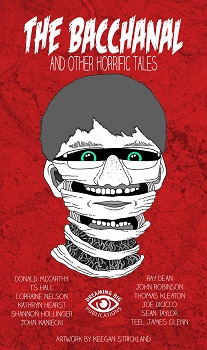 The Bacchanal and Other Horrific Tales
Author – Various
Publisher – Dreaming Big Publications
Pages – 197
Release Date – 14th June 2016
ISBN 13 – 978-0692740583
Format – ebook, paperback, audio
Reviewer – Nia
I received a free copy of this book
Post Contains Affiliate Links

An artist whose love for his wife has horrific results.
A babysitting job gone horribly wrong.
A talent agency that promises success no matter what; even if you are the one standing in the way.
This chilling collection of modern horror stories is sure to have you peeking warily around corners and walking just a bit faster down dark streets. Full of both creepy events and morbid humor, The Bacchanal stands as a testament to humanity's love of being afraid and of frightening others.
Humanity's fear of the unknown and fascination with the supernatural are masterfully depicted in these eleven stories. Though the supernatural elements are the centerpiece of the collection, it is the believable actions of the ordinary humans, both evil and well-meaning, that will send shivers down readers' spines.

This collection of short stories was very much a mixed bag in terms of content and quality, which makes it very difficult to review without over analysing so here's a quick round up of the bits I didn't like, before I elaborate on what worked for me.
Some of the shorter stories at the beginning of the book were quite weak in terms of writing style and cliché, the tricky bit in writing short stories is to lay a groundwork quickly so that the reader connects with the story and the characters before the horror starts otherwise the horror itself doesn't really work – some of these stories lacked the necessary groundwork.
That said, there were some real gems in the mix here – my favourite was probably 'Regarding Mister Suffolk' by Teel James Glenn. This one is a classic horror story about a murderer being brought to justice by the supernatural, the best part was that the author did a fantastic job of creating a hook for this story to carry me all the way through. I also really enjoyed 'His Own Eyes', another classic ghost story set in a plantation managed by Japanese immigrant workers. The story was elegantly written and haunting, it helps that is story has all of my favourite things in a ghost story: history, folklore and atmosphere!
I'm not entirely sure how to classify the genre of this collection either, 'horror' is probably the closest but not all of the stories contain a supernatural element. Bacchanal, the first story in the collection, recounts the conversation between a woman and her psychologist while the story '….and lose his own soul' describes the actions of a man after the death of his wife.
These stories in The Bacchanal and Other Horrific Tales are quite tame compared to my usual horror reads, in any event so they would serve well as a gateway read to the heavier stuff this Halloween!
Book Reviewed by Nia
Purchase Links