The Confessions of Gabriel Ash by Lee Polevoi – Book Review
The Confessions of Gabriel Ash by Lee Polevoi – Book Review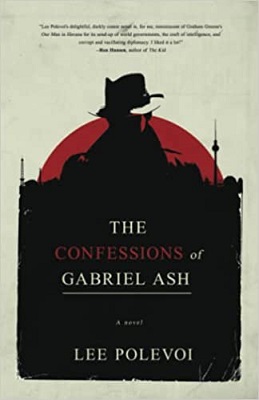 The Confessions of Gabriel Ash
Author – Lee Polevoi
Publisher – Rize
Release Date – 23rd May 2023
Pages – 332
ISBN 13 – 978-1955062589
Format – Paperback
Star Rating – 4
I received a free copy of this book.
This post contains affiliate links.

Synopsis
The Confessions of Gabriel Ash, a literary Cold War thriller with echoes of John Le Carré and A Gentleman in Moscow, alternates between the glittery backdrop of 1980s New York and the sinister grottoes of Eastern Europe. The story UN Ambassador Gabriel Ash has to tell–in a voice that's sardonic, self-delusional, and uniquely his own–will result either in his release from captivity or the loss of his life.
Firstly, thank you to the author and the publishers for letting me have a copy of The Confessions of Gabriel Ash prior to publication.
The story starts slowly with Gabriel Ash held in a small, mysterious prison in Keshnev; a fictitious country in Eastern Europe. He is asked to record his activities leading up to his arrest. This section of the book switchers between Gabriel's day to day life in prison, his recordings and reminiscences of his past life.
Through this narrative we slowly get to know Gabriel who is quite a fascinating character; born in the USA, raised in England then in Keshnev where his parents were Christian missionaries until they disappeared during the Nazi occupation. Using his background and guile he works his way up the Keshnev diplomatic corps to be their Ambassador to the United Nations in New York.
Much of the relevant action in New York takes place in 1982 during the invasion of the Falkland Islands (Malvinas) and his semi-estranged daughter, Tess, becomes involved.
Leo Polevoi uses the Falklands conflict and others to question the ability, or lack of it, of the United Nations to avoid, or at least mitigate, conflicts between countries; something that would certainly be helpful with the current war in Ukraine.
As the story moves on we finally learn of Gabriel's crimes and of his attempts to escape. I really enjoyed the denouement which Polevoi set during a festival where his descriptive skills captured the atmosphere superbly.
I mentioned earlier that mine was an advanced copy and it provided me with an interesting little game which I'm sure will not be available to other copies. Somewhere between the author and my Kindle the text lost some characters. I thought it was random but after a while I realised that the missing characters were the combinations FI and FL. Working out the full text was fun so here are some examples for you. "of ce", "sniper's ri e", " nd", "baf ed" and several uses of the word " gure".
As far as I can tell The Confessions of Gabriel Ash is Polevoi's second published novel. He can certainly tell a good story and I look forward to more from him. I have awarded four stars.
---
Purchase Online:
Lee Polevoi
Lee Polevoi has received a Bread Loaf Writers Conference scholarship, as well as a screenwriting fellowship co-sponsored by Amblin Entertainment and Universal Pictures. His novel The Moon in Deep Winter was used as the basis for a short film screened at the Cannes Film Festival and the New York's Chelsea Film Festival.
His short fiction has appeared in Witness, Sonora Review, and elsewhere. A graduate of Amherst College and the Warren Wilson College MFA Program for Writers.
Author Links:
---
The above links are affiliate links. I receive a very small percentage from each item you purchase via these links, which is at no extra cost to you. If you are thinking about purchasing the book, please think about using one of the links. All money received goes back into the blog and helps to keep it running. Thank you.