The Demon Code by David Leadbeater – Book Review
The Demon Code by David Leadbeater – Book Review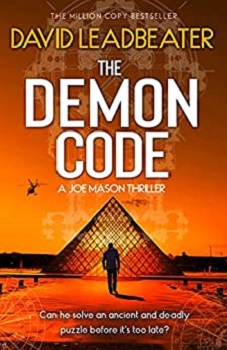 The Demon Code
Joe Mason Book Two
Author – David Leadbeater
Publisher – Avon
Release Date – 15th September 2022
Pages – 362
ISBN 13 – 978-0008471149
Format – ebook, paperback, audio
Star Rating – 4
I received a free copy of this book.
This post contains affiliate links.

Synopsis
An impossible heist. An ancient code. A deadly race against time…
High in the Italian alps, cut off from the outside world, sits a chapel battered by winds and icy blizzards. The priests who guard this sacred place have sworn to protect the dangerous treasure that lies within their walls.
But when Joe Mason and his team are called to the remote church, they find its ancient stones reduced to rubble, the priests murdered in cold blood and their precious cargo stolen.
As Mason pursues the thieves across continents and dangerous waters, he wonders what incredible secret the priests laid down their lives for… And if he can recover it before it claims more innocent victims, and brings the downfall of civilisation as we know it…
An edge-of-your-seat, action packed blockbuster adventure that will leave you breathless. Fans of Jack Reacher and Dan Brown will be hooked from the very first page.
I eagerly rushed through Joe Mason book one, The Vatican Secret and so when book two appeared on NetGalley I just had to dive in.
This time in The Demon Code, the body of Christ, a well-kept secret by the church, has been taken alongside some artefacts and Joe and the team are contacted by Cardinal Vallini from the Vatican to locate the body, quietly, but there is no such thing as quiet when it comes to Joe and the team. Plus, the people desperate to stop them, including a hitman for hire who has come out of retirement and takes great pleasure in killing anyone, even the innocent.
The book is fast-paced and the intrigue flowed the more the team discovered along their journey. Again, just like in the first book they are following clues and moving from place to place, always with an unwanted hit team to stop them fast on their tail.
I found the storyline a little harder to get into this time, part of me does wonder if that was due to reading it in eBook format rather than paperback like the first book, or maybe the plot didn't entirely grasp me from the start. However, it certainly kept me entertained and turning the pages.
I love Joe and the team for their dedication to the cause and Sally. I also find the flip side of Marduk and the Amori intriguing, including their backstory and backstabbing.
Overall, if you are looking for adventure, action, fight scenes, mystery, clues, and thrilling moments then The Demon Code is the book to pick up, though reading book one would be a good place to start first.
---
Purchase Online:
David Leadbeater

David Leadbeater has published more than 40 novels and sold over a million Amazon Kindle e-books. He has now signed for a major publisher – Harper Collins/Avon Publishing, who will release the first two books of a new series in 2022, followed by two more in 2023.
All 30 parts of the Matt Drake series were international bestsellers and continue to top the charts in 2022. The first part of his Relic Hunters series won the inaugural Amazon Kindle Storyteller award in 2017. For a chronological reading order of the Matt Drake, Alicia Myles and Disavowed series' please visit his website.
Author Links:
---
The above links are affiliate links. I receive a very small percentage from each item you purchase via these links, which is at no extra cost to you. If you are thinking about purchasing the book, please think about using one of the links. All money received goes back into the blog and helps to keep it running. Thank you.