The German Client by Bruno Morchio – Book Review
The German Client by Bruno Morchio – Book Review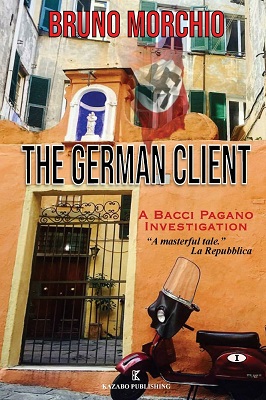 The German Client
A Bacci Pagano Investigation
Author – Bruno Morchio
Publisher – Kazabo Publishing
Pages – 202
Released – 13th February 2020
ISBN-13 – 978-1948104180
Format – ebook, paperback
Review by – Julie
Rating – 5 Stars
I received a free copy of this book.
This post contains affiliate links.


Private investigator Bacci Pagano can't resist taking the bait when his new client dangles a check with too many zeros. He should have known that where there's bait, there's always a hook.
In a hospital corridor, private investigator Bacci Pagano is keeping watch over Jasmìne Kilamba. If she lives, her testimony will shatter a notorious human trafficking ring. Seemingly out of nowhere, he is approached by an elderly German named Kurt Hessen who is searching for his Italian half-brother. Despite his better judgment, Pagano accepts the job.
So many things, good and evil, happened when the Nazis occupied Genoa in 1944, what did it matter now? But it matters very much to someone and Pagano finds himself plunged into a world of old secrets and new lies in this wartime thriller where the bill for the sins of the past has come due . . . with interest.

'The German Client' is a wartime thriller from the pen of Italian author, Bruno Morchio. Originally written in his native language, I read a version translated into American-English.
The book is divided into three threads; we meet Bacci Pagano, a present day private detective, when he's waiting for news of his girlfriend, Jasmine, who has been seriously injured by a drugs trafficking ring. Then Professor Kurt Hessen enters the story. He was born as a result of an affair between Tilde, a local teenage factory worker and a disillusioned Wehrmacht officer, Hauptmann Helmut Hessen. The professor believes he has a half-brother, born after the war when his birth mother had another child and he wants Pagano to find his sibling.
The third thread is probably the most absorbing from my point-of-view and concentrates on Tilde's role in the partisan movement based in Sestri Ponente, in 1944.
Pagano's sections are written in the first person and the past tense and Tilde's story is told in the third person and the present tense. It was definitely an unusual structure but I quickly got used to the format.
Taking Professor Hessen's commission, Pagano spends time with the elderly PAG (Patriotic Act Group) partisans to try to throw light on events from more than half a century ago. Are their memories failing them or are they deliberately misleading him to prevent him from learning the truth? There are things they're reluctant to discuss; is this purely down to their resistance experiences or something even more haunting?
I like the cover and feel it conveys a strong sense of wartime Italy. The author's blend of fact with fiction is clever and I was interested to find out about his association with the area. I wasn't sure the thread with Jasmine was necessary and became slightly impatient when we left the main plot to explore her backstory but in retrospect, I think her experiences of kidnap and torture mirrored that of the partisans who were captured by enemy forces. The author is demonstrating that such horrors are not consigned to the past.
We witness fear, betrayal, guilt, pain and sacrifice, contrasting with pride, hope, determination, resilience and love. We have some strong characterisations; we see the menace of Maestri, an Italian collaborator who relishes his role in the new regime, the hopelessness of Hessen who has lost his wife and three young daughters to an allied bomb and the perseverance of Pagano to fulfil the task set by Professor Hessen.
Tilde is perhaps the strongest character of all. She finds a way to survive in a country ravaged by war. Working for the partisans to free Italy whilst at the same time knowing an allied bomb could destroy her family and Biscia, her boyfriend, at any moment.
If you enjoy an historic thriller with twists and turns and an unexpected dénouement, then this book is for you.
Book Reviewer – Julie
---
Purchase online from:
---
About the Author

Bacci Pagano, "the noir detective with the heart of gold," is Bruno's signature creation. Bacci is an Italian institution. Featured in over 15 novels, Vanity Fair called Pagano, "one of Italy's most beloved characters." In the words of one major Italian newspaper, "Bacci Pagano is a fixture in the Italian imagination. One grows fond of Bacci. After reading a few of these novels, you find you can no longer do without him."
Bruno Morchio lives in Genoa, Italy, where he worked as a psychologist. He has won two literary prizes for the mystery genre, the Azzeccagarbugli and the Lomellina in Giallo Prizes, and was a finalist for the Bancarella, the Scerbanenco and the Romiti Prizes.
---
What did you think of The German Client? Share your thoughts in the comment section below!
---
The above links are affiliate links. I receive a very small percentage from each item you purchase via these link, which is at no extra cost to you. If you are thinking about purchasing the book, please think about using one of the links. All money received goes back into the blog and helps to keep it running. Thank you.
Like us on Facebook – Tweet us on Twitter – Pin us on Pinterest